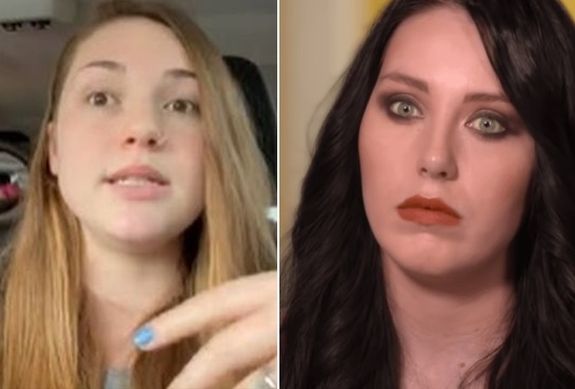 The Girl S**t [storm] continues!
Earlier this week, TikToker (and former member of the Girl S**t podcast team) Gabbie Egan gave her version of what happened behind-the-scenes of the ill-fated podcast (which, as you may remember was to feature 90 Day Fiance star Deavan Clegg and former Teen Mom 2 star Jenelle Evans, among others, but was shut down due to drama before it even got started). During her Instagram confessional, she also exposed that Deavan was pregnant during the Girl S**t debacle in March.
According to Deavan's publicist, Deavan– who is in a relationship with Chris "Topher" Park— is no longer pregnant, though, as she suffered a miscarriage shortly after the Girl S**t drama went down.
"[Deavan] sadly suffered a miscarriage at nine weeks back in April," her publicist Lindsay Feldman told Us Weekly in a statement on Wednesday. "This is a private matter that she is grieving over with the support of Chris and her family by her side."
Anyway, Deavan called out Gabbie on Instagram for exposing the pregnancy, which Deavan had yet to announce.
Let's back it up a bit, shall we? (The Ashley suggests you pour yourself a glass– or box– of wine to wash this all down with…)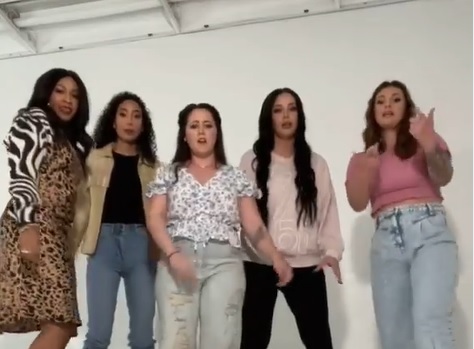 The Girl S**t s**tshow began back in late March, when Deavan, Gabbie, Jenelle and others started promoting a podcast in which Jenelle claimed to be a producer on, in addition to being part of the cast. Things began to get, well, s**tty for the group when Deavan allegedly went to the head producer of the project and said she was uncomfortable working with Jenelle, due to Jenelle's unsavory past (which includes drug use, custody issues and lying for her dog-shooting husband David Eason, among other things).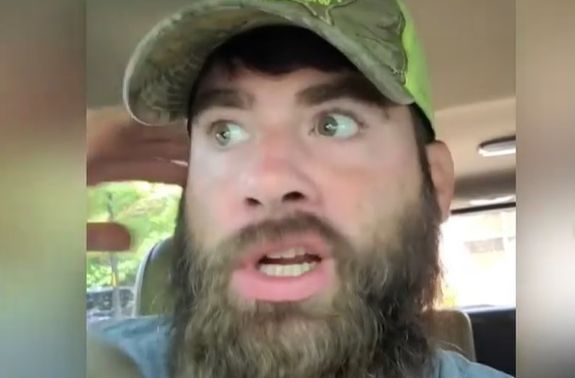 Gabbie claimed at the time that Deavan got Jenelle fired from the podcast. Jenelle claimed that she was not fired, even though she was not permitted to go to the podcast launch party and was made to stand outside while the other Girl S**t girls partied inside. (Jenelle is currently suing blogger John Yates and other YouTubers for statements they made regarding the podcast.)
Anyway, in her initial Instagram statements made on Monday, Gabbie told her version of events, exposing that Deavan was telling people who were part of the Girl S**t project that she was pregnant when they met up to launch the podcast in March.
"She told all the cast members, she told the producers, she told me, she told Jenelle, she told David – everybody was very aware that she was pregnant," Gabbie said, adding that she has "screenshot proof" that Deavan was telling people she was pregnant on-set. "And it makes me really uncomfortable to talk about the fact that Deavan was pregnant because this is one of the things that she's accusing Jenelle of lying about."
"I remember [Deavan] talking about [the pregnancy] all the time, talking to me about it; like, it's not an illusion and I also have screenshot proof of it," Gabbie said.
View this post on Instagram
View this post on Instagram
She added that Deavan allegedly didn't want people knowing about her pregnancy because of her ongoing custody case with her ex-husband Jihoon Lee, and that Jenelle didn't leak Deavan's pregnancy but "even if she did, it's facts, it's not slander."
"Deavan has been saying a bunch of s**t about Jenelle, saying that Jenelle is slandering her," Gabbie continued. "If slandering Deavan is saying that she's pregnant, which, to my knowledge, I don't think that Jenelle has said that to anybody – I'm the first person to say, 'Yes, Deavan was pregnant.' And I'm really sorry Deavan if you're watching this, but I am not going to sit in the middle of this and watch all this s**t play out …"
After Gabby's videos were posted, Deavan reacted to the news that her pregnancy was exposed. She posted a message to her TikTok account (complete with sad piano music and a background featuring a poster from Girl S**t).
"If you came to my page to know what happened between me and Gabbie I posted the link [to John Yates' interview with Gabbie] on my profile," Deavan wrote. "I'm hurting right now and don't want to speak on it. I trusted someone with something precious and it was broken. I know she has [apologized] publicly but I haven't heard from her personally on an apology. If you want to know go to John Yates' YouTube."
That brings us to the YouTube Live John did with Gabbie on Tuesday. Gabbie attempted to defend herself for inserting herself into the Deavan/Jenelle drama, and for exposing Deavan's pregnancy.
"It doesn't sit right with me whenever you have two girls who are literally blaming each other for everything," Gabbie told John Yates. "Both were in the wrong; Deavan's accusing Jenelle of false information. Jenelle's telling the truth about the pregnancy…Deavan, if she was really trying to hide her pregnancy, she shouldn't have told all of the cast [that she was pregnant], she shouldn't have told the producers…I didn't say anything about it until everybody's up their throats and there's this lawsuit going around…
"It wasn't to hurt Deavan, it wasn't to hurt Jenelle," she continued. "It was for me to say my truth."
She added that she made the videos for "personal reasons" and refused to go into more detail about it, even after John Yates pressed her to explain why she involved herself in the Deavan/Jenelle drama. Gabbie also claimed that Deavan made her film a "sketchy ass" video non-disclosure agreement promising she wouldn't talk about what she heard behind the scenes; however, Gabbie claims she was drunk when she made it.
(In the YouTube Live video comments, Deavan popped in, writing that, "You were sober and the statement video was filmed in the morning don't sit there and lie saying you were drunk I have the video and time stamps.")
Gabbie insisted that she made her "truth" videos for "a reason that I can't say." (Some of the commenters were suggesting that Jenelle had asked Gabbie to make the video– or even paid her to do it– but Gabbie wouldn't respond to those comments. Jenelle and David did, however, comment on Gabbie's videos and show their support for them.)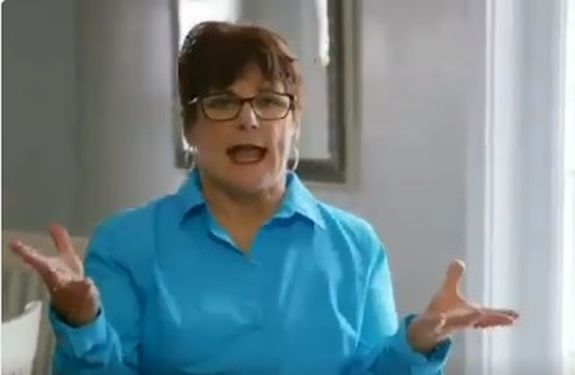 If you want to read Gabbie's full explanation of what went down behind-the-scenes to ruin the Girl S**t podcast before it began, check out Starcasm's full recap of her videos.
You can watch John Yates and Gabbie battle it out on YouTube (while Gabbie wanders the 100-Acre Woods at night, for some reason) in the video below. (Gabbie enters the Live at about the 27-minute mark, by the way.)
RELATED STORY: Former 'Teen Mom 2' Star Jenelle Evans & "90 Day Fiance" Star Andrew Kenton & Others Sue YouTubers John Yates & Sharrell Lloyd for Slander, Etc: (Exclusive Details)
(Photos: TLC; Instagram; TikTok, YouTube)