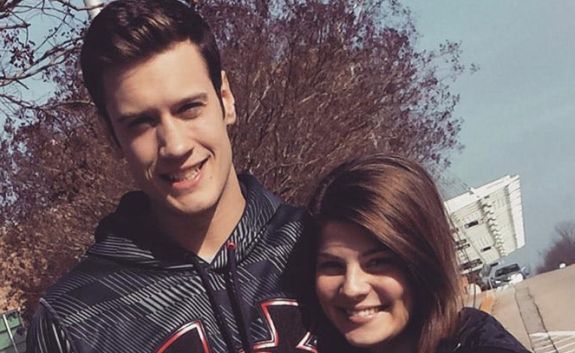 Bringing Up Bates stars Tori and Bobby Smith are expecting – again!
The couple revealed on Tuesday that they will soon welcome Baby No. 3, a little girl. This new "blessing" comes not long after they welcomed their second child, Romper reports.
"Life has been crazy fun with our two precious little boys and our hearts are so thrilled to announce that God has given us a beautiful baby girl," Tori announced. "Charlotte Raine will be here in June 2021."
In March 2020, Tori and Bobby welcomed their second son, Kolter Gray Smith, who was introduced to family members at the time via FaceTime due to COVID restrictions.
Tori and Bobby's first son, Robert Ellis IV (who goes by the name Kade), was born in November 2018.
The 'Bringing Up Bates' pair are anxiously awaiting the arrival of their first daughter and confident that their sons are prepared for big brother duty.
"We are so looking forward to the day we get to hold her in our arms," Tori said. "Kade and Kolter are going to love learning to protect her and take care of her so sweetly!"
In a post to their joint Instagram on Tuesday, the couple expressed their excitement about adding to their family again.
"Two of the richest blessings God has given us in our first few years of marriage have been the priceless lives he has entrusted to us in our little boys, Kade and Kolter, and all the irreplaceable memories and moments He gives us both through them," they wrote. "Now we are so excited that He has given us a precious baby girl, Charlotte Raine, arriving in June 2021! It has been such a joy watching Kade and Kolter's sweet little friendship grow, and we are just over the moon to think about how perfectly Charlotte will fit in with them.
"God us given us such incredible opportunity and blessing to bring up these little ones in a way that honors Him, and the potential that they will have to be a light to the world around them is amazing. It's going to be quite the adventure with these three little ones running around, and we couldn't be more excited!"
Tori's sister Josie will also welcome a new baby this year, as she and husband Kelton Balka revealed earlier this month that they are expecting their second child after suffering a miscarriage in June. Josie and Kelton's baby is also reportedly due in June.
RELATED STORY: 'Counting On' Star Jessa Seewald Says Jill & Derick Dillard Were Not Left Out of Duggar Family Christmas Due to Estrangement; Claims They Chose Not to Attend
(Photos: Instagram)