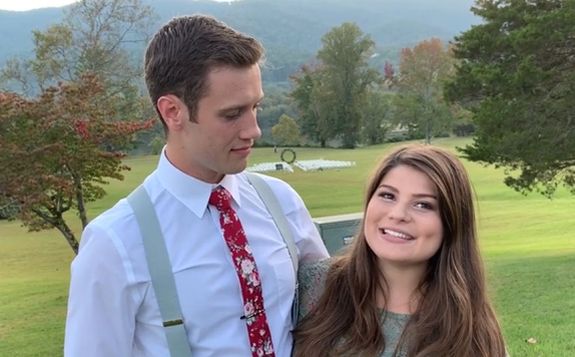 Bringing Up Bates star Tori Bates Smith and her husband Bobby welcomed their second child into the world…and sold the photos to People magazine, naturally. A rep for Tori told the mag that little Kolter Gray Smith was born on Wednesday and weighed in at 6 lbs., 6 oz.
Tori and Bobby— who are already parents to 16-month-old Robert Ellis Smith IV, whom they call "Kade" — released a statement to the magazine about Kolter's birth.
"It feels like such a crazy time in our world right now, but praise the Lord our little Kolter Gray has safely arrived!" they said. "We are absolutely in love!
"In spite of all the questions in our minds of how things might unfold, God is so good and we are excitedly anticipating going home to enjoy our time together as a family of four."
Due to the recent health protocols put in to place during the C0VID-19 pandemic, Tori was only allowed to have Bobby at the hospital with her. Other members of the Bates Family watched the birth via FaceTime.
Tori and Bobby thanked the healthcare workers in their statement to People.
"Our hearts are with all those who are combating the silent enemy of C0VID-19, and we encourage everyone to protect those around them and love each other like never before."
In a weird twist of fate, Tori's brother Trace Bates was at the same hospital as Tori was in during the birth. According to a representative for the family, Trace "crashed heads playing basketball that same day" with his brother Warden and Trace need to have a bump on his head checked out.
The Bates Family posted a congratulatory message to Tori and Bobby on the family's official Instagram page.
"We couldn't be more excited to celebrate little Kolter's arrival! Social distancing is hard when you can't do hospital visits, yet we are so thankful for the medical staff, their care during these trying times, and a healthy and safe delivery," the family wrote. "We are thankful for FaceTiming too, since that has been our only means of greeting our newest grandson! Counting down the days to actually get to hug him… and spoil him!
"Bobby & Tori, we couldn't be more proud of you for the wise and wonderful parents you've become! Little Kade is the picture of a happy & perfect baby, and now I just can't wait to see Kolter added to the family dynamics! I'm looking forward to seeing Kade & Kolter growing up together!"
Baby Kolter is the 14th grandchild for Tori's parents, Gil and Kelly Jo Bates.
Tori posted a series of selfies with Baby Kolter to her own Instagram, along with the caption, "How is this miracle ours? He's perfect just like his daddy."
Another post stated, "Kolter Gray Smith born March 25, 2020 @ 4:17 p.m. Our miracle in the mist of chaos."
Tori and Bobby married in 2017 after meeting in 2015. They announced Tori's second pregnancy in November, less than a year after Tori gave birth to Kade.
The ninth season of 'Bringing Up Bates' is currently airing on UPtv.
RELATED STORY: 'Bringing Up Bates' Star Carlin Bates Stewart Welcomes First Child with Husband Evan; Best Friend Joy Duggar Forsyth Responds
(Photos: Instagram)