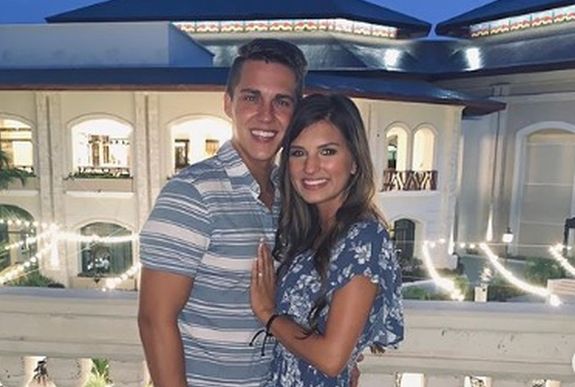 The Bates Family just got a little bigger!
Carlin Bates Stewart and her husband Evan welcomed their first child on Friday. The couple— who announced the pregnancy just three months after they got married— named their new baby girl Layla Rae.
Baby Layla weighed in at a tiny 5 pounds 13 ounces and measured 18 inches long.
"We feel like our lives just became incredibly busy, but unimaginably blessed with little Layla Rae's arrival!" Carlin and Evan told Us Weekly on Saturday.
"She has already consumed our thoughts and intentions for these past pregnancy months and now, no day will ever be the same without her! Although she came earlier than we expected, this is the best kind of celebration we have ever experienced, and we are so in love with our new role as parents!"
Baby Layla was not supposed to arrive until mid-February; however Carlin had to be induced early due to being diagnosed with a blood-clotting disorder during the early months of her pregnancy. (Carlin's sister Erin Payne also has the disorder.)
Carlin's best friend, Counting On star Joy Duggar Forsyth, took to Instagram to express her excitement about Layla's arrival.
"Congratulations to my best friend on your new baby girl!" Joy wrote. "She is perfect! (And you don't look like you just birthed a human!) I loved hearing you talk about the anticipation of meeting Layla Rae, and now seeing you hold her makes my heart so happy… the love that you both have for her radiates through you!! You and Evan are already such great parents! Cannot wait to see you in a couple of weeks!"
On the same day she posted her congratulatory post to Carlin and Evan, Joy also posted a hand-drawn photo of her family. In the photo, Joy, her husband Austin Forsyth and their son Gideon are standing next to Jesus, who is holding a baby. As The Ashley previously reported, Joy and Austin lost their second child during Joy's 20th week of pregnancy. She was pregnant with that baby— a girl they named Annabelle who was due in November 2019— during Carlin and Evan's wedding.
Baby Layla will soon be joined by another cousin. Carlin's sister Tori Smith is currently pregnant and due to give birth to a baby boy in April.
Click here to see more photos of Evan, Carlin and their new baby here.
RELATED STORY: 'Bringing Up Bates' Star Erin Bates & Her Husband Chad Paine Welcome Their Fourth Child
(Photos: Instagram)