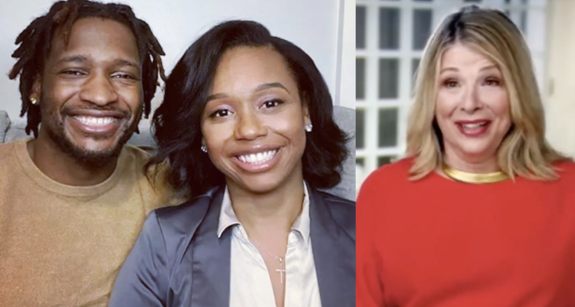 Shawniece Jackson had a lot to say after Married At First Sight expert Dr. Pepper Schwartz compared the marriage of Shawniece and her husband Jephte Pierre to that of Season 12 villain Chris Williams and Paige Banks in a now-deleted social media statement.
Dr. Pepper caught some backlash from fans for recently comparing the two couples but Shawniece assured fans she isn't offended and "understands where Dr. Pepper was coming from." However, she was quick to tell fans that Jephte is not like Chris, and that Jephte is not the worst guy they've ever had on the show.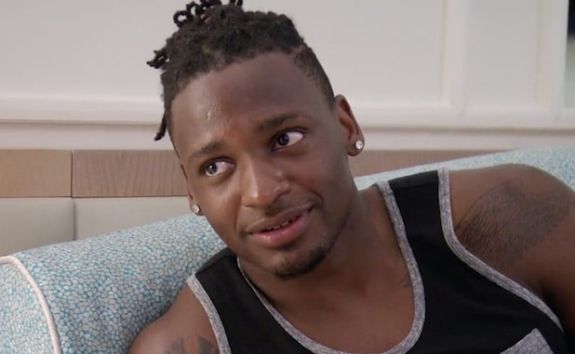 As The Ashley told you last week, Dr. Pepper, one of three experts featuring on 'MAFS,' posted and quickly deleted a lengthy comment defending the show's decision to cast Chris on the current season of 'MAFS' as well as the decision to match him with wife Paige. Dr. Pepper's statement came after many fans online criticized Chris's behavior towards Paige this season, along with the reveal that his ex-fiancé is pregnant with his child.
While Dr. Pepper mostly focused on the casting process and Chris and Paige's situation, she went on in her statement to compare the couple to Season 6's Shawniece and Jephte, whom she referred to as an example of "similar 'train wrecks'" who have been featured on the Lifetime reality series.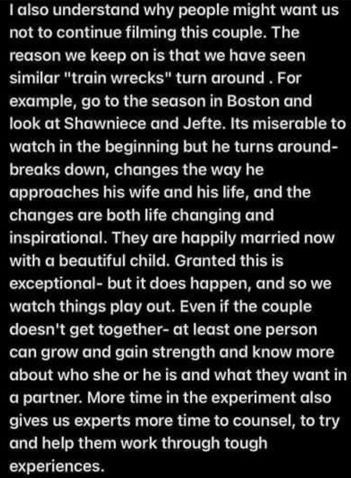 "For example, go to the season in Boston and look at Shawniece and [Jephte]," she wrote in her now-deleted statement. "It's miserable to watch in the beginning but he turns around– breaks down, changes the way he approaches his wife and his life, and the changes are both life changing and inspirational.
"They are happily married now with a beautiful child," she continued. "Granted this is exceptional– but it does happen, and so we watch things play out."
Dr. Pepper's decision to compare Chris and Paige with Shawniece and Jephte didn't sit well with some of the 'MAFS' viewers; however, Shawniece took to Instagram Live to let fans know she saw Dr. Pepper's statement and though she recognized a lot of people were upset by it, she understood what the expert was saying.
"No, Paige and Chris's relationship is not Shawniece and Jephte," she said. "It's not the same marriage, it's not anything like that or whatever. They are their own unique marriage, we are our own unique marriage. However, what Dr. Pepper was saying, and I can vouch for this, she was saying that it was hard to watch because yes, in the beginning of our marriage – from y'all's point of view, not from me, but from y'all – it was hard to watch."
Shawnience said when Season 6 aired, viewers were so angry that they sent Jephte death threats, tried to get him fired by calling his job and "insulted his character," based on what they saw on TV.
While she echoed similar comments made by Dr. Pepper and at least one of the other two 'MAFS' experts regarding the uncertainties of what can happen when you match two individuals, she pointed out that viewers also don't see everything that goes on.
"So when [Dr. Pepper] says it was hard to watch in the beginning, if y'all don't remember that s**t was hard to watch – to the point my husband was depressed … ," she said.
Still, Shawniece believes there have been "worse husbands in 'Married at First Sight' history" than Jephte, which is why she's "on the fence" about comparing him to Chris.
"Chris, I don't know that man," she said. "I can't speak on that man, I'm not going to speak on that man. But my husband, I will tell you he ain't the worst 'Married at First Sight' husband ever. Our relationship will never be one of the worst experiences ever. Our experience is real people doing real s**t through a real struggle and trying to figure it out. We have good moments and we have bad moments … .
"What Chris and Paige is going through, they are their own adults, they can make their own decision," she continued. "It's still the beginning. We don't know what Paige is thinking, we don't know what Paige has done. We don't know what Chris is thinking, what Chris has done … we don't know what they have done together as a couple to figure out or work between their differences."
Shawniece assured fans that she understands "where Dr. Pepper is coming from" and is "not upset about what she was saying." As for the fans who criticized Dr. Pepper for her comparison of the two couples, Shawniece again said she understands them as well.
" … I feel where y'all are coming from," she said. "No, their marriage is not like ours. We have a beautiful daughter, we're still together, we're happy, we love each other. We took the experiment and we grew and we're still growing … we're doing good, y'all."
Shawniece reminded viewers that Dr. Pepper is "speaking from an expert's point of view" and was only trying to use Shawniece and Jephte's relationship as a comparison because they were a couple who were "hard to watch in the beginning, but then it ended up being a beautiful story."
"That's what she's saying to you guys," she said. "And it was taken out of context because I'm actually the one who went through that experience. I am Shawniece, I am married to Jephte, I am telling you firsthand that what she said, it was not to disrespect us, disrespect our family or be something bad or something negative.
"She was just trying to use us as an example of something that could just grow into something good," Shawniece added. "Y'all just gotta give it a chance."
Listen to Shawniece's full statement below.
RELATED STORY: 'Married At First Sight Expert Dr. Pepper Schwartz Posts (Then Quickly Deletes) Statement on Casting Season 12's Chris Williams: "I Am Appalled"
(Photos: Instagram; Lifetime)