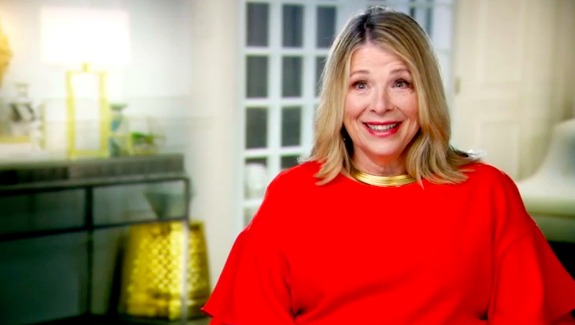 The third (and final) Married at First Sight expert has spoken out in defense of the show's casting of Chris Williams this season, but like so many matches made by said-experts, the posted statement didn't last long.
On Thursday, Dr. Pepper Schwartz –- one of three experts featured on 'MAFS' –- took to Instagram with a now-deleted post to address the 'MAFS' fans who have criticized the show's decision to not only cast Chris on Season 12, but match him with wife Paige Banks.
After fans stated on social media that they felt that the experts gave Chris' behavior "a pass" and accused the experts of choosing couples they know bring good ratings rather than be compatible, Dr. Pepper stated that she is both "appalled" and "disappointed" by what Chris has done.
As The Ashley told you earlier this week, viewers saw Chris admit on-camera this season that he isn't attracted to Paige (after sleeping with her multiple times) and reveal that his ex-fiancé – whom he was planning to marry just months before marrying Paige on 'MAFS' – is pregnant with his child.
Needless to say, the questionable pairing has fans looking to 'MAFS' experts for an explanation, and this week, Dr. Pepper provided her side of the story, in which she admitted the match of Chris and Paige "was a bad call."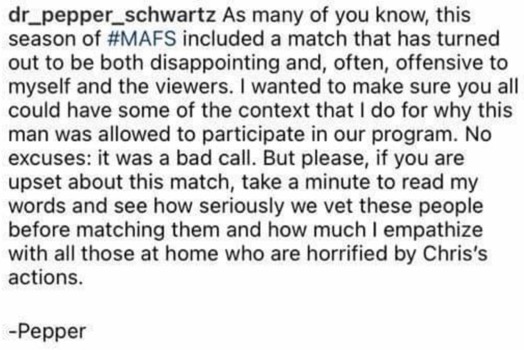 "As many of you know, this season of #MAFS included a match that has turned out to be both disappointing and, often, offensive to myself and the viewers," she wrote in the caption of her now-deleted post. "I wanted to make sure you all could have some of the context that I do for why this man was allowed to participate in our program. No excuses: it was a bad call."
Still, Dr. Pepper insisted the experts "seriously" vet the cast members before matching them, adding that she empathizes "with all those at home who are horrified by Chris's actions."
In her statement, Dr. Pepper explained that the experts "do a lot of in-depth research" on individuals, which consists of the following: long questionnaires, several interviews with all three experts and producers, psychological test administered at two different times, forensic research to check for any legal infractions within the last 10 years and a run-through of each person's social media posts from the last decade.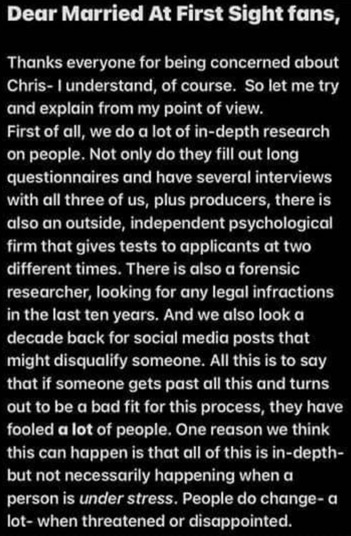 "All this is to say that if someone gets past all this and turns out to be a bad fit for this process, they have fooled a lot of people," she said. "One reason we think this can happen is that all of this is in-depth but not necessarily happening when a person is under stress. People do change– a lot– when threatened or disappointed."
Though she understands why people might want the show to not continue filming Chris and Paige, Dr. Pepper said they keep cameras rolling because they have seen "similar 'train wrecks' turn around." She went on to use 'MAFS' alums Shawniece Jackson and Jephte Pierre as an example of a couple who were "miserable to watch in the beginning," but ultimately "inspirational."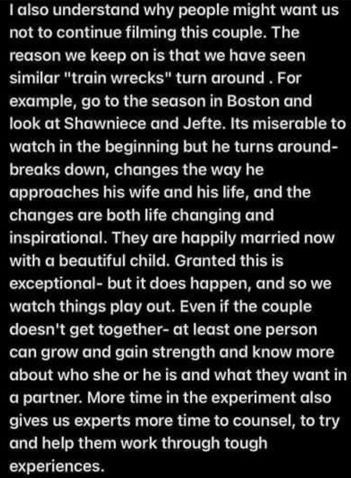 "They are happily married now with a beautiful child," she said. "Granted this is exceptional– but it does happen, and so we watch things play out."
Also, Dr. Pepper wrote, more time "in the experiment" means more time for the experts to counsel and help couples work through tough experiences.
Dr. Pepper admitted she is "appalled" by some of the things Chris has said and done this season and while she understands how viewers may believe the experts are giving Chris a "pass," she assures fans that honest feedback is being provided. Unfortunately, she said, not everyone will listen and use that feedback to better themselves. She also pointed out that while the experts can tell Paige what they think is in her best interest, it doesn't mean she will listen and end her relationship.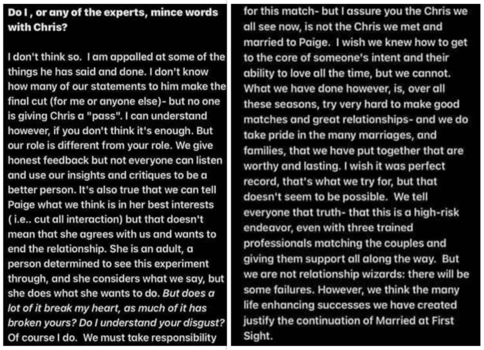 "[Paige] is an adult, a person determined to see this experiment through, and she considers what we say, but she does what she wants to do," she added.
Dr. Pepper insisted that the experts take responsibility for Chris and Paige's match, though she maintains "the Chris we all see now, is not the Chris we met and married to Paige."
While the experts cannot "get to the core of someone's intent and their ability to love all the time," Dr. Pepper said they've tried very hard throughout every season to "make good matches and great relationships" and the show takes pride in the marriages that have lasted.
"I wish it was a perfect record, that's what we try for, but that doesn't seem to be possible," she said. "We tell everyone that truth– that this is a high-risk endeavor, even with three trained professionals matching the couples and giving them support all along the way. But we are not relationship wizards: there will be some failures. However, we think the many life enhancing successes we have created justify the continuation of 'Married at First Sight.'"
(For the record, of the 39 couples paired on the first 11 seasons of 'MAFS,' only 12 remain married today, making the show's marriage success rate about 30 percent.)
After Dr. Pepper deleted her lengthy statement from social media, fans soon took to the comment section on her other posts, questioning some of her claims.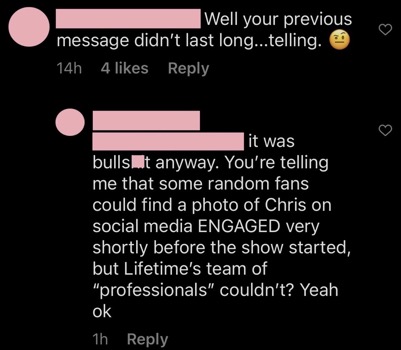 " … You're telling me that some random fans could find a photo of Chris on social media ENGAGED very shortly before the show started, but Lifetime's team of 'professionals' couldn't? Yeah ok," one person wrote.
Another comment criticized Dr. Pepper for mentioning Jephte and Shawniece in her statement as "they have nothing to do with the decision to cast toxic Chris," while many others faulted the show for knowingly making a poor casting decision.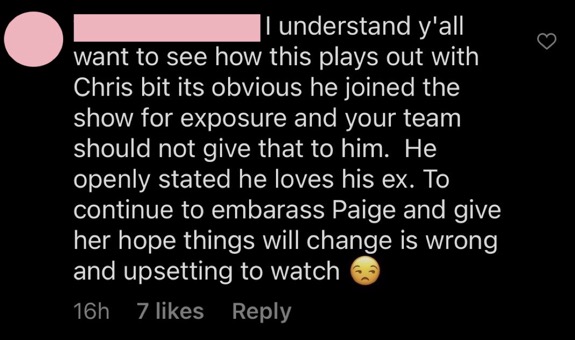 "I understand y'all want to see how this plays out with Chris [but] it's obvious he joined the show for exposure and your team should not give that to him," one comment read. "He openly stated he loves his ex. To continue to embarrass Paige and give her hope things will change is wrong and upsetting to watch."
Dr. Viviana Cole, another show expert, also attempted to address the Chris-backlash this week, though her advice to fed-up fans was to "chill out" and refrain from having such "strong" reactions to the cast's "shocking" behavior. Dr. Viviana's words of advice led 'MAFS' Season 8's Kate Sisk – whose marriage to ex-husband Luke Cuccurrollo began on the show in a similar fashion – to accuse the show of "intentionally putting women in marriages that will fail and profiting off of their pain."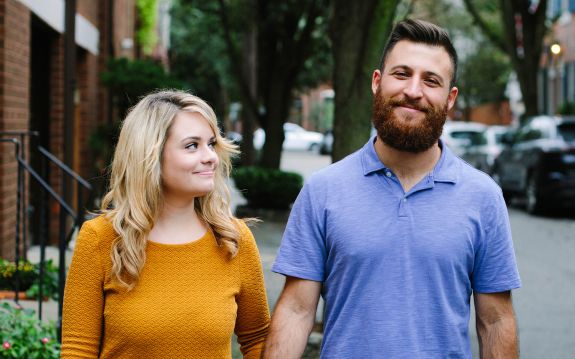 Last month, show expert Pastor Calvin Roberson also spoke on the Chris/Paige controversy, assuring fans on social media that the experts care for Paige and would never compromise her happiness for ratings.
"Ratings are never more important than our couples," he added.
In response to a comment asking how Chris managed to be cast on 'MAFS,' Pastor Cal insisted the show does its "absolute best to match couples with integrity, but we can't predict how they will act when the cameras roll."
RELATED STORY: It's (Another) Girl for 'Married At First Sight' Couple Ashley Petta & Anthony D'Amico: See the First Baby Photos!
(Photos: Lifetime; Instagram)