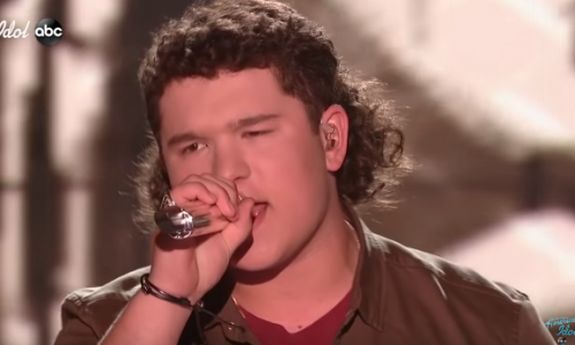 Caleb Kennedy will not be America's idol.
The 16-year-old singer has been withdrawn from the current season of American Idol, despite making it into the competition's Top 5 last week. Caleb— who hails from Roebuck, South Carolina, announced via Instagram that he is no longer on the show, due to a controversial video from his past resurfacing online.
A spokesperson for 'American Idol' confirmed to People that Caleb is off the show. However, it is unclear if Caleb dropped out on his own or was booted off by production.
"'American Idol' contestant Caleb Kennedy will no longer be moving forward in the competition," the spokesperson told the magazine on Wednesday. "Sunday's episode will feature the Top 4 with one contestant elimination."
In his Instagram post, Caleb expressed deep regret for his past actions.
"Hey y'all, this is gonna be a bit of a surprise, but I am no longer gonna be on American Idol," he wrote. "There was a video that surfaced on the internet and it displayed actions that were not meant to be taken that way. I was younger and did not think about the actions, but that's not an excuse.
"I wanna say sorry to all my fans and everyone who I have let down. I'll be taking a little time off social media to better myself, but saying that, I know this has hurt and disappointed a lot of people and made people lose respect for me."
According to TMZ, the video in question is a three-second Snapchat video that shows Caleb sitting next to a person wearing a hood similar to those worn by the Ku Klux Klan. It was supposedly taken when Caleb was 12 years old.
'American Idol' Finalist Caleb Kennedy Exits Show After Video Surfaces https://t.co/QMsAlhexP0

— TMZ (@TMZ) May 12, 2021
In an interview with the Spartanburg Herald-Journal, Caleb's mother Anita Guy explained that the video had nothing to do with racism.
"I hate this has happened and how Caleb is being portrayed by people online," she told the newspaper. "This video was taken after Caleb had watched the movie 'The Strangers: Prey at Night' and they were imitating those characters. It had nothing to do with the Ku Klux Klan, but I know that's how it looks. Caleb doesn't have a racist bone in his body. He loves everyone and has friends of all races."
With Caleb out of the competition, that leaves only Willie Spence, Grace Kinstler, Chayce Beckham and Casey Bishop to compete for the title of 'American Idol.'
RELATED STORY: Former Winners of 'The Voice' Talk About How Quickly They Were Forgotten After Their Season Ended & Discuss Why the Show Hasn't Launched a Big Star in 20 Seasons
(Photos: ABC; Instagram)