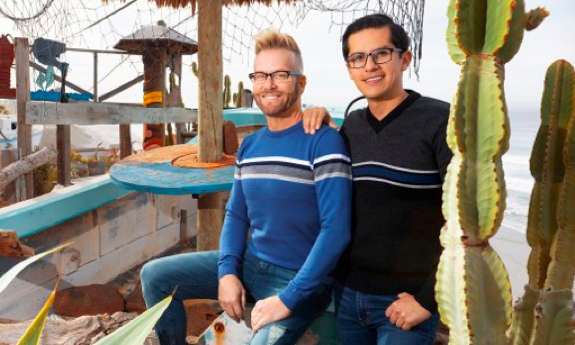 Armando Rubio and Kenneth Niedermeier, fan favorites of 90 Day Fiancé: The Other Way, are officially married!
The newlyweds, who are the first male gay couple to be featured on the TLC franchise, tied the knot Saturday at the Mansarda winery in Ensenada, Baja California, Mexico.
"It's been a long time coming and we're very happy," Kenneth told People. "We're excited to finally be here."
"This is what we've been fighting for, so the fact that it finally happened in a huge triumph," Armando added.
"It was a battle in many ways and it's so surreal to finally be able to get married," Armando added, given the wedding delay the pair experienced due to COVID-19.
Kenneth said the pandemic actually allowed him and Armando to put more time into planning their nuptials and Armando said the two even grew closer while locked down together during the quarantine.
Given the 100-guest limit at the couple's wedding venue, everyone in Armando's large extended family was not able to attend; however, his eight-year-old daughter Hannah was present for the ceremony. Kenneth's adult children were also in attendance, something he said was very important to him.
"It means everything," Kenneth said. "I have really supportive children that have always had my back and never let me down. Having them here to witness their dad getting married after all these years if amazingly special for me. They love our relationship and that means the world to me."
Kenneth said all of the children were included throughout the wedding "in many aspects."
The wedding itself was a music-filled event featuring dancers, a mariachi band and a garden theme.
"Our theme was wine, wood, vineyards, and we like the outdoors a lot," Armando said. "We like greenery, so we totally transformed the place to make it look like a garden."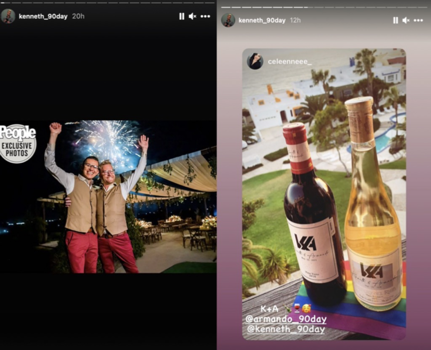 "We knew that was the place and we chose the very first venue we went to," Kenneth added. "It's just surrounded by mountains and vineyards, and it is gorgeous. I actually never dreamed that I'd be getting married in a place like this in a different country than I was born in. It's really surreal for me!"
While Kenneth and Armando are planning a mini-honeymoon to Mexico City next month, their dream destination is Switzerland. In the meantime, they're enjoying their time as husbands following a lengthy battle to obtain a marriage license.
"I just found the perfect person for me, so I am very happy looking into the future," Kenneth said. "I see such a bright future for me with Armando, with Hannah, with my kids."
RELATED STORY: Surprise! "90 Day Fiance" Star Colt Johnson Announces He Secretly Married Fiance Vanessa Guerra; Mother Debbie Reacts to His Surprise Wedding
(Photos: TLC; Instagram)