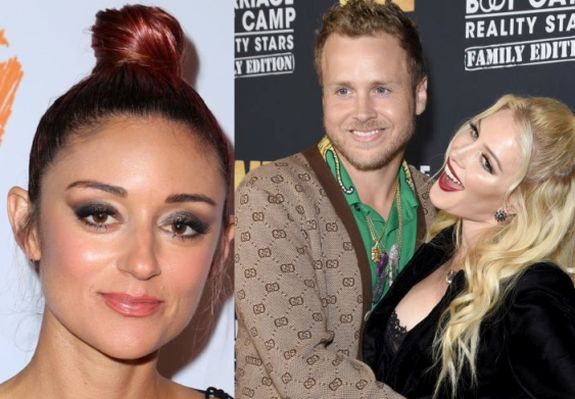 While The Hills and it's sequel series The Hills: New Beginnings have always been known for their drama factor, it's now the apparent lack of drama that is, in fact, creating the drama.
Spencer Pratt recently gave an interview in which he called his co-stars "losers" and "boring," stating that there was "no way" MTV would renew 'New Beginnings' for a third season due to how bad the cast is. One of his co-stars– newbie Caroline D'Amore— was not pleased with Spencer's recent rant, and took to a podcast interview to call out Spencer and his wife Heidi Montag for being "ungrateful a**holes!"
Caroline appeared on the Chanel in the City podcast recently to talk to host Chanel Omari about the "really hurtful and shocking and weird" comments Spencer and Heidi have made. She also refuted Spencer's claims that no one is watching Season 2 and that the production team doesn't care about it.
"It's hurtful to all the producers. You're literally going around saying, 'the show is terrible,'" she said. "And by the way, the ratings are really good. They're really high. And they're growing every single week."
Caroline had a few harsh words for Spencer and Heidi, calling them not only mean, but "ungrateful a**holes." Her reasoning was more focused on the production crew rather than herself or any of the other stars.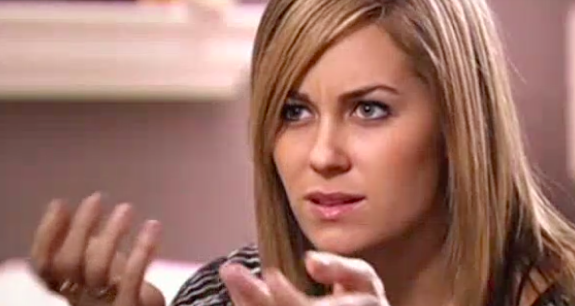 "People put their lives at risk to film during a pandemic," Caroline said. "Forget us who are all getting nice paychecks. And this and that. How about the entire production team? How about the producers that worked their butts off for you ungrateful a**holes… [y]ou're tearing them apart. You're tearing their businesses apart, their livelihoods apart? It's ungrateful. It's disgusting."
As The Ashley had previously reported, 'The Hills: New Beginnings' was three episodes into production on Season 2 when filming was halted in March 2020 due to the COVID-19 pandemic. In mid-July, MTV reportedly put an indefinite hold on production, despite producers taking extreme safety precautions and adhering to county and network guidelines. Filming for Season 2 did not resume until February 2021.
During her podcast interview, Caroline took hits at Heidi and Spencer's notorious financial instability, which has been featured heavily on the show this season.
"They're literally complaining on the episode right now that they're going broke because they're spending $7,000 a month on food and buying $60 burritos. And they think that's funny during a pandemic, when people are starving," she explained.
"They have no jobs and nothing and then they go out and tear the show apart. It's disgusting… I'm embarrassed to be associated with that."
Spencer had previously blamed his co-stars for not giving the producers any good material to include on the show. He stated that they were too obsessed with how they wanted to look on TV rather than showing their reality.
"It's not getting renewed, it's not even a maybe," Spencer said, later taking aim at specific co-stars and calling Justin Bobby a "fraud" and Audrina Patridge "boring" and "inauthentic."
In a similar tirade on the Hollywood Raw podcast with Dax Holt and Adam Glyn, Spencer revealed how he would handled cast issues if he were a producer.
"Yeah, if it was my show — then I would've literally been like, 'Hey Audrina, how do you feel about Kaitlynn? Say what you really said about Ashley.' 'Oh, Justin. You and Brody? You two hate each other, could we talk about that?' I would've done all that. But I'm not getting paid more to do that. You guys don't want to make a good show? Fine. I'll wait for this one out, bye," he said.
While Caroline hinted some of her other co-stars were also angered by Heidi and Spencer's words, she doesn't expect a group effort coming out against them any time soon.
"There are alliances," she explained in the podcast, going on to say that some cast members "don't want to deal with the wrath that you get from Heidi and Spencer if you go against them."
"I know it scares some people to speak their truth about them," she added, "because they will come for them."
Neither Spencer nor Heidi have commented on Caroline's remarks yet, but Spencer has retweeted a few messages of support claiming he and his wife are the "true stars" of The Hills.
RELATED STORY: Spencer Pratt Calls His Co-Stars "Boring" & "Losers"; Says 'The Hills: New Beginnings' Won't Get Renewed for Season 3 With Current Cast: "It's Not Even a Maybe"
(Photos: JC Olivera/Getty Images; Presley Ann/Getty Images; MTV)