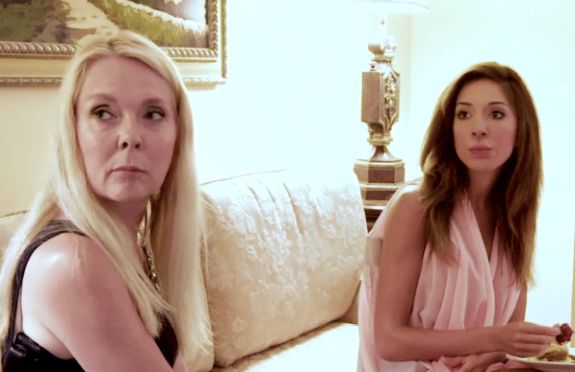 Debra Danielsen recently spoke out about her troubled relationship with daughter Farrah Abraham and the impact appearing on Teen Mom had on her family in the latest episode of 'Have a Seat with Chris Hansen.'
Debra OG stated that being on TV changed Farrah.
"I would say the show created an atmosphere of entitlement, that a person could do anything they wanted to do without regard or respect for their family or their parent, and so it created almost a monster situation," Debra told the TV journalist best known for the 'To Catch a Predator' series on Dateline.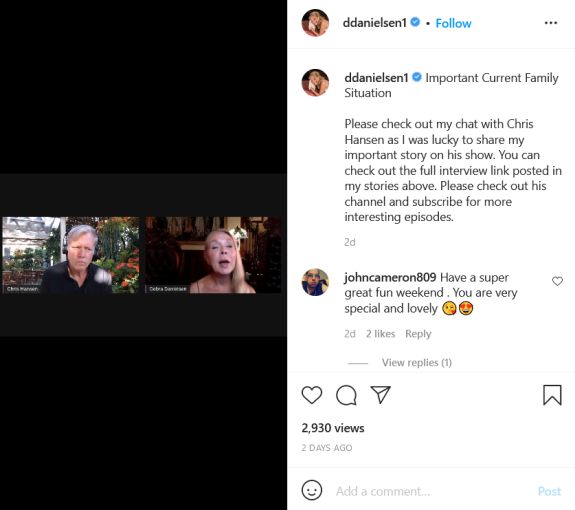 Here are a few highlights from the 10-minute interview:
On the impact 'Teen Mom' had on Debra's family:
Deb said she did not regret her decision to do the show, but acknowledged doing the show changed her family.
She said she currently has no relationship with Farrah or Farrah's daughter Sophia.
"I would say yes, it was worth it, however, there are long-term, everlasting consequences and we're not speaking today, so that's very sad and I miss my granddaughter."
On what being on reality TV did to Farrah:
"I think it really made her suspicious of other people, it hurt her, it damaged her self-image, and it put a fence between her and her family," Debra said.
Deb– who has been exploring her own career in the entertainment industry since her time on the show ended— said she hoped others would be helped by her sharing her story.
"My story relates to a lot of people who are going through the same thing, these are people that are silenced, you don't hear about it, and a lot of these people suffer in silence."
She said she hopes to reconcile with Farrah someday.
"I pray to God that my daughter is happy and healthy, and I do want [our] relationship to be happy and healthy," Deb said. "I want to be able to hug her and hold her and tell her I love her. That's very important to me, and I want my Sophia to know that she is still the sparkle in my eye and I will always love her and I miss her."
On whether she feels she exploited Farrah for fame:
"Nope, nope, I never exploited my daughter, I tried to help my daughter," she said. "I threw myself in front of the bus I don't even know how many times, and I never took anything, not one dime ever, and I had to pay for things in the background and I financed everything. So, nope, it's a totally different scenario.
"I'm a retired executive, you know, I didn't sit at home and, you know, wonder how I could pimp out my children. I never did that."
Farrah has yet to comment on the interview, but viewers did weigh in across social media, many showing concern for Farrah's 12-year-old daughter, Sophia.
"You do realize Deb was talking directly to Farrah about exploiting her own daughter, Deb's granddaughter, right?" one wrote on YouTube.
"I think the show is just a small part of the source of the trouble you and your daughter are having. Your issues were there way before the show. From the content your daughter puts out onto social media, she has some pretty deep-rooted emotional and mental issues. And from the content you put out, I'd say you have some issues yourself. Mental health is no joke and you should both get help. I'm afraid for Sophia and the problems she will encounter as well. Just my opinion," someone commented on Instagram.
When someone commented on TikTok that Deb is to blame for how Farrah is, Deb actually revealed what mental illnesses Farrah is allegedly dealing with.
"This is why Farrah is the way she is," the fan wrote on TikTok.
Debra responded: "Nope. Farrah has BOD with Narcissistic disorder."
(BOD is a typo for BPD, or borderline personality disorder.)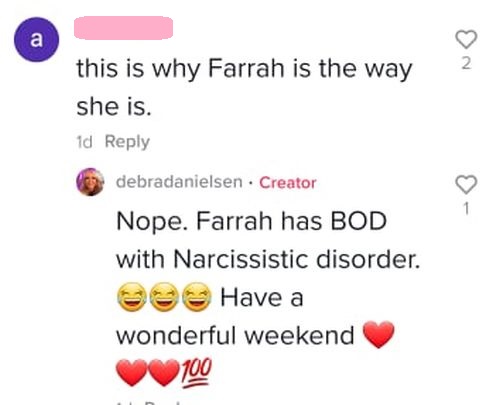 (Photos: MTV, Instagram, TikTok)