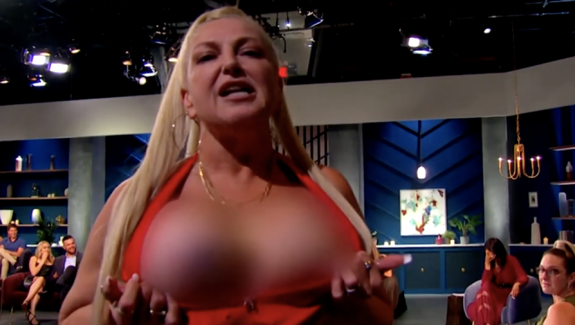 Angela Deem is attempting to explain why she flashed her surgically-enhanced breasts this summer during the filming of Part One of the 90 Day Fiance: Happy Ever After? Tell-All.
On Sunday's episode of 90 Day Bares All, host Shaun Robinson asked Angela what went down at the tell-all–—- besides Angela's top, of course––and according to the 55-year-old, her antics were the result of some medication she was taking at the time, Entertainment Tonight reports.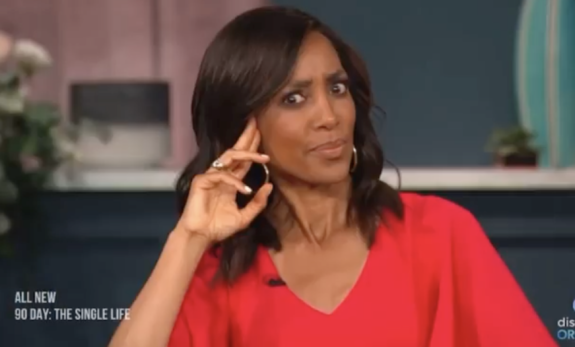 "I was tired, I flew straight … and I was advised not to fly, you know, 'cause it's dangerous, but you know me, I'm always doing something on the edge," she said. "I did it, and then we stayed out a little bit too late and I couldn't sleep, and then I started hurting and took a pain pill, and I had, like, 30 minutes of sleep."
Angela claims she didn't plan on flashing everyone on stage –-once, let alone twice-– and that she had "no idea" why she ended up doing it.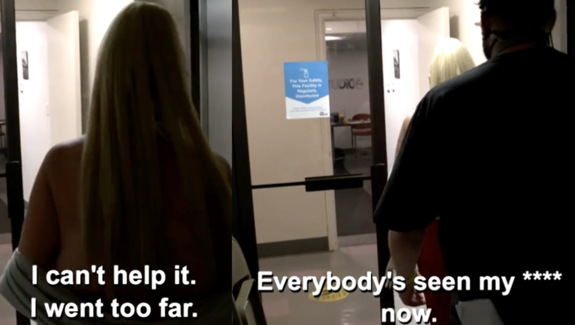 As for Angela's husband Michael Ilesanmi, he talked about the incident during a virtual appearance on Sunday's episode, calling Angela's behavior "totally atrocious."
"I mean, I was surprised and shocked," he added. "Why would you open your breasts to the camera? Like, that's crazy! So please, don't do that again. I said, 'don't do that to me.'"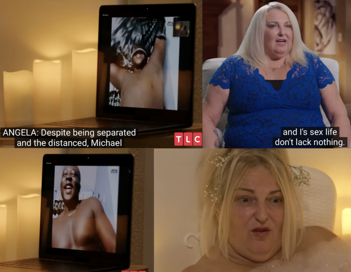 Aside from baring it all on the Tell-All, Angela also expressed regret over the way she spoke to Michael's Aunt Lydia, noting that she did apologize to Lydia on-stage but they haven't spoken since.
The couple confirmed that, although Angela threatened to call it quits with Michael during the Tell-All, the couple confirmed on "90 Day Bares All" that they are still going strong. Michael even took a lie detector test, during which it was determined he was not with Angela just for a green card, as she has suspected.
RELATED STORY: Lawsuit Filed By Jenelle Evans, Andrew Kenton & Others Against Blogger John Yates & YouTuber Sharrell Lloyd is Dismissed in Court
(Photos: TLC)