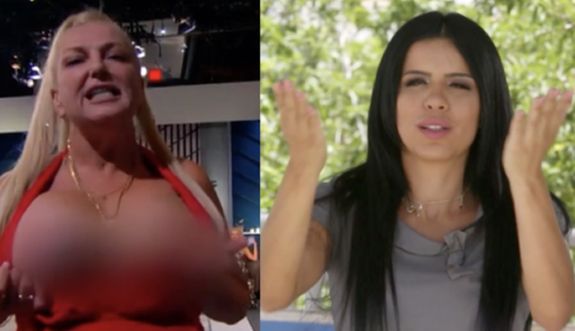 Larissa Dos Santos Lima may no longer be part of the 90 Day Fiance family, but she'll still speak up to defend some of the remaining cast members.
Most recently, Larissa came to the defense of Angela Deem after a preview for Part One of the 90 Day Fiance: Happily Ever After? Tell-All showed the 55-year-old exposing her newly-made-over breasts on-stage in a fit of rage.
While many thought Larissa— who was reportedly fired from the "90 Day" franchise for working with an adult website— would find it hypocritical that Angela wasn't punished for showing her boobs, Larissa says it's just the opposite.
As fans may remember, Angela– wife of 32-year-old Michael Ilesanmi– revealed her dramatic new look in March after undergoing weight loss surgery, liposuction and a breast reduction. However, she exposed herself even more in the clip for next week's Tell-All.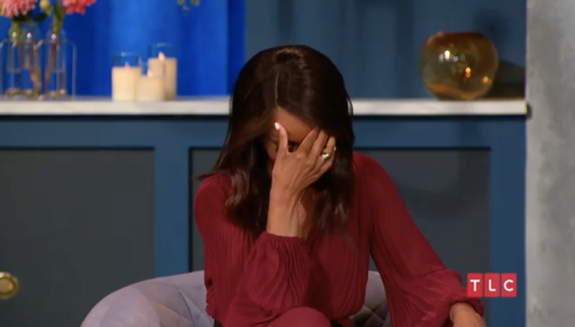 Following the release of the preview, "90 Day" fans were eager to hear Larissa's thoughts on the stunt, considering she was released from her contract with TLC and "90 Day" production company Sharp Entertainment in September 2020, due to her association with adult webcam site, CamSoda.
In response to the Show-All Tell-All clip, Larissa took to Instagram, seemingly responding to those asking about Angela's bare-it-all moment on stage. For the record, Larissa said she's "here for that" kind of behavior and doesn't support anyone pushing for Angela to be "canceled" as a result of what she pulled on stage.
"When I got a 'break' for a network for show my T!ts one time deal on camera you guys support the decision of the company," she wrote. "No never had a contract or anything more than that every time that has a debate about it some employee come to justify it saying 'she signed a contract' give me a break.
"Now another cast member show her t!ts on national television and you guys want to cancel her? Seriously…," she continued. "I'm wishing more t!ts and the things go down way more I'm here for that! … Let the woman show what she wants. Since I got a 'break' people have been doing p0rn and all kinds of stuff, why should her be canceled for it?"
While Larissa didn't mention Angela's name in her Instagram Story, Angela thanked the former "90 Day Fiance" star personally on her own Instagram Story, sending her "much love" for the support.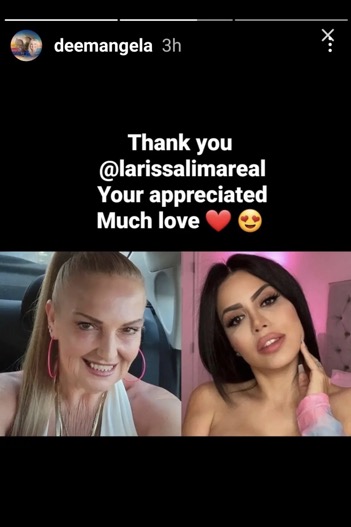 Part 1 of the "90 Day Fiance: Happily Ever After?" Tell-All airs Sunday, August 15.
RELATED STORY: "90 Day Fiance" Star Nicole Nafziger Finally Admits She is No Longer Engaged to Azan Tefou: "This May Be a Shock to Many"
(Photos: TLC; Instagram)