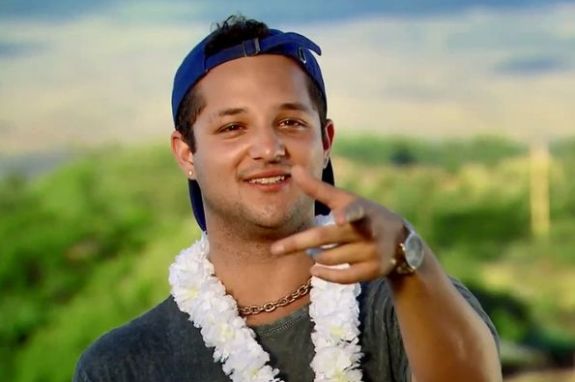 Chris Pearson, who starred on the first season of MTV's Ex on the Beach, has died. He was only 25 years old.
While details about what happened to Chris (also known as "Creatures Ferris" professionally) are still unclear, it has been confirmed that he died early Sunday morning in what his family members are calling "a tragic encounter." According to TMZ, Chris got into an altercation with a person who stabbed him.
"We're told he got into an altercation early Sunday, around 2 AM, in L.A.'s San Fernando Valley, and the other person ended up stabbing him," the site reported. "He was transported to a hospital, but died around 3:30 AM from his injuries."
TMZ reports that police are investigating the stabbing and feel it is a "solvable case."
Chris was a DJ who appeared on 'Ex on the Beach' in 2018. Over the course of the show, he had two different exes— Chelsea "Chelsko" Thompson and Haley Read— confront him.
He was described in his official MTV show bio as "an international house DJ and a ladies' man who boils everything in his life down to whether it's 'Gucci' or 'Not Gucci.'" Unlike many of his co-stars, Chris did not appear on more reality TV shows after his time on 'EOTB.'
View this post on Instagram
Chris' family has set up a GoFundMe page to raise money for his funeral expenses. The family did not provide many details on how Chris died; however they did acknowledge that it was very unexpected.
"Unfortunately, Chris passed away early Sunday morning unexpectedly after a tragic encounter…Chris was taken from us way way too soon. Nobody was ready for this, there was so much more he had set to accomplish."
After news of Chris' dead broke, his MTV co-stars began to pay tribute to him, including Chelsea.
"You will be so dearly missed sweet boy," she captioned a photo of herself with Chris that she posted to Instagram Stories.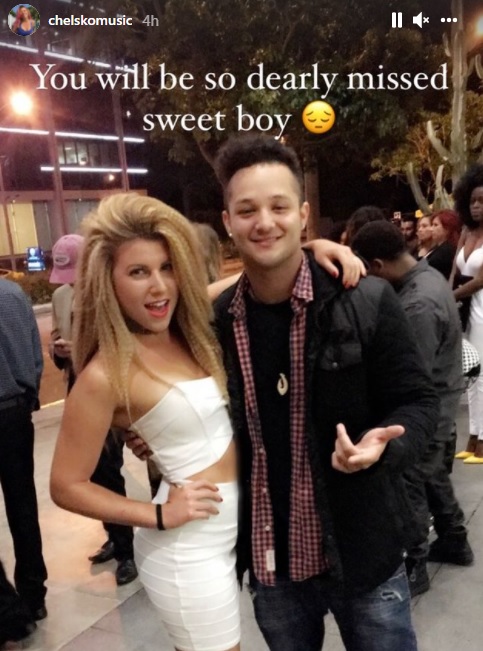 "I'm at such a loss for words," she wrote on another post. "We started this beautiful musical journey together. You believed in me before anyone else did. I can't believe you're gone but I know you're up there dancing and DJing with the Lord and Tyler now."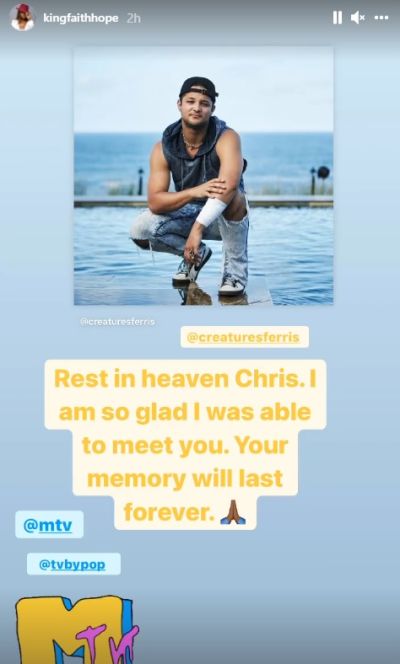 Faith Stowers, who appeared on Season 1 with Chris, also posted a tribute to him.
"Rest in heaven Chris," she wrote. "I am so glad I was able to meet you. Your memory will last forever."
Another co-star, Lexi Marsella, wrote, "My heart is broken. We were part of each other's [lives] for a very short snippet of time but being locked in a house for weeks, you really get to know someone. Your heart was pure, your energy was infectious and the world is not as bright without you here. May you rest in peace."
At press time, $1991 of the $30,000 fundraising goal had been raised. To donate to Chris' GoFundMe page, click here.
UPDATE! The Ashley has discovered a news article regarding the stabbing, which apparently took place at the Woodland Hills apartment complex Chris was living at. (The age of the victim is wrong, but the address matches to Chris' last known address.)
(Photos: MTV; Instagram)