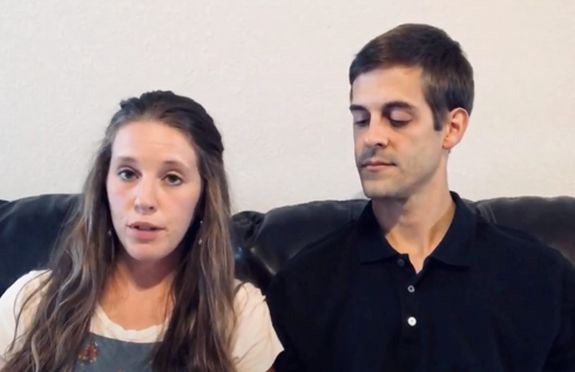 Jill Duggar Dillard and her husband Derick shared some sad news with their fans on Monday.
The former Counting On stars revealed in a new blog post to their website that they recently found out that Jill was pregnant with their third child, but unfortunately, Jill suffered a miscarriage and lost the baby. The Dillards wrote that they had been documenting as they found out
Jill was pregnant, as well as telling their sons, Israel and Samuel, about the baby.
They ended up posting the footage to their blog, as a tribute to the baby they lost during the first trimester of pregnancy.
"We recently found out that we were expecting our third baby," Jill and Derick wrote. "We were all thrilled! It was fun to see so much joy in the boys' faces as we shared the news with them. They were full of questions and so excited as we talked about the pregnancy and how they would get to be involved along the way and after baby was born. However, a few days later we started miscarrying."
Derick and Jill decided to give the baby a name in order to honor him or her.
"Even though it was too early to tell the baby's gender, we picked a name that we feel encompasses our baby's significance and the life we will always remember: River Bliss Dillard," they shared. "One meaning for River is 'tranquil'…and here in Arkansas, rivers are often a serene, beautiful escape in nature. We also like how the River talked about in the Bible (Rev. 22:1-5) represents God's life-giving presence…
"Our baby doesn't get to live here with us on earth, but is forever with the source of the river of life, in the presence of the Lord!" they continued. "And we chose Bliss for a middle name because our baby is living in perfect bliss with the Lord and was such a gift that brought immense joy and happiness to us even though only with us here on earth for a short time."
Over the past few years, Jill and Derick have been open about the fact that they had been using birth control, despite the Duggar Family being adamantly against it.
"Yes, we use birth control, but we prefer to use non-hormonal birth control methods … just because we don't want to use anything that could potentially cause an abortion," Jill stated in one of the Dillard Family Q&A videos. " … we just want to be careful about that and we're also, like, more natural-minded."
Jill noted at the time that she and Derick choose to "steer clear" of birth control methods that may have longer lasting effects because they eventually planned to have more children.
Jill and Derick have also bucked the Duggars' trend of having "as many children as God gives," like Jill's parents Michelle and Jim Bob, as well as many of Jill's siblings have done.
Last year, Jill discussed their decision in an interview with People magazine.
"Growing up, it was ingrained in me that if you don't have as many kids as you're able to, that there's something wrong with that," Jill told the magazine. "But there was a shift in me where I felt like it wasn't wrong if you decide as a couple that it's best for you to wait.
"Children are a blessing, but that doesn't mean that at all costs you should have as many kids as possible," she added.
Anyway, Jill and Derick have created a montage using the footage they filmed from the pregnancy. You can watch that below.
RELATED STORY: Former 'Counting On' Star Jill Dillard Discusses Why She Uses Birth Control; Says She Was Taught to Have "As Many Kids As You're Able To"
(Photos: YouTube; Instagram)