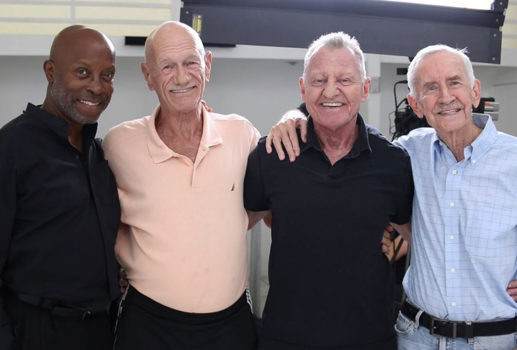 Robert Reeves, Mick Peterson, Bill Lyons, and Jessay Martin are taking their TikTok fame to reality TV!
The quartet—collectively known as the "Old Gays"— is known for posting funny videos about living together near Palm Springs. Variety announced last week that the social media stars, who have 3.2 million followers and 320 million views across their platforms, have signed with Brian Graden Media (BMG) to star in their own reality series. The series will showcase their personal and professional social media lives as they live together
"We are thrilled to be working with the hilarious and very talented 'Old Gays,'" Brian Graden, CEO of BMG told Today. "Their videos resonate with audiences young and old alike and viewers have shown extreme interest in seeing their lives on a more personal level which we intend to deliver upon."
While they first started appearing in media in Grindr ads in 2018, it's relatively recently that they've gone viral, mostly thanks to TikTok. On the app they share stories, words of wisdom, and also just have hilarious conversations and reactions to popular videos.
In addition to just being plain entertaining, the Old Gays also educate on how coming out and being homosexual throughout the decades has changed.
"I think the most important thing that we're educating people on is that 60 years ago, coming out was a real struggle," Bill said in a profile by Today. "You didn't talk about coming out to your parents or anything. In fact, a lot of situations, I heard when parents found out that one of their children was gay, they kicked him out of the house right away. It really wasn't easy in the beginning."
Jessay believes Tik Tok and social media have finally allowed him to speak out and help people.
"I have not always had a voice," he said. "This has given me an opportunity to really use my voice and to just not worry about what people are thinking of me. For me, it really has been and still is quite the journey. I don't know where it's going, but right now I'm on cloud nine and I'm thankful to be a part of it."
And Mick just wants to make people smile (and he's doing one hell of a job).
"I hope that they take our experiences and see that we're honest about them and reflect on those experiences towards themselves, either as a cautionary tale or something to have a laugh with us on," he said. "And maybe they learn not to ignore the old gay at the bar next time."
Least to say, the foursome are still getting used to their newfound fame, and this series will only widen their audience. Bill is still coming to terms with everything, but is taking it in stride.
"I mean, at 77 years old, I never had any idea that this would happen to me," he admitted. "It's totally surreal. I feel like a dinosaur, but the way that people are reacting to me and to the others, I can't believe it."
They've been called The Golden Girls of a new generation, and it's a sentiment the Old Gays seem to appreciate. As to why they wanted to bring the Old Gays to the screen, Brian harkened back to their track record of celebrating LGBTQ+ stories.
"We have always been very passionate about telling stories within the LGBTQ+ community with our series that have included Finding Prince Charming, Todrick, Escape the Night, Instant Influencer, and Lance Loves Michael, and have had an extremely successful track record collaborating with social media influencers, which also include Joey Graceffa and James Charles," Brian explained.
"We look forward to expanding upon that success with the Old Gays to create an entertaining and successful long-form series that will be enjoyed by millions of viewers from all different backgrounds and ages across the world."
Click here to check out the Old Gays on TikTok.
It has not yet been revealed what network the Old Gays' new show will air on, or when it will premiere.
(Photos: Instagram)
RELATED STORY: Amber Portwood Insists She Didn't Come Out a Bisexual Just for a 'Teen Mom OG' Storyline; Says She's Been Into Women Since Age 12