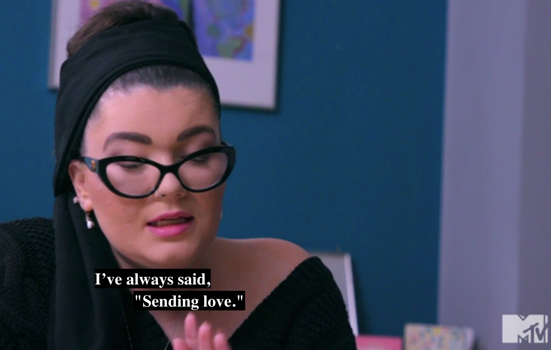 Amber Portwood has been teasing some "big projects" she's working on for months now, and, late last week the Teen Mom OG star announced one of them. Amber recently released her new "Portwood AF" merchandise line, which includes coffee cups, hoodies and T-shirts with "very Amber" sayings.
"Portwood AF" (which means "Portwood as f**k"– just an FYI) is not Amber's first clothing line. (Who can forget her infamous "Forever Haute" brand in which she tasked her then-boyfriend Matt Baier with hiring models to for her "brand.")
Anyway, Amber has taken the job of modeling the new merch herself. In a series of promo pics Amber can be seen on the couch or in bed (natch), wearing the first items from the line. (The clothing items ship only within the United States at this time, so you'll have to mail them out to your Belgian boyfriends yourselves!)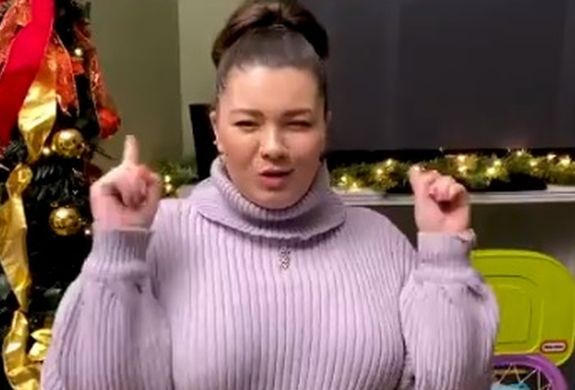 The Ashley knows that the holidays are upon us, so you may be starting to look for gifts for your pals. (That is, of course, provided you aren't already filling your friends' stockings with gift cards to Billy Bob's Cut 'n' Buzz, where everyone receives a salt-n-pepper mullet 'do a la Butch!)
Here, The Ashley breaks down all of Amber's "Portwood AF" offerings!
For the friend who needs some inspiration:
The Ashley suggests Amber's "Fighter For Life" tee for your down-on-their-luck buddies. The cotton crewneck– which runs for $28– will inspire your pal to go out there and fight for what they want. (We can assume this isn't encouraging people to throw TVs at their boyfriend's heads when they get into an argument…right?) The tee has no pockets (so you'll have to store your "Mother Goddess" swords elsewhere, sorry!)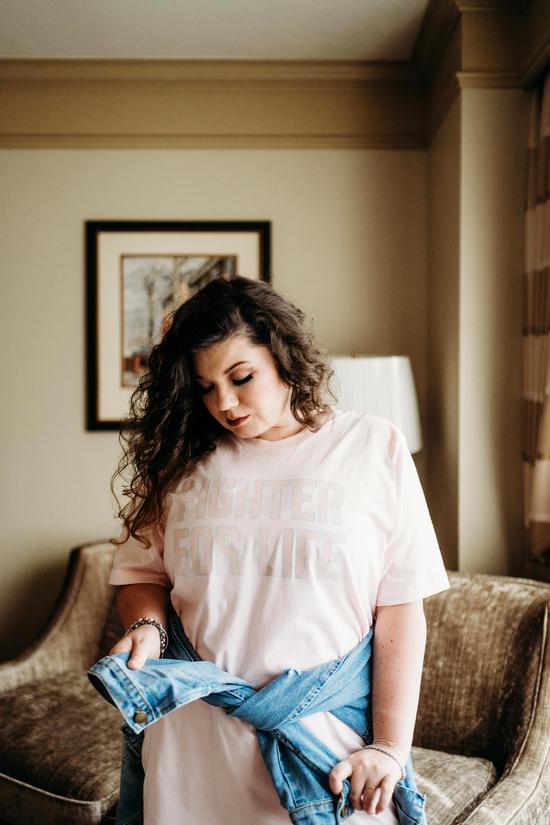 For the pal who lives for Instagram:
If your friend has yet to find the perfect "Amber-esque" kimono to wear during your Instagram Live rants, allow The Ashley to suggest you buy her the "Unfollow Me" T-shirt. In the product photo, Amber is shown lounging in bed (natch), phone in hand, and modeling this V-neck unisex tee. It's available in sizes small to 2XL, so it will fit "Dad Bods" and "Rill Women" figures of all shapes and sizes! This shirt also runs for $28.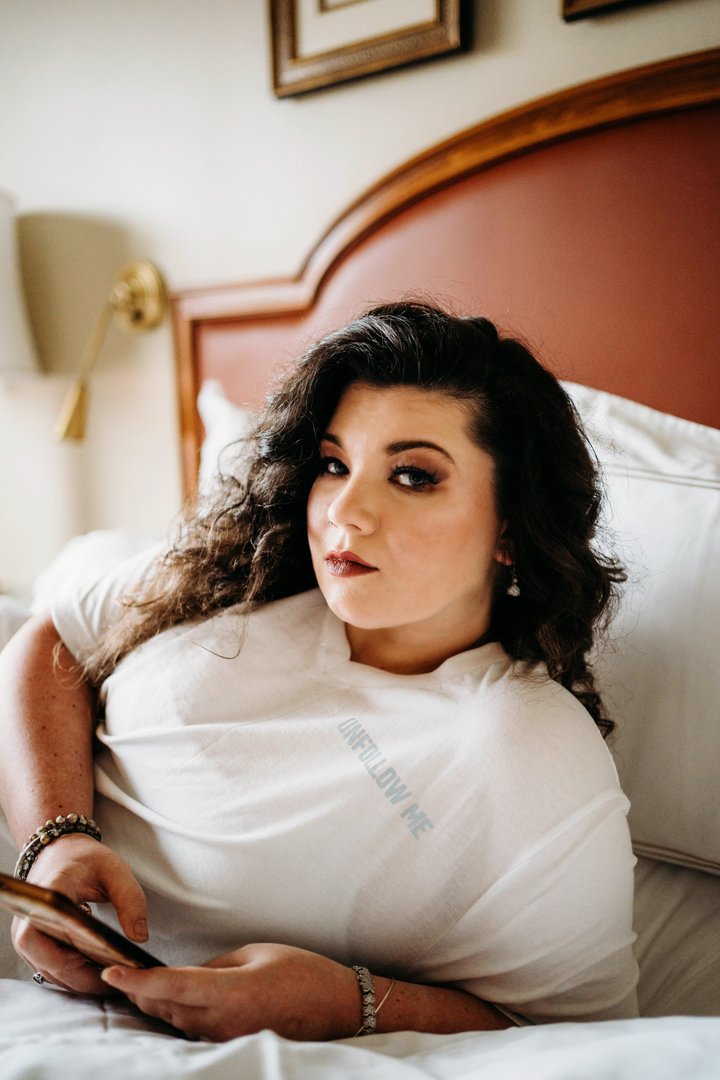 For your buddy with drastically varying moods:
If you never know if your friend will be "sending love" or sending a machete through your bedroom door, this coffee mug is for you! The dishwasher safe mug features four of Amber's frequently seen moods: from "Zen AF" (while lounging on the couch); to "I Got This" (while giving an inspirational talk on Instagram Live), to "Unfollow Me" and finally to "Portwood AF" (which, as we know, means someone might end up on the news tonight!) This ceramic cup retails for only $18.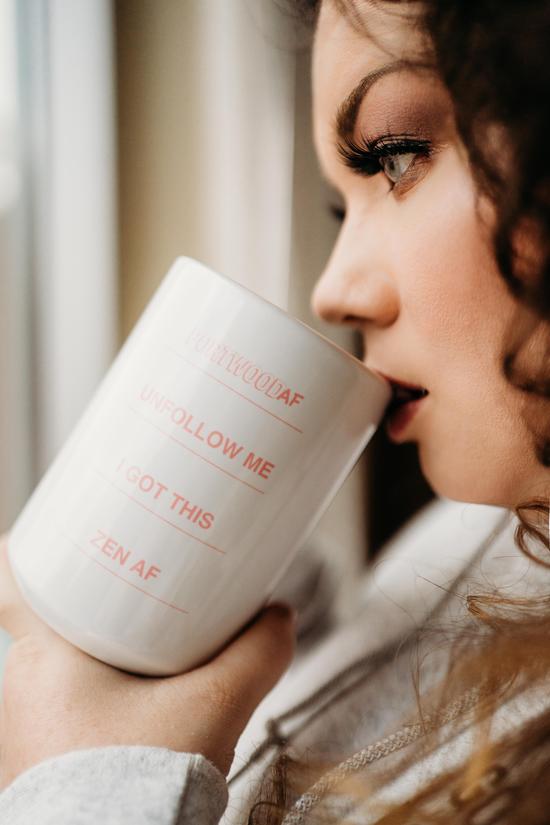 For the galpal who's fresh from the slammer:
Keep your buddy who's just been released from "gel" warm this winter by buying them the "Portwood AF" hoodie sweatshirt! Featuring a front pocket (to store their phone so they can quickly message their Belgian boos!), the hoodie runs from sizes Small to 3XL and features the "Portwood AF" slogan in bright letters across the front. Your legally challenged friend will be hot (and also sweaty) in this stylin' sweatshirt!
View this post on Instagram
For your aggressive, yet loveable BFF…who you want backing you up during a fight:
For the friend you trust to have your back; the "rill" woman you know would kick someone down the stairs for you without a second thought, The Ashley suggest the "I'm Going To Portwood Your A**" sweatshirt. For $55, you can let people know you're not someone to be messed with.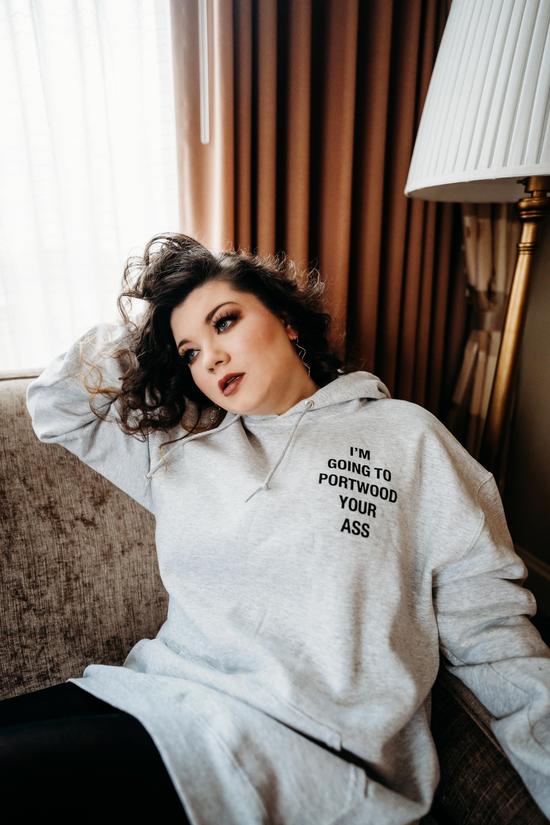 Amber recently told a follower on Instagram that she is "just getting started" with the "Portwood AF" line and that more merch options will be available soon.
She also dealt with some criticism and negative feedback, after some fans felt that some of the merch sayings (particularly the "I'm Going To Portwood Your A**" sweatshirt) was glorifying/making light of domestic violence, a crime Amber has been arrested for multiple times.
She took to Instagram shortly after the products were released to defend the slogans, insisting that it this is just a fun project and she never intended to make light of violence.
"There is only room for positive people and energy in this space," Amber wrote on Instagram. "If you feel any negative or hateful feelings towards a person then there is no need for you here. My new line #portwoodaf does not condone any sort of violence and comments referring that is so do not belong here. This was a fun project that I made taking different sayings from supporters and started wearing myself at first and now sharing with you. Stay positive loves and don't make misconceptions for what certain things mean."
Check out the entire "Portwood AF" merch line by clicking here!
RELATED STORY: Amber Portwood Fires Back at Critics During (Another) Instagram Live: "I Can Play A Victim, Because I Am A Victim"
(Photos: PortwoodAF.com; MTV; Instagram)