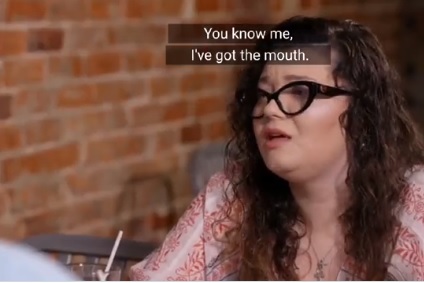 Amber Portwood is defending herself on social media in the wake of this week's episode of Teen Mom OG, which featured a painfully awkward interaction between Amber and her somewhat estranged daughter, Leah.
As you may already know, Amber's weapon of choice in such situations is a machete Instagram Live, and when the haters came for her parenting–- or lack thereof-– this week, she went Live to give them a piece of her mind.
During her rant, Amber denied laying in her bed all the time, despite what 'Teen Mom OG' viewers may assume after having watched this show for more than a decade. In fact, she told viewers she's a rill woman whose "talent is helping people and sharing my story." (She didn't mention singing as one of her talents, but that didn't stop her from doing that on Instagram Live, too.)
As for the reaction from viewers after Tuesday's episode, Amber has no idea why people have anything but positive things to say about her.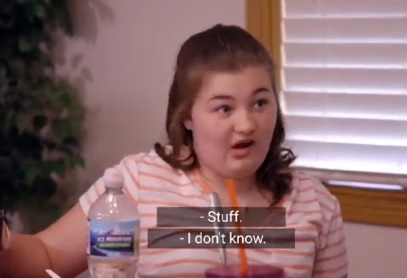 "I don't really know where all of this hate is coming from towards me because I really didn't do anything," Amber said, before reminding everyone (yet again) that she went to gel jail and rehab to fix her life "and stay alive."
She added that she's helped others to "not kill themselves," as well.
As the Instagram Live continued, Amber claimed to be a hard worker, and while she did launch her PortwoodAF merchandise line this week– complete with questionable slogans and laughable price points– she assured viewers she's not "a sells sales person."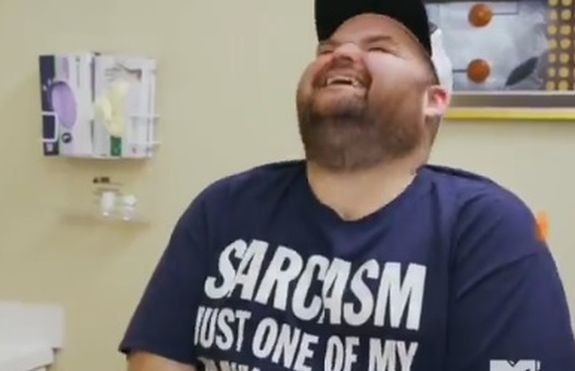 To the critics who accused her of playing the victim on Tuesday's episode and long before that, Amber argued that she can play a victim, because she IS a victim.
" … I am a victim of people who are hateful," she added.
Later in her Instagram Live, the victim mom of two dropped a series of F-bombs, claiming she can "say f**k you and still be positive [because] it's 2021, you stupid f**k."
To hell with "sending love"– I think Amber just found a new tagline for PortwoodAF.
Amber went on to tell her followers she has "learned so much through my mistakes" and encouraging everyone– aka Leah, probably– to move forward.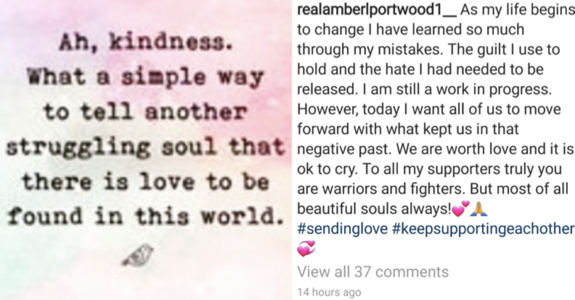 "As my life begins to change I have learned so much through my mistakes," she wrote. "The guilt I use to hold and the hate I had needed to be released. I am still a work in progress. However, today I want all of us to move forward with what kept us in that negative past. We are worth love and it is OK to cry. To all my supporters truly you are warriors and fighters. But most of all beautiful souls always!"
Amber then stood by the comments she made on Instagram Live, claiming the video "was full of great intentions" and that her "tears were real and raw."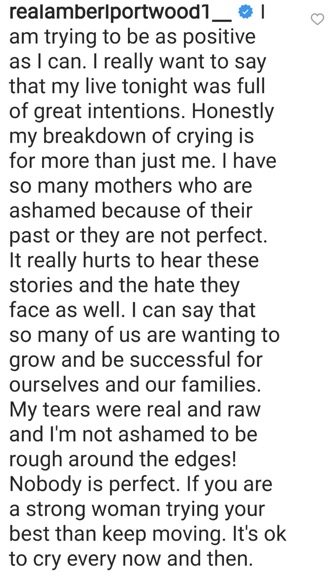 She followed up her Instagram Live/additional posts with yet another statement– this time on her Instagram Story– in which she called this week "so amazing," before encouraging parents to be present and patient… and promoting the "many" projects she has coming.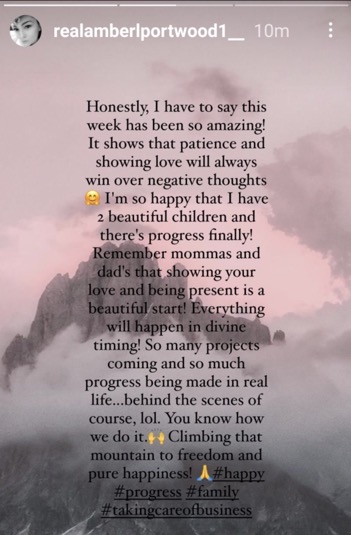 RELATED STORY: Maci Bookout Responds After She's Accused of Using PCOS "As An Excuse" To Be Lazy & Not Work During Recent Episode of 'Teen Mom OG'
(Photos: PortwoodAF; MTV; Instagram)