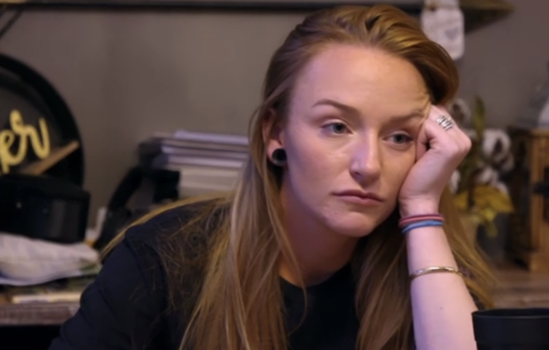 Maci Bookout is firing back on social media after being accused of using her polycystic ovarian syndrome (PCOS) diagnosis "as an excuse" on this week's episode of Teen Mom OG.
As 'Teen Mom' fans know, Maci has spoken openly for years about PCOS, both on and off the show, and just this summer she was nominated for a PCOS advocacy award. On Tuesday's episode of 'Teen Mom OG,' Maci's husband, Taylor McKinney, informed producers that Maci wasn't feeling well that day and was laying down to rest.
After the episode aired, some criticized Maci's reason for not filming, claiming she was using her PCOS diagnosis "as an excuse" to not work and be lazy.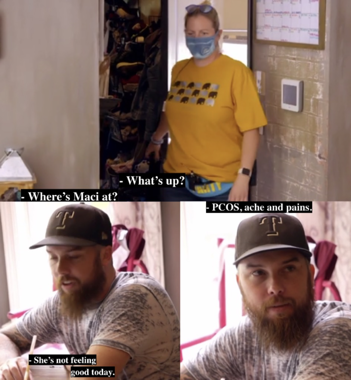 "Oh for f**ks sake Maci… I have PCOS, it's HELL," one tweet stated. "But I still get up everyday, put on my big girl panties and handle my shit. Homeschool my kids, house work and run my own business. Stop using it as an excuse."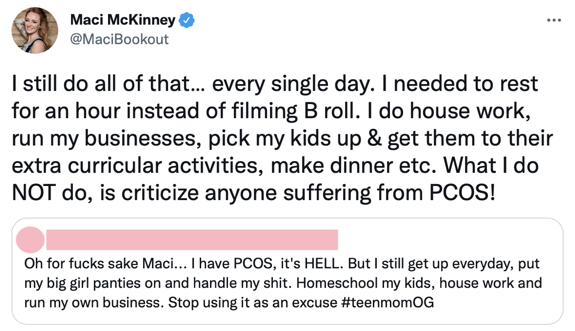 In response, Maci claimed she handles those same responsibilities "every single day," but "needed to rest for an hour instead of filming B roll." ("B roll" refers to footage that is sort of "filler" and is intercut with the show's main footage.)
" … I do house work, run my businesses, pick my kids up & get them to their extra curricular activities, make dinner etc.," she continued. "What I do NOT do, is criticize anyone suffering from PCOS!"
After the same person told Maci "it's literally your job to film" and accused the mom of three of "blaming everything on PCOS," Maci argued that she technically did fulfill her filming obligations that day. Maci stated that letting the producers film her in bed was completing her filming "job."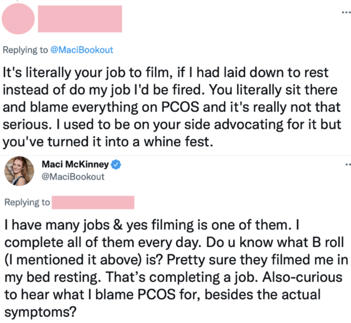 "I have many jobs & yes filming is one of them," she said. "I complete all of them every day. Do u know what B roll (I mentioned above) is? Pretty sure they filmed me in my bed resting. That's completing a job. Also-curious to hear what I blame PCOS for, besides the actual symptoms?"
(As Maci stated in her tweet, she did allow the crew to film her while she was resting in bed.)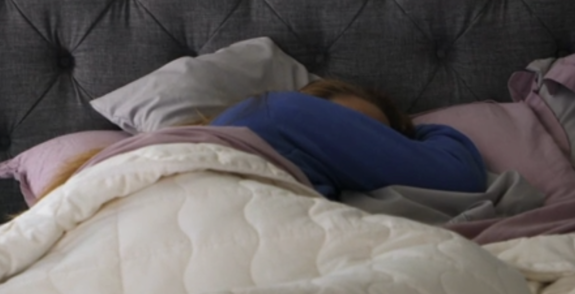 Maci ended the exchange by wishing the individual well on her PCOS journey… but not before calling the person's comments "ignorant."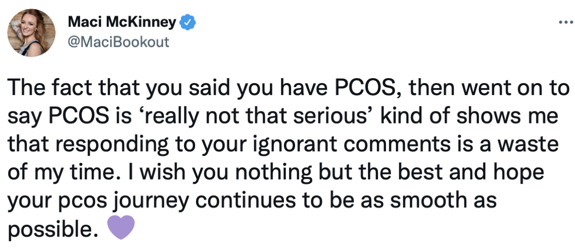 "The fact that you said you have PCOS, then went on to say PCOS is 'really not that serious' kind of shows me that responding to your ignorant comments is a waste of my time," Maci wrote. "I wish you nothing but the best and hope your pcos journey continues to be as smooth as possible."
Pray for #TeenMom2 Dad Javi 💔🙏 https://t.co/T0QXM2t9z5 pic.twitter.com/aI5gMV1xe4

— Maci McKinney (@MaciBookout) November 3, 2021
Maci then proceeded to tackle one of her other "job": posting tasteless clickbait to her Twitter account.
RELATED STORY: Maci Bookout & Cheyenne Floyd Feud with Mackenzie McKee After Mackenzie is Left Out of 'Teen Mom OG' Promos & Claims Cheyenne "Hates" Her: Full Recap of Events
(Photos: MTV; Instagram; Twitter)