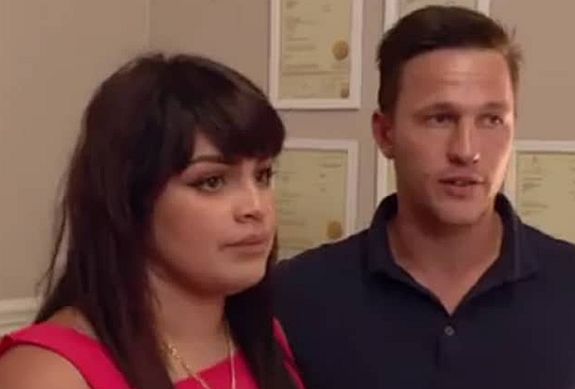 Ronald Smith introduced his new girlfriend in an Instagram video yesterday, prompting fans of the 90 Day Fiancé: The Other Way star and his estranged wife, Tiffany Franco, to comment. Tiffany was especially vocal, reminding fans that she and Ronald are still technically married and that she finds his very public declaration for his new American girlfriend "a little bit, a lot, out of line."
On Tuesday, Ronald joyfully posted photos and videos of his new galpal, thanking her for being a "true pillar" of strength for him when he was down and out.
"Let me introduce everyone to the new person in my life @laurenleightonfraser you picked me up when i was down!" Ronald wrote in the post's caption. "You are a true pillar for me; I appreciate you and who you are! You're such a support for me and every moment with you is such a joy and a pleasure. I enjoy every moment every time. Thank you for who you are in my life and thank you for being part of my life."
As The Ashley previously reported, Ronald and Tiffany announced they were separating back in January 2020 then were working on a reconciliation that March. In August of this year, Ronald told In Touch Weekly he had filed for divorce.
The couple has been married since October 2018 and welcomed daughter Carley in the summer of 2019. They were also raising Tiffany's son Daniel from a previous relationship.
While Ronald— who is currently living in his native South Africa— may have filed for divorce, he and Tiffany are not yet divorced, and fans were quick to remind him of this fact.
"You don't think it's kinda fast?" one follower commented. "You are still technically married bro like wtf? Seriously at the end of the day she is the mother of your kids that you love so at least have respect for her to idk wait till you finally divorced just saying."
"Who says I'm still married" Ronald responded in the thread.
"Your wife!" the poster wrote back.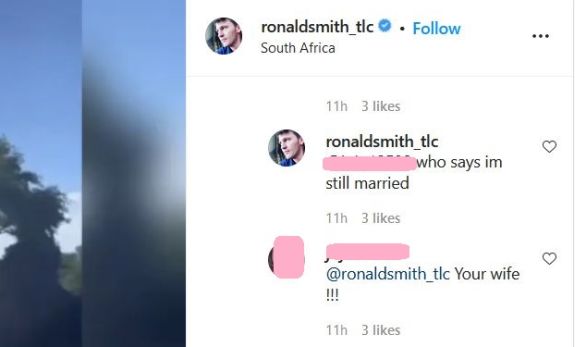 Tiffany shared her thoughts on Ronald's new girlfriend and the state of their marriage in a four-minute-long Instagram Live video that was later shared by blogger John Yates.
"Ronald and I are no longer together, but we are still married on paper," she said. "We did file for the separation or whatever, but nothing is really in concrete yet. He does have another person in his life and he posted a video on his Instagram today with both of them.
"She flew from America to go see him, which I think is a little bit– a lot—out of line because he's still a married man, but I'm just going to hold my head up high. I'm not the kind to like be in these nasty, messy situations."
"I'm not meant to be in a relationship like this," Tiffany continued. "It's just really weird, I've never dealt with somebody who's like this or a cheater."
Tiffany also shaded Ronald's new girlfriend for dating a man who's still married.
"I don't deal with like these kind of women," she said. "It just takes a special kind of person to be with someone when they're still married, but, whatever, she's a pretty girl. She's pretty cute, and, you know, he does look happy… when you're with somebody, it's because you care about them, because you love them, so I'm not going to sit here and bash him because I at one point loved him.
"So all I want to say to you guys is it's not going to be one of the bashing, back-and-forth situations. He's in a new relationship or whatever, and all I can say is, from the bottom of my heart, I wish them the best."
While Tiffany may "wish them the best" she did manage to get a few more jabs in at Ronald and his treatment of her over the course of their relationship.
"I pray that he does not put this girl through an ounce of what he put me through," she said.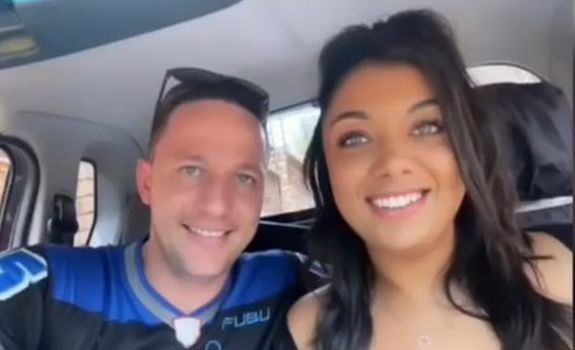 "I do care for him. I know inside he's a good person, and I don't know her, but she seems like a nice girl, so it's really hard to say that because it's painful and hurtful, but a woman like me has no choice but to be strong. I'm not going to let this hurt me more than it already has, so just so you all know, don't go bashing him, don't go finding her, don't go doing anything crazy, he can be happy, hopefully she makes him happy, he makes her happy, and they're good."
Tiffany also asked her fans not to send her the video Ronald posted of him and the girl, who can be seen laughing, kissing and canoodling with Ronald in the footage.
"I don't want to watch that video," she said. "I don't want to see the person I was with for the last five years sucking on someone's neck, I'm not interested. But yeah. Don't send me the video anymore, not interested, I've seen it twice already."
Tiffany has known about Ronald's girlfriend for a little while, as seen in comments on an Instagram post last week.
"Ronald is beet red punching the air somewhere," one commenter posted in the comment section of a modeling photo Tiffany posted of herself.
"He is definitely not he already has another girlfriend," Tiffany responded.
"Are you and South Africa still in a pissing match?" one commenter asked.
"YES," Tiffany responded.
"Ronald cursing himself for not doing the dishes," one commenter posted.
"Hahaha he's happy!" Tiffany responded.
No word yet on when the couple's divorce will be finalized. The process could be complicated with Ronald living in South Africa and Tiffany in America. Last January when the couple first announced they were splitting, Ronald shared that their marriage hadn't been registered in the United States.
"I'll be filing for the divorce in [South Africa] since she isn't even registered in USA as married," he posted on Instagramat the time.
RELATED STORY: Former "90 Day Fiance" Star Varya Malina Reveals She's Joining the Army National Guard As Fiance Geoffrey Paschel Awaits December Sentencing