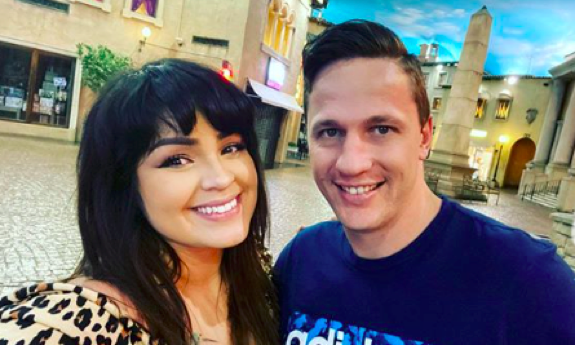 Despite announcing on social media just two months ago that they planned to divorce one another, Tiffany Franco says she and husband Ronald Smith are working through their issues and moving forward in their marriage.
As The Ashley previously told you, the 90 Day Fiancé: The Other Way couple shocked fans in January when they revealed that they were splitting up… and the news became even more surprising when Ronald took to social media to announce that the breakup was his choice and that Tiffany's cheating may have been to blame.
" …. Sorry to inform you all that I have decided to leave Tiffany due to certain reasons," he shared on Instagram in January. "Thank you for following our story but unfortunately it just didn't work for me. I'll be [filing] for the divorce in [South Africa] since she isn't even registered in the USA as married. Talk about adultery."
Shortly after, Tiffany confirmed that the two would be separating, noting that she and Ronald "both deserve much better than what we can offer at the moment." She later went on to deny ever cheating on Ronald.
Now, however, the couple seems to have put their differences aside in an effort to move forward, according to an update shared by Tiffany on social media this week. In a series of Instagram Stories, Tiffany explained the current status of her relationship, while admitting that she and Ronald regret taking their relationship drama public earlier this year.
"So I'm going to address the situation with Ronald and I'm sorry everything was so public when things got really bad we both regret doing that and feel quite embarrassed… ," she wrote. "It is a very confusing time for both of us but the love is there and the love is real and whether anyone thinks that's right or wrong has nothing to do with the decision we will make moving forward. We are treading lightly… "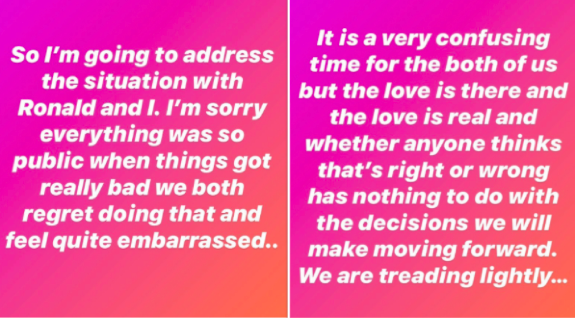 Tiffany went on to say that she and Ronald were "putting in the work to get out of the rut" they were/are in, admitting that "it's been a confusing couple of months."
" … we might not know what the future holds but we both hope to fight for our marriage and spend the rest of our lives together … ," she continued. "Things are not perfect and they are not anywhere near where we would want them to be but to answer everyone's messages and comments … We are not divorced. We are not separated."
Tiffany also said there was "a lot" that her followers didn't know regarding her relationship and that she and Ronald "learned the hard way it's not always best to hash it out in the public."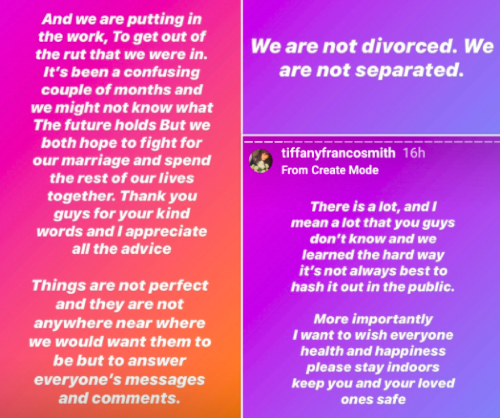 In response to a follower giving Tiffany credit for her "up-front approach," Tiffany said she'd "rather put things out in the open [than] hide them and let people wonder."
Ronald and Tiffany tied the knot in October 2018 and in August of last year, they welcomed a daughter named Carley. The two are also parents to Daniel, Tiffany's son from a previous relationship.
RELATED STORY: "90 Day Fiancé: Before the 90 Days" Star Geoffrey Paschel Shares the Story Behind His Strange Nipple Tattoos
(Photos: Instagram)