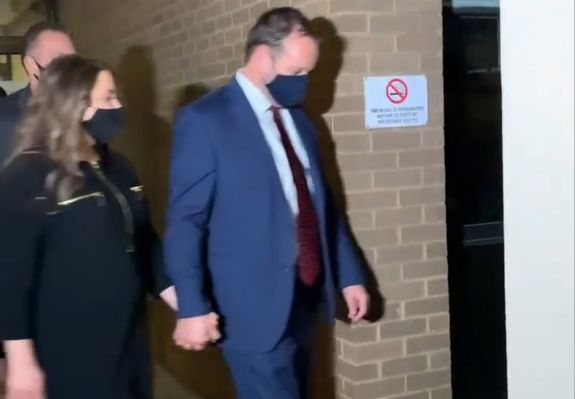 Trigger Warning: This story contains mention of child sex abuse images and other disturbing information.
The Ashley was in a Fayetteville, Arkansas, courtroom today alongside members of the Duggar Family as graphic descriptions of child sex abuse photos and videos that Homeland Security investigators found on Josh Duggar's computer were read. As The Ashley previously reported, Anna Duggar was sitting in the front row, alongside Derick Dillard (husband of Josh's sister Jill) as James Fottrell of the Department of Justice and an expert in child exploitation crimes, described files that were downloaded (or attempted to be downloaded) on Josh's computer in May 2019.
Also in the courtroom while the CSA images were being described was Joy Duggar Forsyth and her husband Austin. As James Fottrell described the files— one of which featured an infant female— Joy looked visibly disturbed, leaning forward and furrowing her brow.
The Ashley can also confirm that some of the disturbing images were visible to Anna and Derick and others in the courtroom. Although the CSA images were only supposed to be shown to the jury, judge and attorneys (with the TV screens to the general public turned off during those times), the prosecutor left his computer screen on for a short time, showing several storyboards of the CSA images and videos in question.
Anna, who was seated right behind where the prosecutor's screen had a view of the images. (The prosecutor eventually turned off his computer, but not before some of the child p0rnography file storyboards were visible to those in the first rows.)
The Ashley is choosing not to go into graphic detail as to what the files downloaded to Josh's computer showed. However, she will refer you to The Sun's coverage, if you would like to know more details about the CSA found on Josh's computer.
While Joy and Austin looked sad and disturbed by the descriptions, and several of the jurors looked away or wiped tears from their eyes, Anna remained stonefaced, even as the graphic descriptions were read and the CSA images were briefly visible to her. (The Ashley is choosing not to describe the files in question; however nearly all of them had disturbing file names indicating things like the age of the girls in the files, etc., with one even containing the phrase "Hot JB," with JB standing for "Jail Bait.")
All of the CSA files in question were downloaded or attempted to be downloaded over a period of four or so days in May 2019 on the computer located in the office of Josh's now-defunct Wholesale Motorcars lot.
Despite hearing about the CSA files Josh is accused of downloading, Anna made it clear that he has her full support. After court was adjourned for the day, Anna was seen walking hand-in-hand with Josh to the parking lot.
To read The Ashley's live updates from Day 3 of the trial, click here.
RELATED STORY: Anna Duggar Sits Stone Faced As Expert Describes How Josh Duggar Circumvented Software Anna Installed to Monitor His Web Activity (Exclusive Details!)