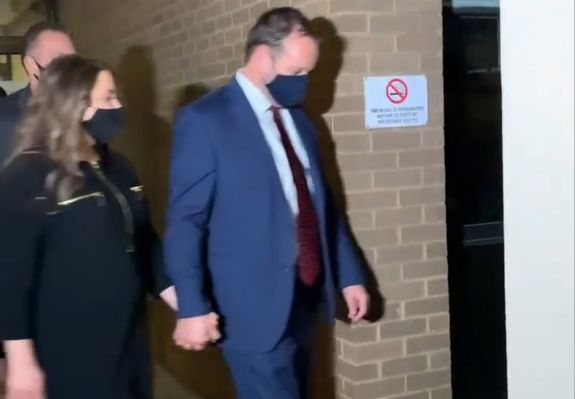 Day four of Josh Duggar's child sex abuse trial has begun and The Ashley is in the Fayetteville, Arkansas, courtroom reporting the events as they unfold.
(As you may know, the former 19 Kids and Counting star is being charged with receiving and possessing child p0rnography.)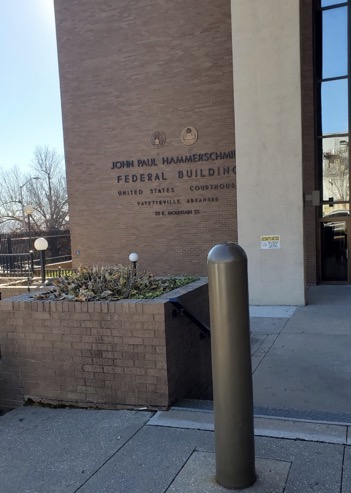 Josh's wife, Anna Duggar, is in attendance once again, along with her uncle and brother-in-law David Waller.
Derick Dillard, husband of Jill Duggar Dillard, is also in the courtroom today, and is sitting with the family.

Joy Duggar Forsyth and husband Austin Forsyth are sitting away from the rest of the family.

James Fottrell of the Department of Justice Child Exploitation in Washington, D.C., has taken the stand again. (Click here to read what he revealed during Day 3 of the trial.)

James Fottrell testified that Josh's laptop once had a torrent browser– technology that allows for the transfer of files and other data between multiple computers/users– but it did not at the time that the laptop was seized.

(The actual desktop computer from Josh's office, as well as his actual laptop, were shown in court as evidence.)

Josh was allegedly sending texts to his sisters, Anna, and others asking them to pray for someone who he saw get into a car accident around the same time he was downloading CSA images.

Josh allegedly texted Anna that he was busy at work with a customer within minutes of downloading a zip containing CSA images.

Screenshots of the texts Josh sent out within an hour of the CSA being downloaded were shown to the court. They clearly showed Josh and Anna's phone numbers, as well as the phone numbers of his sisters, Jessa Duggar Seewald and Jill, whom he was texting.
Photos (including one taken of Anna on Josh's phone) prove that Josh went shopping at Lowe's on May 14, 2019, the same day that graphic zip files and videos of CSA were downloaded to his work computer. It appears that they were shopping for a front door.
UPDATE 1:
Defense is cross examining James Fottrell.
Defense wants to know why the router in the office of Josh's car lot was not seized, seemingly indicating it should have been analyzed to see what devices were connected to it on the days in question.
UPDATE 2:
Austin– initially sitting with Anna, Derick and others in the front row before Joy arrived to the courtroom, at which point he joined her near the back, as the front row was full– had his arm around Joy, appearing to comfort her.
UPDATE 3:
Josh's cellphone allegedly contained the iPhone version of a torrent browser and James Fottrell testified that the iPhone torrent browser was used to access adult p0rnography.
Adult p0rnography was allegedly accessed from Josh's iPhone (using the torrent browser) on four dates in mid-October.
There was no CSA material found on Josh's iPhone or his MacBook.
James Fottrell testified that 100 percent of the CSA material was found on the desktop computer located in the office of Josh's car lot. (The files were all located on the Linux partition side of the desktop computer, which James Fottrell testified that someone would have had to be physically present to install, and download the CSA files onto.
According to James Fottrell, Josh was at the car lot every time CSA material was downloaded.
If you are interested in reading the specific testimony James Fottrell gave regarding the computer equipment seized from Josh's office (and are into the techy stuff), click here to access KNWA's report, which goes in to very good detail regarding what James testified about.
UPDATE 4:
Bobye Holt, a close friend to the Duggars who testified at Monday's pre-trial hearing, was at the courthouse today and slated to testify. Bobye's husband Jim, an elder in the Duggar Family's church, was also present. Bobye did not end up testifying, though, as the full day was spent with James Fottrell as the witness.
The jury elected to allow Josh's defense to finish their cross-exam of James Fottrell. Court was adjourned at 5:35 p.m., with the judge reminding the jury that they are not allowed to discuss the case with anyone over the weekend, nor can they read anything about the trial.
The judge stated that court will begin again on Monday morning and that the trial is likely to go until Wednesday, when the jury would begin to deliberate.
The Ashley will continue to post live updates throughout the day. Stay tuned…
RELATED STORY: Josh Duggar Trial: Joy Duggar Forsyth, Anna Duggar & Other Family Members React As Expert Describes Graphic Child Sex Abuse Photos Found On Josh's Computer (Exclusive Details)
(Photos: The Ashley's Reality Roundup)