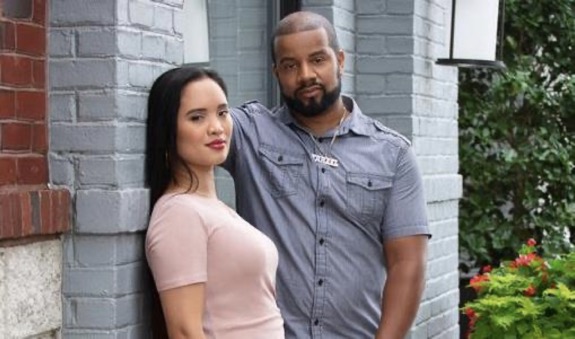 Another couple from the 90 Day Fiance universe have called it quits.
According to Starcasm, Tarik Myers of 90 Day Fiance: Before the 90 Days revealed this week on social media that his wife, Hazel Cagalitan, has left him and is heading home to the Philippines.
While Tarik hinted that there were cracks in his marriage when he unfollowed everyone on Instagram and posted a video of himself taking down the Filipino flag in his home, he confirmed the split this week on his Instagram Story.
"Hazel does not live with me anymore," he wrote. "She said she is another state with people I don't know. She is going back to the Philippines. I do know that bc she has no choice. No matter what happened, I ask that you viewers and bloggers leave her alone. Please do not attack her or harass her like you've been doing for the last 3 years."
Tarik reportedly went on to add in another message, "Hazel. Use your head."
While Tarik asked that people leave Hazel alone, he appears to be doing just the opposite. On Wednesday, he posted a screenshot of Hazel's updated bio– which suggests Tarik had abused her mentally and emotionally– claiming the allegations were untrue.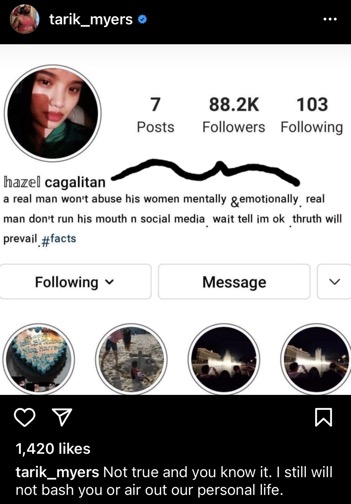 "Not true and you know it," Tarik captioned the screenshot. "I still will not bash you or air out out personal life."
Tarik's original caption on the post was much longer, Starcasm reports, as Tarik accused Hazel of making the abuse allegations as a way to stay in the United States.
"Lawyers told me that you would claim this," his original caption read. "They say it's the go to claim to try to stay in the U.S. I said no way, not my wife. She'd never. She'd go back willingly first. Is this really who you are? I still will not bash you or air out our personal life. I will say that you know everything I said or did was to provide a wonderful life for you, my daughter, and YOUR SON. No one is fighting harder for him than I am to this day. Not even you.
"So don't let IG haters and the 'friends' around you push you to make a bad decision because you're upset," he continued. "Would they put their life on the line for you or your son? NO they won't. I know one person who would. And I only told social media you left and asked that you be left alone and not harassed. You're gonna make yourself look much worse if you force me tell my side online. Calm down and call me. Dwain is flying here tomorrow to stay with me for a while to help me try to talk to you and fix it. I didn't lie on you so don't like on me. #Tarzel."
Meanwhile, Hazel has been posting quotes seemingly related to her current relationship status, and she also posted a promotional photo from TLC with Tarik cropped out.
UPDATE: Tarik revealed to Us Weekly Wednesday that he loves his wife and "absolutely" does not want a divorce.
"I absolutely do not want her to leave," he added. "I absolutely want to build our family like we've planned since the very beginning."
Although Tarik said he and Hazel do not currently "have any open lines of communication," he said it's "not by choice." He also noted the recent dispute occurred after he and Hazel discussed some issues that they had talked about "many, many, many times."
"She felt one way about these issues, and I felt another way about these issues," he said. "We disagreed on what we should do."
Tarik did not elaborate on the argument, however, he said it was regarding "the betterment of the whole entire family."
"I still don't know if her leaving was meant to be permanent, if it was meant to be temporary, if it was meant for me … if this was her way of trying to get my attention– saying, 'You're not hearing me, you're not listening to me. You're going to listen to me now because I'm going to disappear."
RELATED STORY: "90 Day Fiance" Couple Evelyn Cormier & David Vazquez Zermeño Confirm They Are Divorcing After Four Years of Marriage
(Photos: TLC; Instagram)