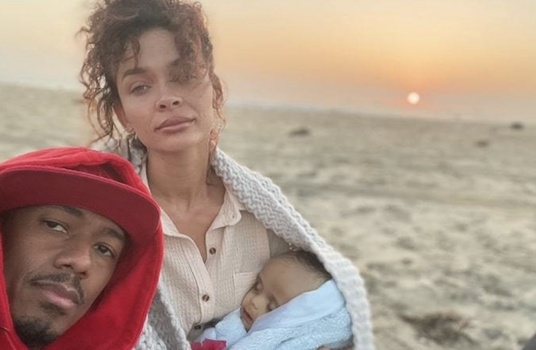 Nick Cannon revealed on Tuesday's episode of The Nick Cannon Show that his youngest child, five-month-old Zen, passed away over the weekend.
Nick and Alyssa Scott welcomed baby Zen in July, just weeks after Nick's fifth and six children– twins Zion Mixolydian and Zillion Heir, whom he shares with Abby De La Rosa– were born. (Nick also shares daughter Powerful Queen and son Golden with Brittany Bell, and twins Monroe and Moroccan with ex-wife Mariah Carey.)
Nick announced the devastating news, telling his viewers, "Over the weekend I lost my youngest son to a condition called hydrocephalus, that is pretty much a malignant, mid-line brain tumor– brain cancer."
Nick went on to share that since birth, Zen had a cough and "interesting breathing," which he decided to have checked out. He also mentioned Zen's "nice sized head," though he admitted he and Zen's mother "didn't think anything of it." During a visit to the doctor, Nick said it was discovered that Zen had a malignant tumor and fluid building up in his head, leading the infant to undergo shunt surgery to drain the fluid out.
During Thanksgiving, however, things worsened as it was discovered Zen had brain cancer and his "tumor began to grow a lot faster."
The host shared with viewers that over this past weekend, he spent as much quality time with his son as he could.
"We woke up Sunday, I got to spend the weekend with him, and I woke up Sunday and was like, 'I feel like I want to go to the water,'" he said. "We got a chance to go to the ocean."
Nick– who dedicated the episode to baby Zen– then revealed that he held his baby for the last time over the weekend.
Following Nick's announcement on Tuesday, Alyssa posted a series of videos featuring baby Zen to her Instagram Story, and during Wednesday's episode of Nick's show, he took a moment to share a message for Alyssa while showing the audience a photo of her with their son.
"…I really wanted to take this time out to just talk about the strength that this woman possesses in this moment," Nick said. "I apologize for so many things, but I just know if there's any weight or anything that I've caused– I'm not gonna get everything right, this is difficult for the both of us– but I thank you for being that strength and being that rock.
" …Love to Alyssa, love to her extended family, and love to each and every mother that's ever had to lose a child or had to deal with a child with special needs," he continued. "I watched her grow … mothers are superheroes in every aspect, and I just wanna take this time out to say she is doing well, but continue to pray for her, continue to pray for our entire family, and we're gonna get through it."
You can watch Nick make the heartbreaking announcement in the video below.
(Photos: Instagram; YouTube)