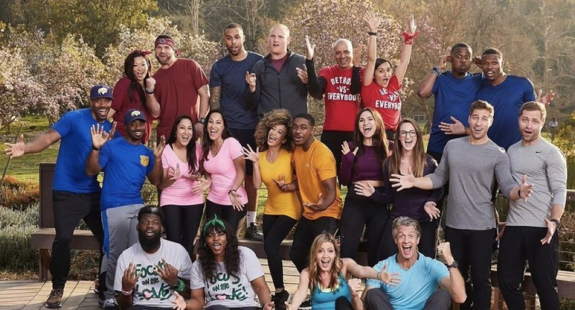 CBS debuted the trailer for the 33rd season of its multi-Emmy-award-winning The Amazing Race on Friday. Filmed over nearly two years, the show's 20th anniversary season will feature 11 teams on an around-the-world race that was interrupted by the COVID-19 pandemic, with contestants taking an 18-month pitstop in the middle of filming.
The race originally kicked off February 2020. Three legs were filmed when producers decided to pause filming as countries around the world instituted lockdowns due to COVID-19.
"I knew there was something really wrong here," executive producer Bertram van Munster told Variety. "We sent everybody home at that moment."
Production picked back up this October with new routes, strict testing protocols, limited contact with outsiders, and contestants and crew traveling together on a private plane.
"It actually opened up a whole new world for us of how to do this in a very different way, but still have the same feel and energy," executive producer Elise Doganieri told Variety. "It created a close race every single time that plane landed in the next city … I think you're going to really like the way the show plays out with this plane. It might be the wave of the future, but I don't know if it'll be affordable for a global trip."
When the shows debuts on CBS January 5, it will feature the teams racing across seven countries and more than 22,000 miles for a chance to win the $1 million prize. (Episodes will also stream on Paramount+.) The teams feature couples, family members and best friends.
The complete list of teams was revealed by People on Friday.
The Season 33 teams are:
Caro Vichweg and Ray Gantt: Former 'Love Island' stars
Kim & Penn Holderness: YouTube stars
Lulu & Lala Gonzalez: Twin sisters who host iHeartRadio shows
Sheridan & Akbar Cook Sr.: Married educators
Anthony Sadler & Spencer Stone: Paris terrorist attack heroes
Arnun Kuman & Natalia Kumar: Father/daughter traveling duo
Connie & Sam Greiner: Husband & wife from North Carolina
Armonde "Moe" Badger & Michael Norwood: Singing police officers from New York
Dusty Harris & Ryan Ferguson: Best friends; Ryan was wrongly convicted of murder & spent 10 years in prison
Raquel Moore & Cayla Platt: Flight attendants
Taylor & Isiah Green-Jones: Husbands from Oregon who went viral for their wedding flash mob
Watch the Season 33 trailer below:
All but two teams were able to rejoin the show when production picked back up.
"Certain people had just extenuating circumstances that frustrated us and them and everybody really tried to make everything work so everybody could come back, Elise told Variety, noting that filming during a global pandemic taught the production team lessons they will carry forward for future seasons. "The only way to really figure it out is being out there and we did.
"Were we super excited when that plane landed back at the finale at the end? Yes, wheels on the ground, back in our country," she continued. "Everybody came home safe. And we were just super grateful. Our system worked. All the protocols and all the procedures that we put in place … Nothing will stop us, because we know how to do is safely now."
Watch the Season 33 trailer below!
RELATED STORY: 'The Amazing Race' is Set to Return for Season 33 After Suspending Production in February 2020 Due to COVID
(Photos: Instagram/CBS; YouTube)