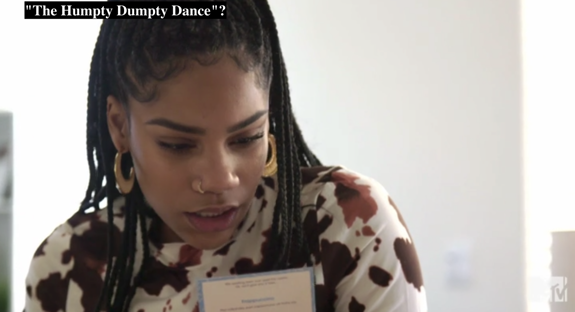 From getting hitched to getting knocked up twice before the age of 18, the stars of the 'Teen Mom' franchise (both past and present) have been keeping themselves busy lately! In an effort to keep you up-to-date on the latest 16 and Pregnant, Teen Mom OG and Teen Mom 2 news, The Ashley brings you the Teen Mom News Pile.
Here are some of the major (and minor but interesting) 'Teen Mom'-related things that have happened over the last week or so…
Ashley Jones and Bar Smith are reportedly married.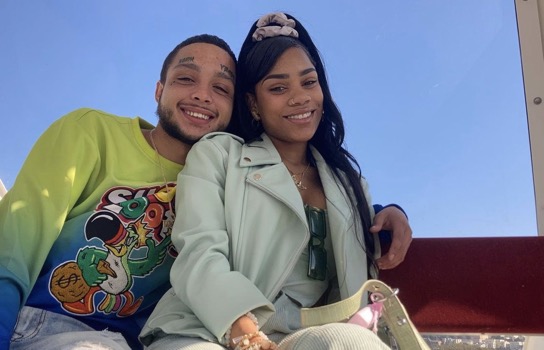 'Teen Mom 2' couple Ashley Jones and Bar Smith have officially tied the knot, according to Ashley, as well as her mom Pastor Tea, and Bar's mother, Shen Williams.
Recently, Ashley and her mother-in-law seemed to confirm the Ashley and Bar's new relationship status on social media when she referred to Ashley as her daughter-in-law a screenshot posted by @teenmomshaderoom_ on Instagram.
Ashley's mom, Pastor Tea, also chimed in, writing on Instagram that, "[Jenelle] meant to [call Bar Ashley's] husband cause Ashley is married to Bar in real life. I was there, I know."
The comments from Shen and the alleged wedding attendee were made after Jenelle Evans referred to Bar as "Ashley's baby daddy" on TikTok, and even Ashley later referred to Bar as her "HUSBAND"– yes, in all caps– when responding to Jenelle's video.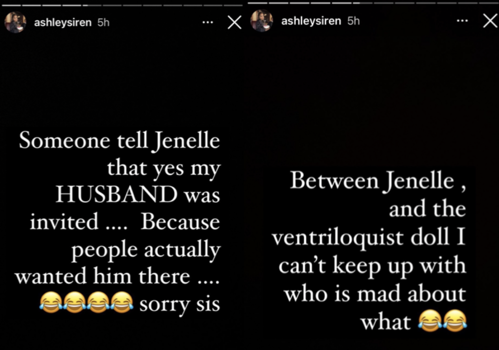 Back in October 2020, Ashley took to Instagram for a Q&A with fans, during which she confirmed her engagement to Bar. ('Teen Mom 2' viewers got to see the proposal happen on the show.)
As fans of 'Teen Mom: Young and Pregnant' may recall, Ashley and Bar got engaged the first time during Season 1, though they later called off their engagement after a public (and quite messy) breakup in May 2019.
The couple– who are parents to three-year-old daughter Holly– later reunited.
Ashley opened up about her relationship with Bar in June during an episode of co-star Kail Lowry's Coffee Convos podcast.
"You know what, people don't understand Bar and I, but Bar and I have been homeless together– we've been through so much together that we are just trying to make it f**king work."
Farrah Abraham claims (in her signature, confusing "Farrah Speak" way) that "the haters of 'Teen Mom'" sex-shamed her & that everyone is jealous of her.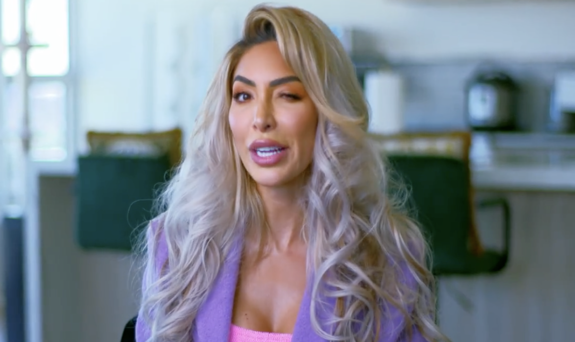 Farrah Abraham delivered a large helping of her signature dish, Word Salad, during a recent Instagram Live session, in which she addressed her "jealous" 'Teen Mom' co-stars, as well as all "haters of 'Teen Mom'" who she insists sex-shame her and commit other assorted hate crimes against her.
Or something…
The former 'Teen Mom OG' star discussed her return to 'Teen Mom'. As The Ashley previously reported, Farrah will appear in Teen Mom Family Vacation; however, her return did not go over well with her co-stars. Things got physical, with furniture being turned over and things being thrown when Farrah's current face was spotted by other cast members.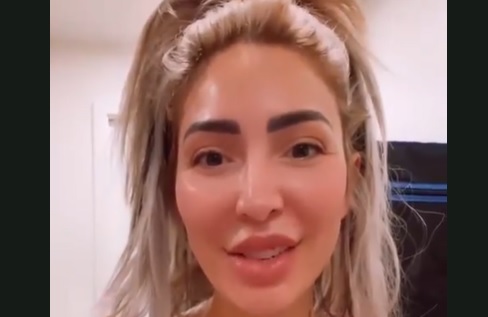 "I really didn't miss the haters of 'Teen Mom,'" Farrah said in the video.
That's when the "Farrah Speak" word salad really kicked off. Feast on this confusing monologue Farrah gave her "fans" on Instagram:
"I worked so hard to be over pandemic-proof!" she states. (Um…?)
"I'm beyond sex-shaming," she continues. "And I do love, even when I hear continually– and this only happens when 'Teen Mom' stuff occurs–the overwhelming jealous and hatred, especially of awful mothers and despicable, sexist misogynistic men."
(Although The Ashley considers herself a certified "Farrah Speak" translator, she has no clue what Farrah is actually trying to say here. It's possible she could be calling the men and women of 'Teen Mom' these things, or just anyone who doesn't kiss her backdoor on Instagram. It's unknown…)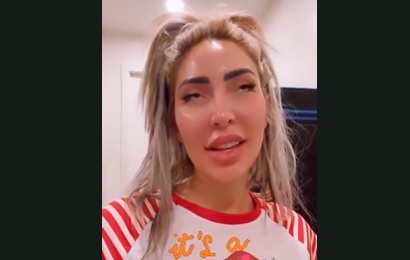 "So just for you, a little gift for you, I'm not going to stop being the independent adult that I am, who is spiritually and sexually empowered to be the woman that I am" Farrah says. "Never gonna stop, especially for you!"
Farrah then suggested everyone "pick on somebody else."
Earlier this week, Farrah shared a different message for some of the cast of 'Teen Mom Family Reunion'– particularly the ones who "attacked" her when she showed up on set in September.
"I just warn others to keep their hands to themselves," she told TMZ. "Do not sneak attack a woman and do not gang up on a woman because I don't handle that too well. So that's kind of what happened to me."
Farrah went on to diss the current cast of moms, whom she says "live in the past," before noting she hopes she's "bringing 'Teen Mom' to like, the 2022s of our world."
'Teen Mom Family Reunion' –which may be full of "Farrah Speak"—premieres January 11 on MTV.
Lindsey Nicholson is divorcing her husband after five years.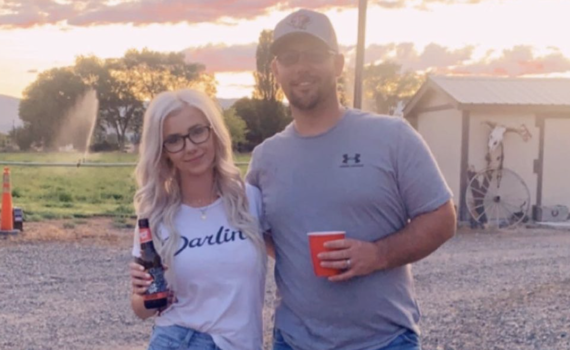 Former 16 and Pregnant star Lindsey Nicholson has filed for divorce from her husband, TJ Nicholson. The Sun reports that Lindsey reportedly filed back in July, and has since removed most traces of TJ from her Instagram account.
Fans may remember Lindsey as the cage-fighting mama from Season 4 of "16 and Pregnant." Lindsey has appeared on Kail Lowry's Coffee Convos podcast several times, and has gone on several vacations with Kail over the years. She also appeared on an episode of Botched in 2018, seeking help removing the extremely large breast implants she received from plastic surgeon Dr. Miami in 2016.
Anyway, since appearing on "16 and Pregnant," Lindsey married TJ in 2015, and he went on to adopt Aniyah, Lindsey's daughter whom she gave birth to on the show. (Aniyah's biological father, Forest Ponce, has been out of the picture for years.)
In 2017, Lindsey gave birth to twins Jackson and Paisley at just 29 weeks, resulting in an emotional delivery, with both babies staying in the NICU and Paisley undergoing various tests and procedures, which she was still facing as of 2020.
Lindsey has not revealed publicly what went wrong in her and TJ's marriage; however in her divorce compliant, she is requesting "exclusive right to designate the primary residence of the children," with TJ to "have standard visitation."
She is also claiming the house they live in belongs to her and is asking the court to confirm the home as her "separate property," along with two trucks.
Additionally, Lindsey is requesting that her maiden name, Harrison, be restored.
Former 16 and Pregnant star Selena Gutierrez is expecting her second child.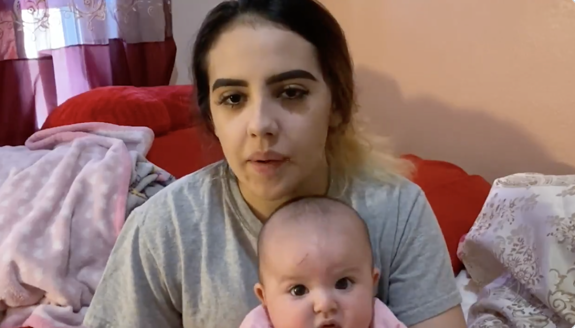 Seventeen-year-old Selena Gutierrez, who was featured on Season 6B of "16 and Pregnant," revealed on social media recently that she is pregnant with her second child.
"Our present came a lil early this year baby #2 on the way," she wrote on Instagram. "I got to keep this special moment to myself for a while, now we can finally share! Promoted to big sister 🙂 coming 2022."
As fans may remember, Selena appeared on "16 and Pregnant" with her baby daddy Sean. The two welcomed daughter Dareli in October 2020. (Viewers may also remember laughing at that fact that Selena's sister gave birth to a daughter of her own just six days before Selena had Dareli. Selena's sister named her daughter… Yareli.)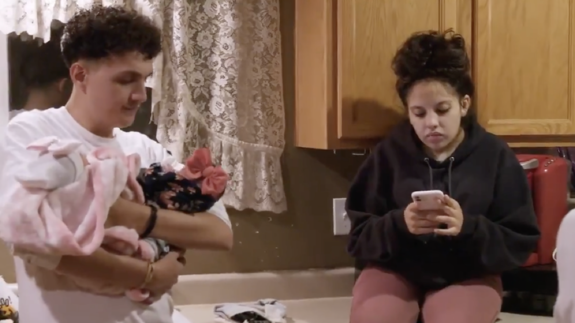 While Selena did not confirm that Sean is the father of her second child (whom, in The Ashley's opinion, really needs to be named Shareli), she did insinuate on her Instagram Story that she considered not having the baby at one point.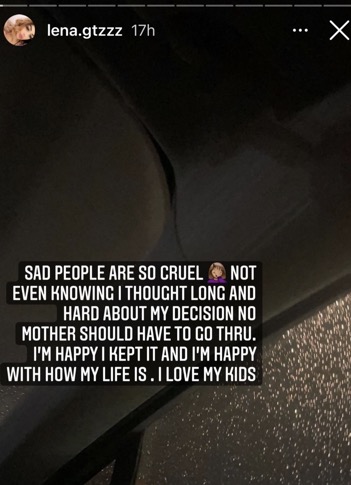 "Sad people are so cruel," she wrote. "Not even knowing I thought long and hard about my decision no mother should have to go thru. I'm happy I kept it and I'm happy with how my life is. I love my kids."
In a Q&A with her followers, Selena chose not to reveal her due date and claimed she didn't have any baby names picked out because she doesn't know the baby's gender yet.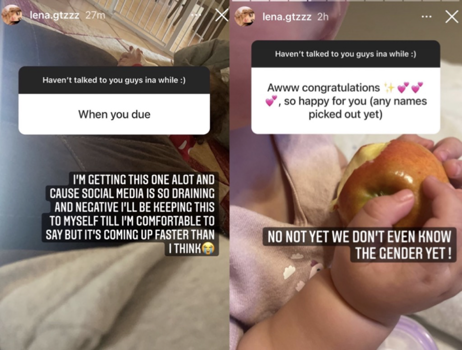 Four days after announcing her pregnancy, Selena took to Instagram Stories again to address the hate she has been getting regarding her second teen pregnancy, stating that she does not believe that having kids while in her teens will ruin her life.
"I could never think kids ruin people's [lives], like Hun, I'm living my best life too. Ain't no one sad or miserable over here," she wrote, adding that her critics only know what she showed on "16 and Pregnant."
"Y'all think y'all know my life better than I do," she wrote. "It's just funny the people that think they know my life from a 40-minute show that was cut and edited to look worse than it actually is. But I owe no one an explanation at all. My real ones know everything I've been thru and no I don't regret having another baby. Y'all so freaking miserable not knowing I was gonna have an abortion. My [babies] are what keep me going."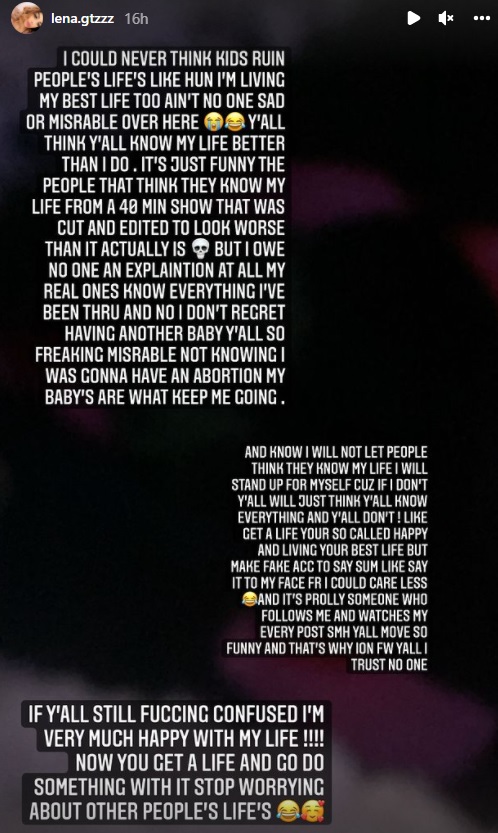 Back in May, Selena earned herself a trip to jail after fighting with–- and allegedly hitting–- her baby daddy. The messy situation culminated in a full online feud between Selena and Sean's families.
Selena was later released into her mom's custody, as she was–- and still is–- a minor. She later argued that Sean was arrested, too, and that she only "got locked up" because her mom wasn't there. She also claimed that she was getting attacked by Sean and his mother during the incident and that she was "using self defense."
To catch up on more recent 'Teen Mom' news, click here!
(Photos: MTV; Instagram; YouTube)