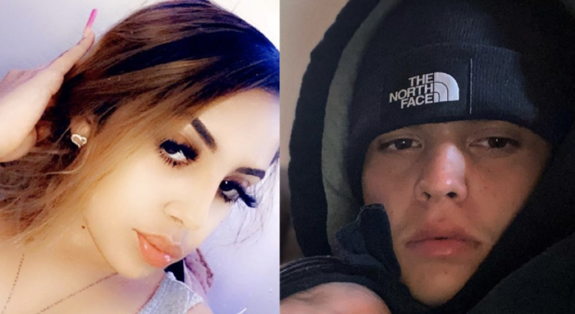 A heated argument between 16 and Pregnant Season 6B star Selena Gutierrez and her baby daddy Sean led to the teen mom's arrest this week, followed by an online feud of their families!
Selena's arrest was documented on Instagram by Sean, who posted the video along with the caption, "Took Selena for hitting me." He went on to share another post of himself and his daughter Dareli, whom he shares with Selena, along with more details of what allegedly led to Selena's arrest.
The Ashley has broken down all of the fighting, Instagram shading and accusations into a full recap. Buckle in— this is gonna get crazy! There are people (allegedly) showing up to hotels in ski masks, damaged mouth grills and the use of so many made-up words (like 'terristic') you'd think Farrah Abraham was somehow involved!
Let's get started!
Sean kicked things off by bragging about getting Selena arrested.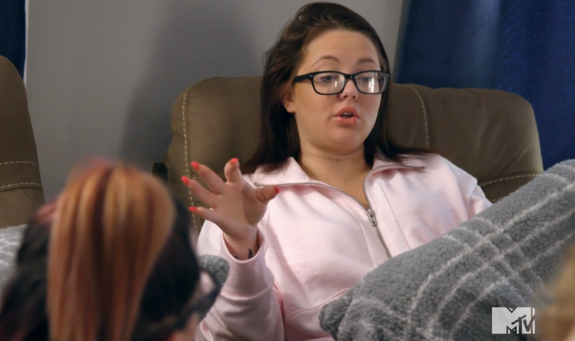 "STAMP DAT!!" YEAH SELENA GOT LOCKED UP FOR HITTING ME," he wrote. "CRAZY STORY HER FAMILY WON'T EVEN COME GET HER ME N THE BABY GOOD THOUGH N THE BABY WILL STAY WTIH ME! AS IS!"
As Sean posted more clips of Selena's arrest and the aftermath, Selena's family began responding, resulting in a full-blown social media feud.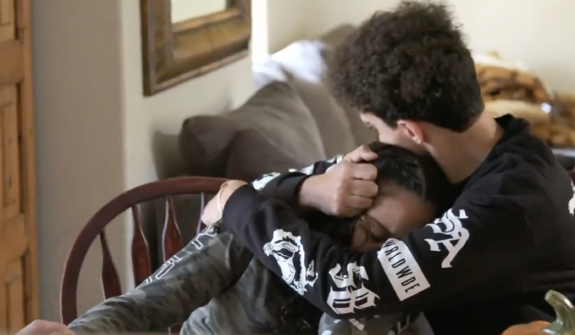 According to Selena's brother Ricky, who reposted Sean's clip of Selena being handcuffed by police, "Selena was defending herself from being abused by him. She's terrified of him and was defending herself from this psycho. He is a manipulator and abuser and took all her money from her! Her and his mother both [ganged] up and bullied her and lied to the police."
In another screenshot of the clip featuring Selena's arrest, Ricky wrote, "this system is so f**king corrupt."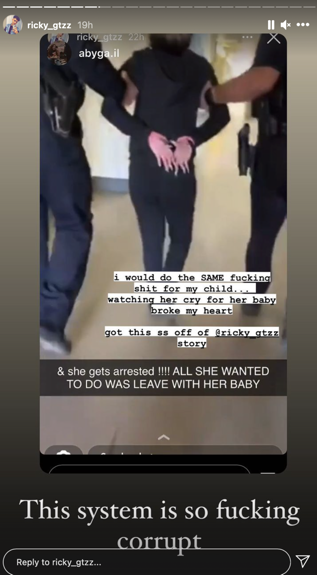 Ricky also shared screenshots of texts allegedly sent to him from Sean in which Sean wrote "tell your bum a** mom to get her child she's locked up on assault charges and I'm the bad one f*ck you guys broke a** bums come get her and I dare you to show up at my house you'll get a rude awakening little boy."
"Let ppl see your true colors," Ricky added to the screenshot of Sean's texts.
Ricky went on to reveal that despite Sean's claims, someone was in fact coming to get Selena out of jail. Ricky shared a photo taken on the interstate, telling Sean, "f*ck you, that's why I'm heading there to save her from your sorry a** once again." Later on Sean posted a photo taken from an airplane and one of his mom from their hotel room.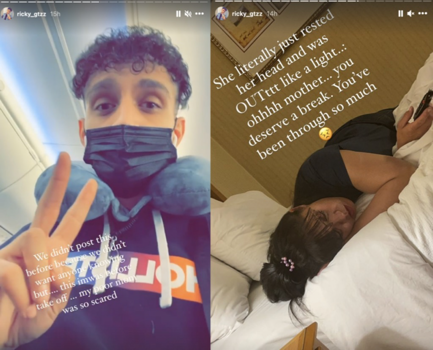 As Ricky and his mom made their way to Selena, Ricky revealed that many of Selena's fans had begun showing their support through monetary donations. Ricky said fans requested that he set up an account for Selena on the Cash App and he assured them it "all goes to baby girl."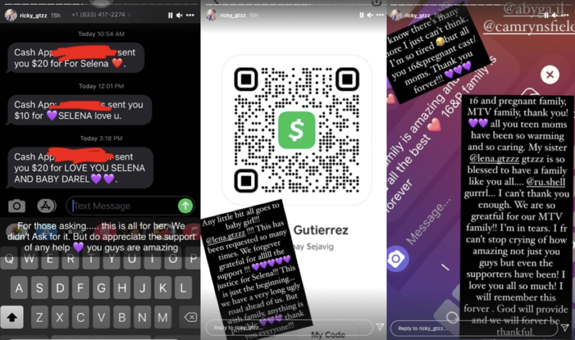 Meanwhile, Sean threw extreme allegations at Selena's family, claiming he wouldn't let his daughter go back to a "molestational household where there is multiple cases of people being touched and raped." Ricky fired back to the comments, noting "records are public" and accusing Sean of "using false accusations to cover your a**." He also alleged that some sort of molestation had occurred in Sean's immediate family, with Sean allegedly being the victim.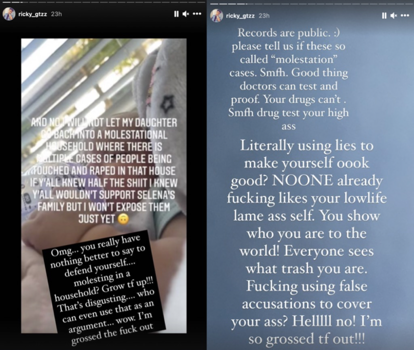 Selena's sister Shakira also commented on the situation, seemingly providing more details to the allegations to which Ricky was referring, implying that a family member sexually assaulted Sean and another relative.
The back-and-forth slams between Sean and Selena's family continued, with Sharika accusing the police of not arresting Sean despite the alleged videos of Sean abusing Selena that night. Sean and his mom, Mary, could also be heard arguing with Selena in the videos
Shakira also shared a series of text messages she claimed were sent from Sean to Selena following Selena's arrest, one of which stating "I love you with all my heart baby waiting for you."
Sometime during the family feud, Sean posted a statement in an attempt to "clear the air." He insisted that he did not hit Selena, but that she hit him in the face (and damaged his precious grill). He did admit to pushing Selena back; however, he stated that this is typical of his and Selena's relationship.
UM?
"Time to clear the air for these weirdos saying I hit Selena," Sean wrote on Instagram. "I sent those videos to her family because they didn't believe nun that's as going on. Yeah I may have pushed her back but if y'all fans knew anything ab mine n Selena's relationship that's common .. Until she broke that little line we'd already broke she punched my in my face .. 15k has gone into my mouth. I will not tolerate that from anyone.
"Yes the cops showed up. Yes they took Selena because she was the aggressor. Me and the baby are okay and will be okay. Stop talking down on my name. I'll really show out to you weirdos. To the people that have no idea wtf I'm talkin bout good. Ion promote this weirdness. Only getting money."
Selena's brother Ricky went on to reply to Sean's comment with one of his own, reposting both to Instagram Stories.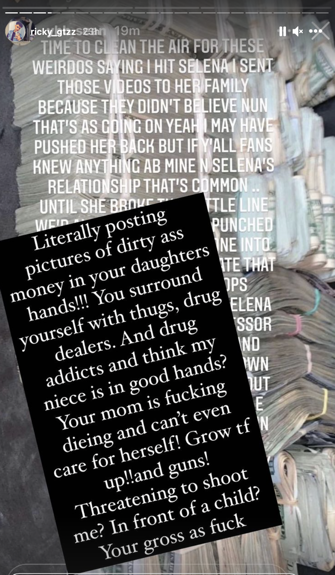 "Literally posting pictures of dirty ass money in your daughters hands!!!" Ricky wrote. "You surround yourself with thugs, drug dealers. And drug addicts and think my niece is in good hands? Your mom is f**king dying and can't even care for herself! Grow tf up!! And guns! Threatening to shoot me? In front of a child? You're gross as f**k."
On Wednesday, Selena took to Instagram to confirm she had been released from jail.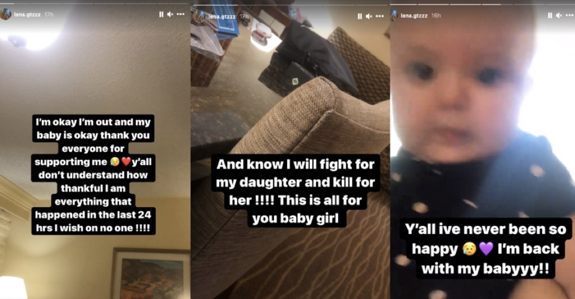 "I'm okay I'm out and my baby is okay thank you everyone for supporting me," she wrote. "Y'all don't understand how thankful I am everything that happened in the last 24 hrs I wish on no one!
"And know I will fight for my daughter and kill for her!" Selena added in a follow-up message. "This is all for you baby girl."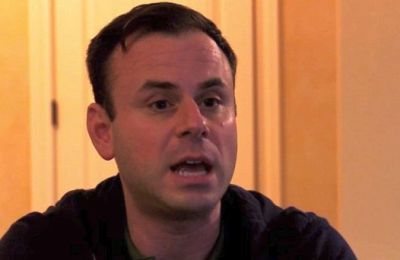 Selena was reportedly released into her mom's custody because she is underage. (Selena's mom and brother had to fly to where Selena was, so she had to stay behind bars for a while.)
In response to the news of Selena's release, Sean took another shot at the Gutierrez family, writing on Instagram, "they know who should be free" adding that Selena's mom and brother "decided to go crazy like always" when he dropped off Dareli. (Sean claimed Selena's family attempted to have him charged with "terristic" threats, though we're fairly certain he meant to write "terrorist" threats.)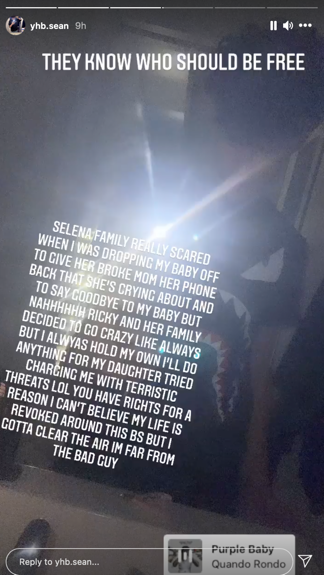 As to what really happened when Sean dropped off Dareli, according to Ricky (and the screenshots he reposted from Sean's Instagram) Sean was wearing a ski-mask (as you do) when he approached their hotel room. Even more disturbing, Ricky claimed Sean "almost shot me" and threatened both he and his mom.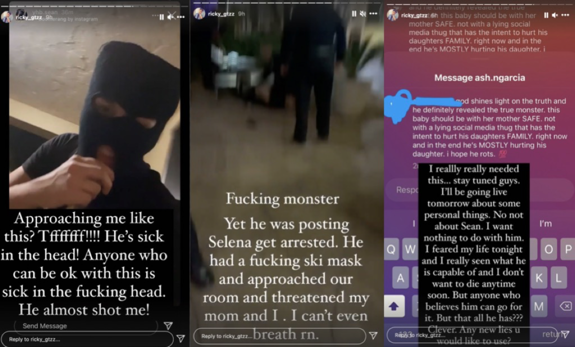 "… I want nothing to do with him," Ricky responded to a DM from someone about Sean. "I feared my life tonight and I really seen what he is capable of and I don't want to die anytime soon."
Ricky also directly responded to Sean's "they know who should be free" post, calling Sean a "psychopath" and accusing Selena of being "brainwashed by a dumba** child."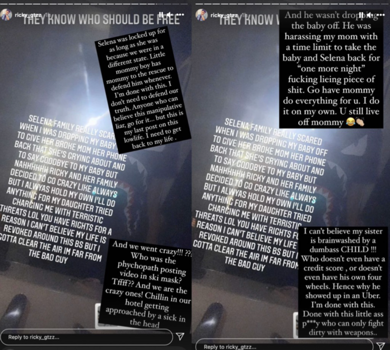 " … I'm done with this," he added. "Done with this little a** p***y who can only fight dirty with weapons."
According to Starcasm, Ricky stated on Instagram Live that Selena will be going to court in Arizona for the assault charge; however, she intends to move back to Colorado with her family. He also claimed Selena was "just working things out with Sean right now" because "they're going to be a family for the rest of their lives."
In a "16 and Pregnant" Season 6 Where Are They Now? clip released in March, Selena revealed she had moved back to Colorado, so apparently she had a change of heart and relocated back to Arizona at some point this year.
Early Wednesday morning, Ricky posted photos of his mom and Dareli after the family's unexpected reunion, thanking those who reached out during the whole ordeal.
" … It's been such a long day we are ready to just rest," he wrote. "Goodnight and we will catch up tomorrow… still so much to catch up with. Thank you again for everyone's support. And huge shoutout to the 16 & Pregnant moms for confirming the family bond."
UPDATE! After this story was posted, Selena left a comment on The Ashley's Instagram post, giving her side of the story.
"Okay but he got arrested too and the only reason I got locked up was cause my mom wasn't there," she wrote. "If y'all really knew the full story!! Y'all don't live my life! Y'all only see what we post and we aren't always on our phones!
"I literally was getting attacked by Sean and his mom and his mom was holding my baby from me! Like who tf does she think she is to be holding my baby from me! I was using self defense I'll speak on my [be]half when I'm ready I'm spending time with my baby."
RELATED STORY: EXCLUSIVE! "16 and Pregnant" Season 6 Star to Appear on Upcoming Season of 'Teen Mom: Young and Pregnant': Get the Details!
(Photos: Instagram; MTV)