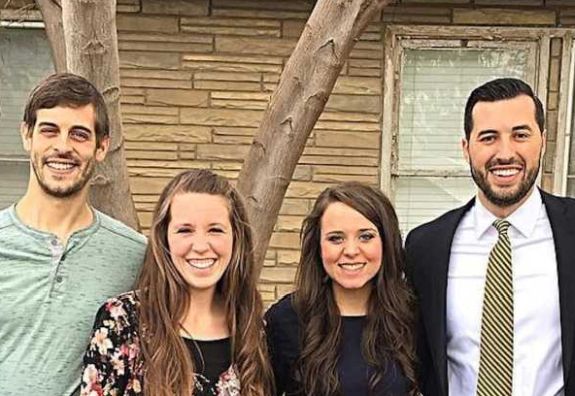 With Josh Duggar convicted last week of possessing and receiving child sex abuse materials, members of the Duggar family have continued to release statements while Josh settles into federal prison.
As The Ashley told you last week, Josh's sister Jill Duggar Dillard and her husband Derick were among the first to release a statement following Josh's conviction, in which they made it clear they felt that justice had been served. Since then, Jinger and Jeremy Vuolo, Joy and Austin Forsyth, Jason Duggar and Ben Seewald (but, interestingly, not his wife Jessa Duggar Seewald) have all commented publicly on Josh's actions and conviction.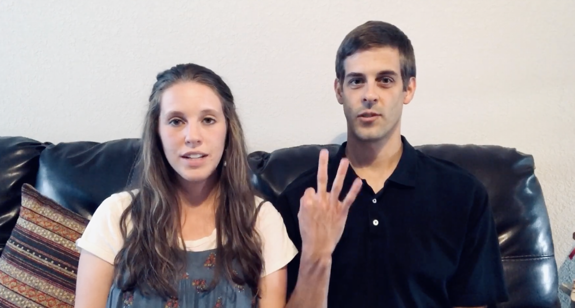 Austin– whom attended every day of Josh's trial, and Joy– whom attended nearly every day– shared identical statements Sunday on their respective Instagram Stories. They stated that they, like Jill and Derick, chose to be in the courtroom so that they could hear the facts and evidence for themselves. (Jill and Derick also stated that they had been "lied to" so much over the years, they wanted to be in court to hear the truth.)
"Over this last year, as you can imagine, there have been a lot of unanswered questions in our minds regarding Josh," the statement posted by Joy and Austin reads. "We were able to sit through the trial to hear the evidence for ourselves. We agree with the judicial system's verdict and we are thankful for the men and women who work tirelessly to protect children and help prevent sexual abuse material. Our hearts break for all CSAM victims. We are praying for Anna and her children."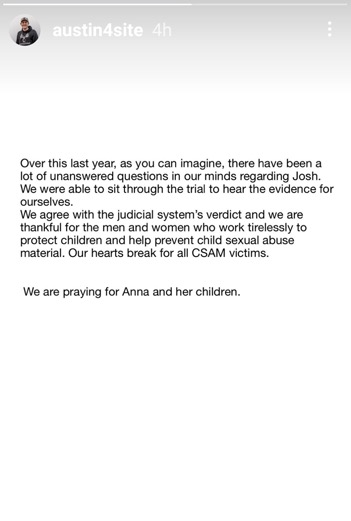 Jinger Duggar Vuolo and husband Jeremy also posted matching statements to Instagram. (They had been silent throughout the trial.)
The couple— who lives in Los Angeles, away from the Duggars— made it clear that they feel Josh is an embarrassment to his family and his religion, calling him a "hypocrite."
"We are saddened for the dishonor this has brought upon Christ's name," they wrote. "Josh claims to be a Christian. When a professing follower of Jesus is exposed as a hypocrite, the response of many will be to challenge the integrity of Jesus himself.
"They'll question the legitimacy of a Savior whose so-called followers privately delight in the sins they publicly denounce."
"We are saddened for the victims of horrific child abuse," the couple wrote. "We are also saddened for Josh's family, his wife and precious children…For Josh, we fear for his soul. "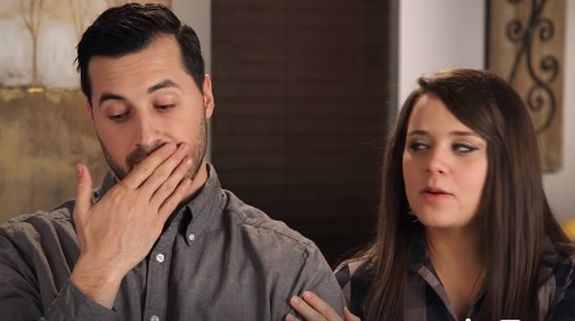 The Vuolos went on to say that they are happy Josh was caught.
" … We are thankful to God for exposing Josh's actions and to a legal system committed to protecting the innocent and punishing the guilty in this case," the caption continued. "We are grateful for justice. We are praying for further justice, vindication, protection, and healing for all those who have been wronged."
While he didn't release his own statement, Jason Duggar made it clear that he does not support Josh anymore. Jason reposted Jeremy's statement, adding, "Well said, @Jeremy_Vuolo."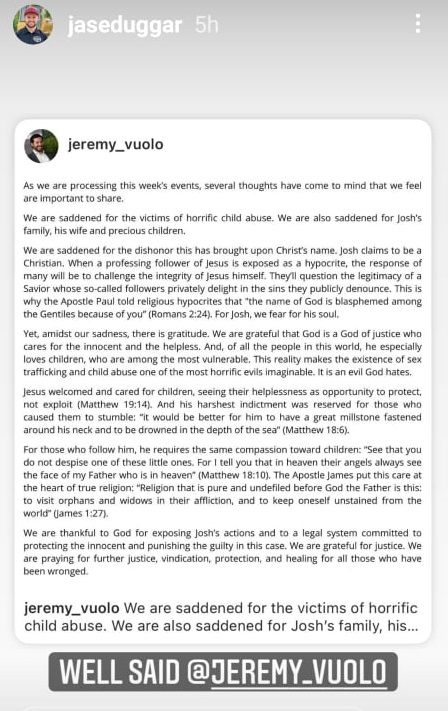 Ben Seewald, husband of Jessa Duggar Seewald, has gone on to release a statement, too. Jessa– who has remained close to her parents despite the family's controversies— did not post any sort of statement. However, Ben's statement was written as if it were from both him and Jessa.
"From the moment we learned of this case against Josh we have prayed that God would cause the truth to be made known, no matter what it was, and that the facts would be followed wherever they led," Ben wrote. "We are grieved beyond words over the children exploited and abused in child sexual abuse material, and we are thankful for our justice system in its punishment of such evils.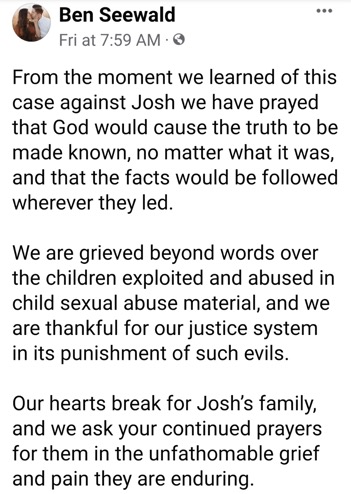 Just as Jill, Jinger, Joy and their spouses stated, they feel bad for Josh's wife Anna and their seven children.
"Our hearts break for Josh's family, and we ask your continued prayers for them in their unfathomable grief and pain they are enduring," Ben wrote.
Jessa and Jill publicly came out as two of Josh's molestation victims in 2015, while it was revealed later via lawsuit filed by all four Duggar girls that Jinger and Joy were victims as well.
As of press time, all of the other adult Duggar siblings have remained silent regarding Josh's conviction; however, Duggar patriarch and Arkansas State Senate candidate Jim Bob Duggar released a campaign statement over the weekend in which he mentioned the "situation" regarding his son.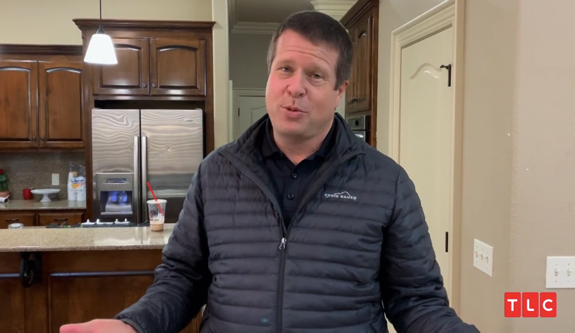 Click here to read Jim Bob's statement and the backlash he received as a result of it.
RELATED STORY: Jim Bob Duggar Says He's "Heartbroken" Over Son Josh's Conviction In Newly Released Political Statement; Released Political Statement; Gets Totally Slammed: "You Need to Withdraw From This Election"
(Photos: Instagram; YouTube; TLC)