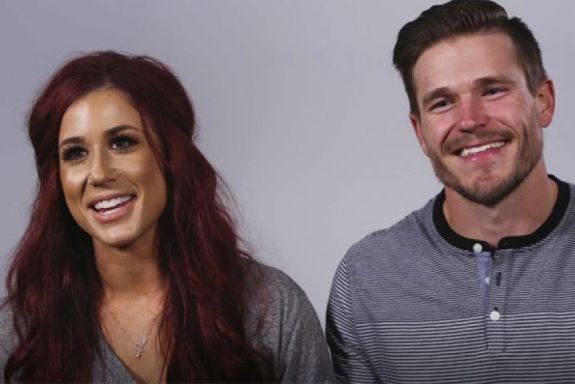 Chelsea Houska and her husband Cole DeBoer are coming back to reality TV!
About 15 months after announcing that she was leaving her longtime gig on Teen Mom 2, Chelsea has revealed that she and Cole will star in a new show, this time for HGTV!
People officially announced the show— which has a working title of Farmhouse Fabulous.
The show will feature six episodes set to premiere in Spring 2023. (Filming begins this spring, from what The Ashley hears.)
The show will follow Chelsea and Cole as they launch a "full-time renovation and design business and help local families makeover their homes," People reports.
Chelsea's father, Randy Houska, will also appear on the show.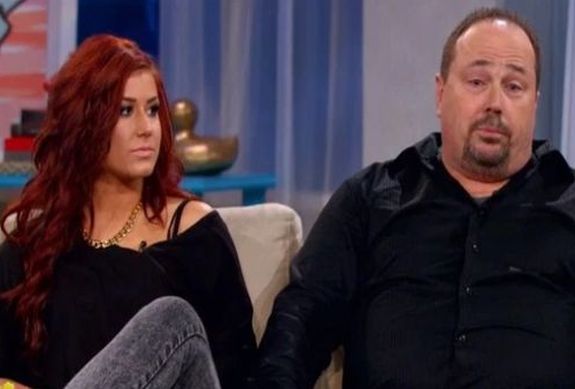 (Chelsea and Cole's children–Aubree, Layne, Watson and Walker— may appear in the series; however, the show will not focus on the kids or the family's personal lives.)
"After building our dream farmhouse in Sioux Falls a few years ago, we realized we have a real knack for design and home reno and it's evolved into our passion," Cole said, stating that he will combine his construction experience with Chelsea's design talents.
"We can't wait to take our fans along this next crazy journey of building our business from the ground up — with four kids in tow — showing all of the highs and lows on the renovation site and at home," Chelsea said.
In Instagram posts announcing the show, Chelsea and Cole expressed how happy they are with the new show.
"SURPRISE!!! Cole and I have our own series coming out on @hgtv !" Chelsea wrote. "We have been working hard behind the scenes and cannot wait to get started renovating and designing homes for other couples in our area. Cole and I loved the process of designing our own home SO much so this has been a dream come true. Head to my story to hear more about it."
Cole wrote about how hard it was to keep the show a secret.
"BIG NEWS! Chelsea and I have our own series coming out on @hgtv !! Keeping this a secret has been extremely difficult, so we are beyond excited to share with all of you!" he wrote. "We cannot wait to get started renovating other couples' homes in our area! Building our dream home was an amazing experience that we didn't want to end and now we get to help others make their dreams a reality. Stay tuned and watch for our series 'Farmhouse Fabulous' on @hgtv"
Betsy Ayala— HGTV's SVP of Programming & Production— said that she's excited to see how Chelsea and Cole's fanbase reacts to the series.
"Chelsea and Cole are spirited young entrepreneurs breaking ground in the home renovation business," she said in a press release. "We'll showcase their optimism and youthful creativity throughout the series and we're sure their 8.6 million Instagram followers will love every minute of it!"
View this post on Instagram
When Chelsea announced her departure from 'Teen Mom 2' in November 2020, she hinted that her fans might be seeing her again via other ventures.
"We're parting on the best of terms and will stay in touch long after this. We're proud to have been able to share our story and are so grateful to the fans who have followed our journey from the beginning," she wrote. " Our next chapter in life will focus on developing our brand and taking things to the next level with new endeavors and expanding family businesses."
(Chelsea likely had to give MTV first dibs on her new projects– for a specific amount of time laid out in her contract. It is unknown if MTV passed or if this show was pitched after that time period ran out.)
The Ashley's sources later explained that Chelsea and Cole decided to leave 'Teen Mom 2' because they no longer wanted to do a reality show that focused on their personal lives and family.
"Chelsea was becoming more and more concerned about Aubree being on-camera, now that she's older," one source told The Ashley in 2020. "Chelsea didn't like that her segments were becoming more and more about Aubree's personal life and her relationship with [her father] Adam's family. She always knew she would leave the show once Aubree reached a certain age. She didn't want her to go through puberty on-camera and be subjected to hurtful and sometimes creepy comments from viewers."
As The Ashley previously reported, Chelsea was asked to appear on Teen Mom Family Reunion (which is currently airing on MTV). However, she declined the invite because she didn't want to do any more 'Teen Mom' shows.
'Farmhouse Fabulous' is being produced by RTR Media.