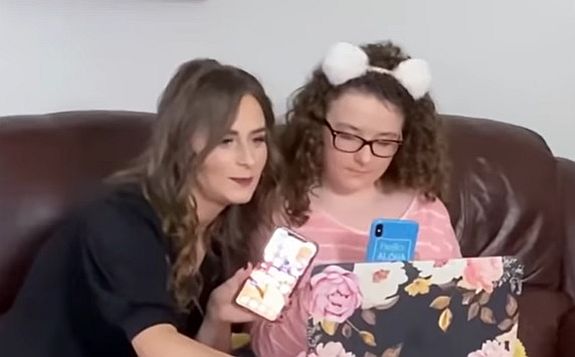 Teen Mom 2 fans have watched Leah Messer's twins grow up, and followed along as one of the twins, Ali, was diagnosed with a very rare form of Muscular Dystrophy in 2014. Since then, fans have seen Ali and Leah struggle to deal with the emotional and physical effects of the condition, with Ali– who is now 12– being seen regularly at a children's hospital in Ohio by her trusty physician, Dr. Tsao.
On Thursday, Leah posted an update on Ali's condition, following her bi-annual checkup with Dr. Tsao. Leah reported that the type of MD that Ali has— Titin Myopathy– is no longer as rare as it was when Ali was diagnosed. (At the time of her diagnosis, there were only 20 known cases in the world. Ali was the first child to be diagnosed with it.)
"[There are] 700+ of her type of MD now," Leah posted.
As for Ali– who has used an electric wheelchair over the years to assist her with her mobility—Leah reported that her recent participation in horseback riding has greatly improved her health and strength.
"An update from Ali's MD appt yesterday! All great things- He sees more of an improvement than he ever has, mind & body," Leah wrote on Instagram. "He said what he sees is remarkable because she seems a lot stronger… He gave a lot of credit to her love, hard work and dedication to reaching horseback riding goals that she sets for herself.
"Reflex is still the same but strength is better- pulmonary is better- weight and growth chart is better than it has ever been. He even asked to take a photo with her. We love Dr. Tsao and are so grateful for his practices and guidance over the years. Keep working hard and staying dedicated Ali girl. We love you and are so proud of you! A special thanks to all of you who believe in and support my girl."
"Finding an activity that fueled her has made a big difference," Leah wrote in a posted text.
During the 'Teen Mom 2' Reunion that aired in August 2021, Leah opened up to hosts Dr. Drew Pinsky and Nessa about Ali's condition and the battle she's been fighting to help her daughter.
"Guys this has been a hell of a 12 years… for treatment and a cure…" Leah said. "If they had us stop looking for a diagnosis, I would never be 12 years into it, we're finding a cure in research."
Dr. Drew also spoke about the change in Ali's prognosis, given new findings.
"The doctor was changing her prognosis a bit, because they now have a bigger cohort with her rare genetic, specific problem, right?" he asked Leah.
During a video appointment with Dr. Tsao that was shown last season, the doctor noted that there were now hundreds of patients with the same type of MD that Ali has, and many of those patients are living much longer lives than what Leah was originally told to expect for Ali.
"And they've found that many patients like Aliannah's situation with no heart or lung involvement can live into their seventies at least. That is very good information for you to know," the doctor said.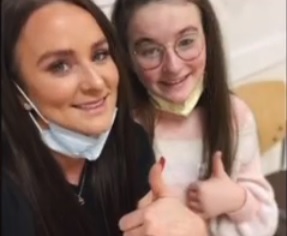 Last season, Leah talked about how the low average life expectancy for some MD patients has worried her and Ali's father, Corey Simms.
"I think Ali understands her disease a lot better than she used to. And, Ali's life expectancy is something I don't ever want her to worry about. But, deep down, it was something that was a weight for me and her dad," Leah said. "We didn't know how progressive the disease would be and how quickly it would happen. But with discovering more cases, it gives me hope for my little girl. I feel like we can look further into her future. It does bring us hope."
RELATED STORY: 'Teen Mom 2' Star Leah Messer Confesses She Had "No Chemistry" with Ex-Husbands Corey Simms & Jeremy Calvert; Says She's Open to Marrying Jaylan Mobley
(Photos: MTV; Instagram)