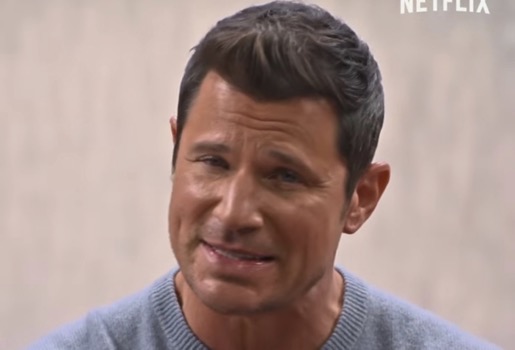 Nick Lachey is defending his actions after a female photographer accused the Love Is Blind host of getting violent with her outside of a restaurant in Beverly Hills.
Nick and his wife/'Love Is Blind' co-host Vanessa Minnillo Lachey were out to eat Sunday night when they spotted a photographer snapping photos of them from the inside of her car. According to TMZ, Nick crossed the street to confront the woman and went on to call her a "p***y mother f**ker" as Vanessa yelled at the photographer to open the car door.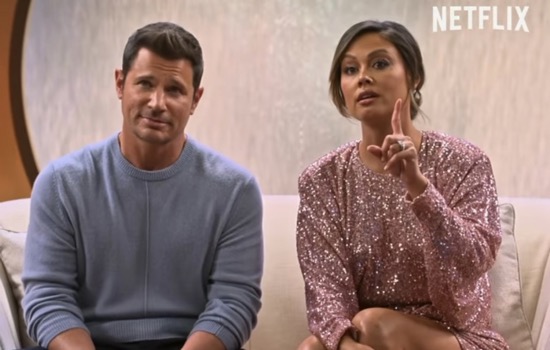 The video– taken by the female photographer from inside of her car– begins right as Nick turns around to walk back to the woman's vehicle– after the alleged name calling. The photographer can be heard asking Nick why he's "so mad," to which he leans closer to the window and asks, "are paparazzi still a thing?"
"I'm just a photographer … why are you hitting my window," she says as Nick appears to reach in the vehicle and attempt to grab the device– either phone or camera– the photographer is using to record.
As the recording continues, the two go back and forth and the photographer eventually asks Nick why he's being "so mean." Nick turns around and walks away from the car and the photographer rolls up her window.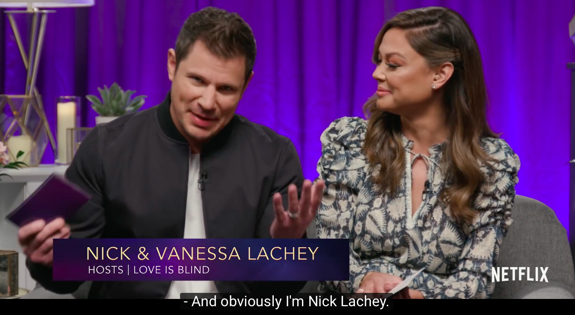 Later that night, Nick– who had alcohol on his breath, according to the photographer– was spotted walking back to a hotel with Vanessa and another woman, while yelling and sticking up his middle finger to photographers as they walked by.
Following the reports of his heated behavior, Nick took to Twitter to tell his side of the story.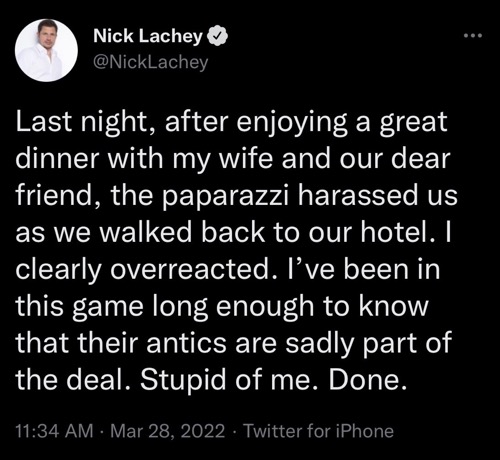 "Last night, after enjoying a great dinner with my wife and our dear friend, the paparazzi harassed us as we walked back to our hotel," he wrote on Twitter. "I clearly overreacted. I've been in this game long enough to know that their antics are sadly part of the deal. Stupid of me. Done."
Nick followed up his tweet with a statement denying the accusations against him.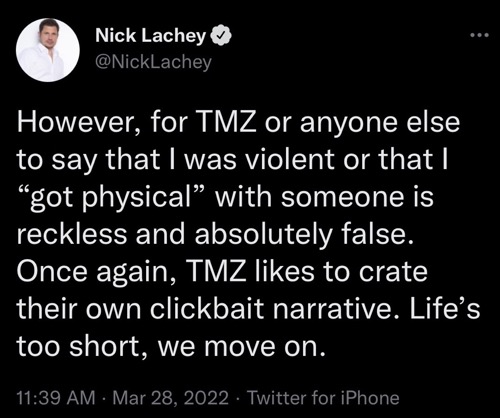 "However, for TMZ or anyone else to say that I was violent or that I 'got physical' with someone is reckless and absolutely false," he wrote. "Once again, TMZ likes to [create] their own clickbait narrative. Life's too short, we move on."
RELATED STORY: 'Love Is Blind' Star Shake Chatterjee Talks About Marrying His New Girlfriend & Accuses Ex Deepti Vempati of Playing the "Victim"
(Photos: Netflix; Twitter)