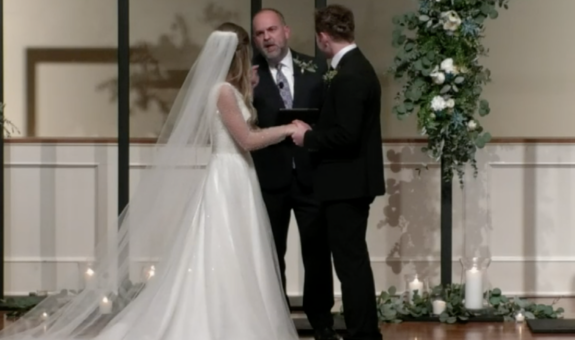 Another Duggar has taken a wife.
Three months after announcing their engagement, Jeremiah Duggar and Hannah Wissmann tied the knot Saturday in a Plattsmouth, Nebraska, church.
In a short ceremony (that was not filmed by TLC, thanks to Jer's older brother Josh getting the family's shows Counting On and 19 Kids & Counting cancelled), Jason Duggar sang (while waving his hands/conducting an imaginary orchestra) and 26-year-old Hannah promised in her vows to "honor and submit" to 23-year-old Jeremiah.
Hannah had only four bridesmaids (none of whom were Duggar girls, which is surprising). Jeremiah's groomsmen were his brothers Jason, James and Joseph. Jer's twin brother, Jedidiah, served as the best man.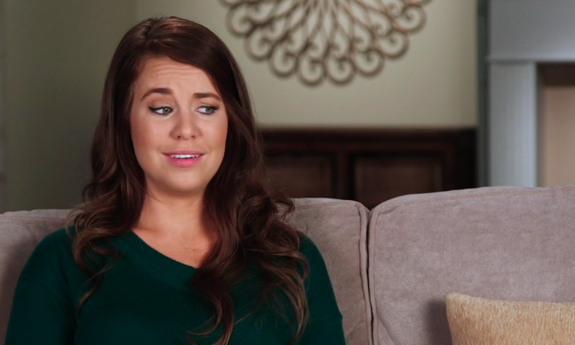 As the couple shared their first kiss, the wedding party fired off confetti cannons. (It is unknown if Jeremiah and Hannah had refrained from kissing before their wedding day, as Jeremiah's married siblings have done.)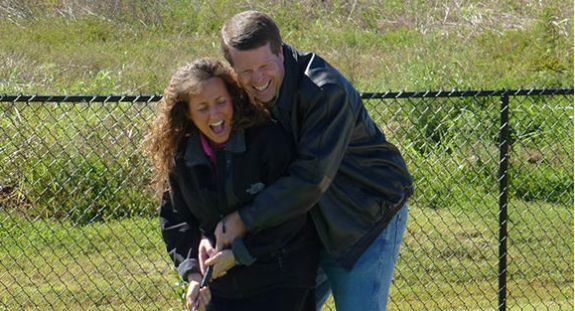 "Today was a perfect day, as we stood before our family and friends and committed our lives to each other," the couple told Us Weekly. "It was such a beautiful culmination of so many prayers, drams & desires! As we've seen God's gracious hand in bringing our lives together, we are excited to see how He will continue to direct our paths."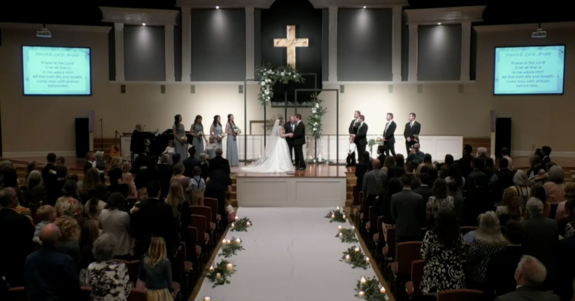 Hannah wore a wedding dress that was designed by Renee's Bridal– the same wedding gown designer who made many of the wedding gowns worn by the Duggar daughters and daughters-in-laws.
One of the scariest moments in the 25-minute ceremony occurred when Jeremiah opted to swing his bride from off of the stage instead of taking the stairs, nearly igniting the train of Hannah's dress on some decorative candles that were placed along the aisle.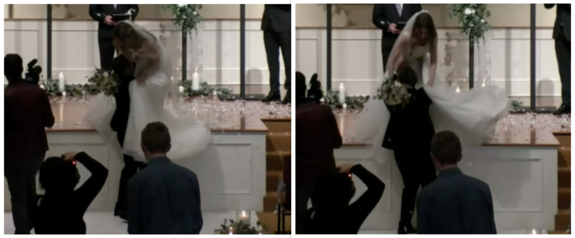 The hilarity of the moment was immediately outdone when Jeremiah and Hannah took off running towards the exit, hand-in-hand, followed their wedding party, who were also literally sprinting. ('Counting On' and "19 Kids and Counting' fans will remember that a post-ceremony run occurred at many of the other Duggar kids' weddings. The Duggars have never really revealed why they sprint back down the aisle after the wedding.)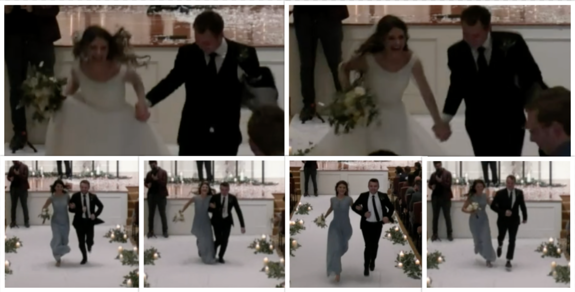 According to the Facebook page, Duggar Family News: Life is Not All Pickles and Hairspray, John David and his wife Abbie were seen in the video from Saturday's ceremony, as was Jeremiah's twin brother Jedidiah's pregnant wife Katey, and Jinger and Jeremy Vuolo. Ben and Jessa Seewald were also spotted in the crowd, along with their children. (Their daughter Ivy served as one of the flower girls.)
Anna Duggar, wife of eldest Duggar spawn and current prisoner Josh Duggar, was also in attendance with her bunch o' blessings. Jill Dillard and her husband Derick, as well as Joy and Austin Forsyth were also in attendance.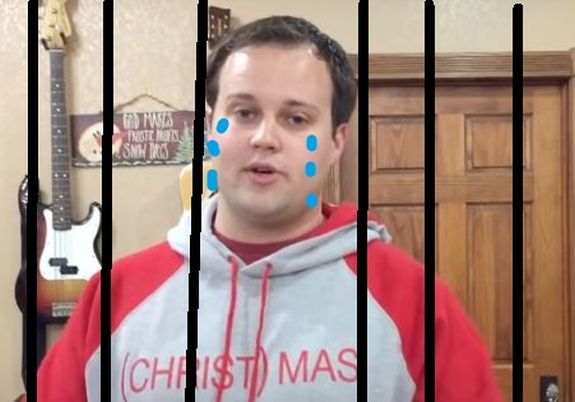 …and of course, Jim Bob and Michelle were present for the festivities, rocking their cleanest (alleged) toupee and crunchiest curls, respectively. They left the church after the ceremony holding hands with Ivy and ring bearer Gideon— who is Joy and Austin's son.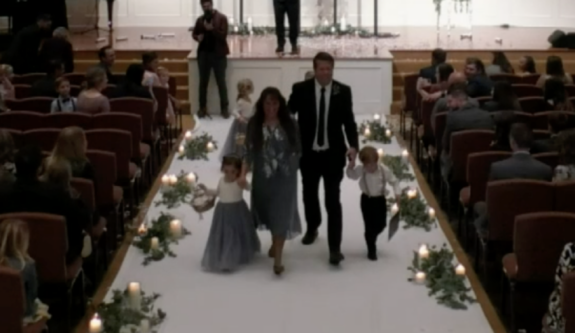 The couple's reception was held at Lilac Hill Wedding & Event Center in Louisville, Nebraska.
View this post on Instagram
As The Ashley told you in January, Jeremiah proposed to Hannah after about three months of dating/courting, though the Duggar and Wissmann families go way back.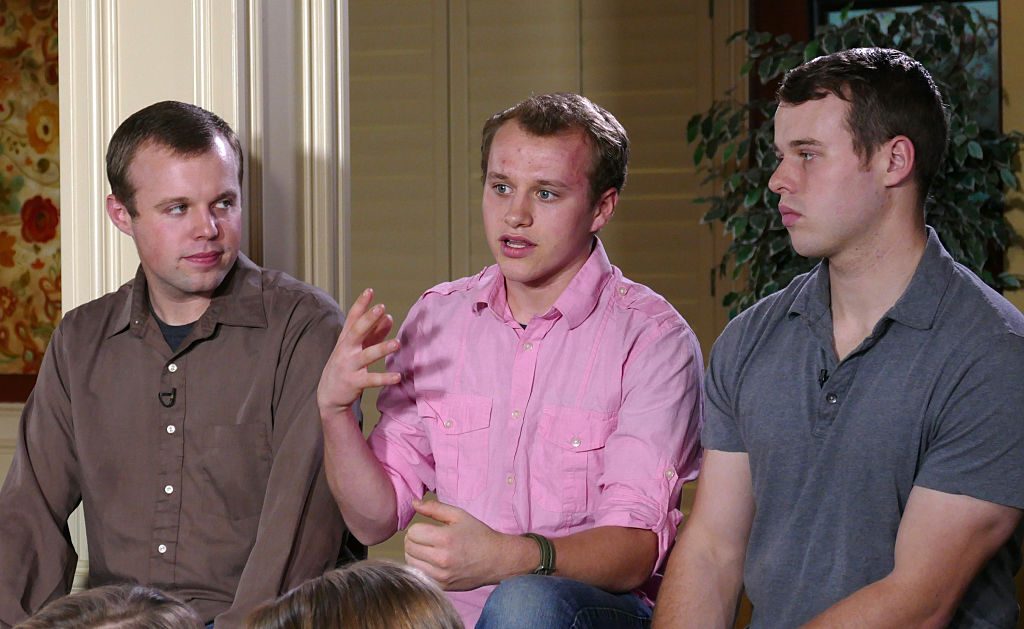 Jeremiah and Hannah's union not only brought the Duggar and Wissmann families together, it also marked the first post on the official Duggar Family Instagram page in nearly three months.
"We were so happy to celebrate with Jeremiah and Hannah at their beautiful wedding yesterday," the caption read. "Congratulations on this exciting new chapter in your lives as husband and wife!"
Comments on the photo were limited (gee, we can't imagine why?), with only one comment from the Bates Family displayed on the post.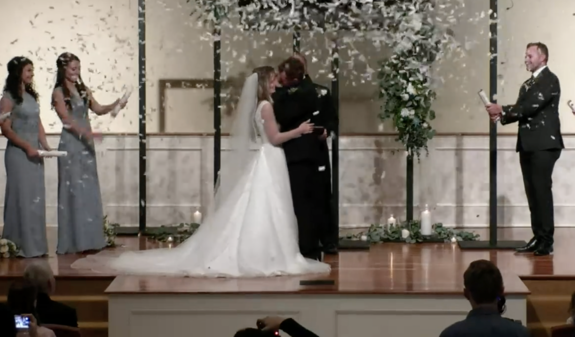 Jeremiah is the 11th Duggar child to get married. Currently, the only unmarried Duggars who are over the age of 18 are Jana Duggar (who is currently 32), Jason (who is 21), and James (who is 20).
RELATED STORY: Josh Duggar's Sentencing Delayed After "19 Kids & Counting" Star Begs Court For More Time; His Cousin Amy Duggar Says Josh Needs to Be Put On a Predator Island
(Photos: Vimeo; Instagram)