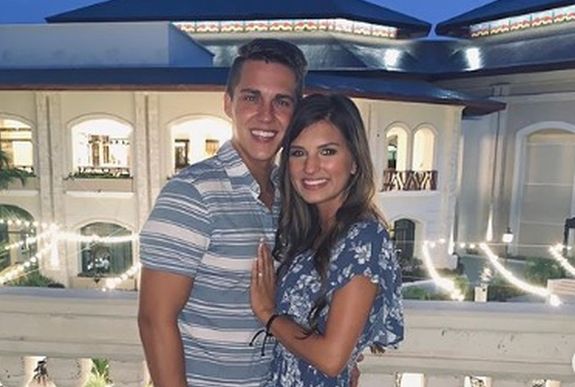 Another Bates babies has been born.
Former Bringing Up Bates star Carlin Bates announced on Sunday that she and husband Evan Stewart have welcome their second child together.
"Welcome to the world, Baby Boy!" Carlin shared on Instagram. "Thank you all for the many messages and prayers you sent our way! We are in heaven…"
In a followup post, the couple revealed their son's name: Zade Patrick Stewart.
Carlin and Evan– who are also parents to 2-year-old daughter Layla Rae– shared additional photos on social media in which followers got to see the couple introduce their new addition to Carlin's parents, Gil and Kelly Jo Bates, according to The Hollywood Gossip.
After meeting her new grandson, Kelly Jo shared a photo and message to the official Bates Family social media page.
"Can life get any sweeter?" Kelly Jo wrote. "I'm reminded of the hymn 'Because He Lives' that starts with a verse describing 'how sweet it is to hold a new born baby… ' And look at those tiny feet and that little hand!"
(Baby Zade's arrival makes grandchild number 20 for Kelly Jo and Gil– just shy of the Duggar Family's current grandkid count of 22.)
Unfortunately for 'Bringing Up Bates' fans, the newest member of the Bates family will not be making his TV debut anytime soon, as UPtv canceled the family's show back in January, revealing at the time that the 11th Season will remain unaired.
RELATED STORY: Duggars' Religious Organization IBLP Releases Statement in Response to Alleged NBC News Probe; Denies Abuse Claims & Says It Doesn't Value Men Over Women
(Photos: Instagram)