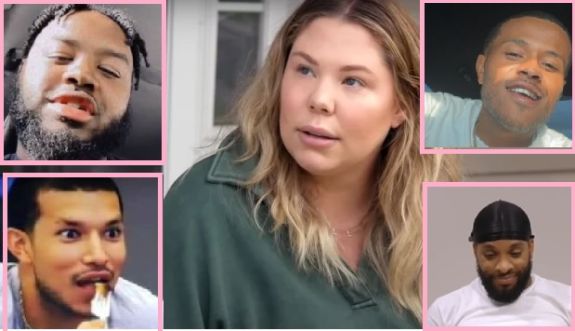 The Delaware court system better get ready— because Kail Lowry is ready to sue one of her exes (or more!)
The Teen Mom 2 star— who is currently embroiled in a nasty lawsuit with her co-star Briana DeJesus— is apparently ready to strike out legally again after her most-recent ex-boyfriend, Malik Montgomery, commented that he felt played after reading that Kail is allegedly living with a new man. He later shared a private message her allegedly received from Kail stating that she could sue him for violating the non-disclosure agreement she had him sign. Malik responded that the NDA is no longer valid.
That last part— about Kail shacking up with her new boo— was spilled by another one of Kail's exes— baby daddy Chris Lopez— on the most-recent episode of his P.T.S.D. podcast. During the episode, Chris claimed that Lux, who is the four-year-old son he shares with Kail, told him about Kail and the new dude.
There's a lot to unpack here, so double-check the expiration date on your NDAs and cancel your date at the WaWa and let's get into it! The Ashley is going to do her best to recap the entire dumpster-fire-of-a-situation, but things are constantly changing.
The shenanigans started on Tuesday, when Chris' podcast episode dropped. During the episode, Chris spoke about having to see Kail and "her boyfriend" at Lux's games. Chris then brought up the topic of dealing with "the other parent" you share a child with, dating someone new and bringing that person around the kids.
"I've been dealing with other people and other men in my kids' lives for so long," Chris said, adding that he feels a person should only introduce their kids to a significant other after a set amount of time.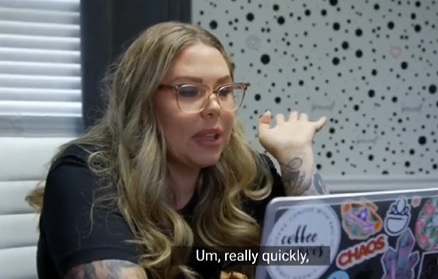 Chris stated that he eventually spoke to Kail about it after their son Lux told him things that Chris felt Lux shouldn't have known.
"They [Kail] did it so much and I addressed it…but they [Kail] don't care…there's been a time recently where I had to pull my kids' mom to the side and be like, 'Yo, there's no reason why my four-year-old should be telling me about every dude you're sleeping with. There shouldn't be no reason. He was just telling me about this last dude, and now he's telling me about the new dude.
Chris continued, stating that Lux doesn't really understand what it means to be boyfriend and girlfriend.
"He don't know about that stuff so that means you've gotta be talking about it and that s**t's gotta be going on," Chris said, adding, "This is a new guy. This is not the guy [Malik] that everybody thinks it is. This is a whole different dude, so for my son to be telling me that…what my son told me was the truth."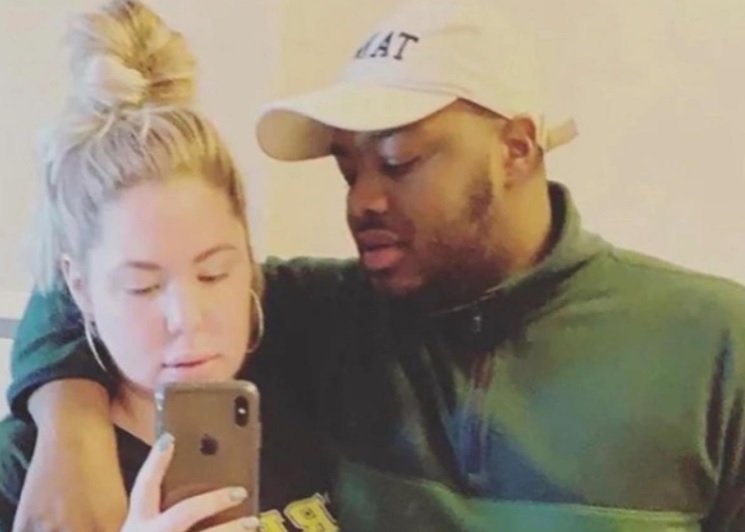 Chris then claimed that he saw a photo of Kail's new boyfriend holding Creed– the younger son Chris and Kail share.
"Creed don't let just anyone hold him. So it came in my head that, 'OK, this n***a had to be around for a while."
Chris claimed that he introduced himself to Kail's new man, and that he's thrilled that Kail is um, occupied, by this new boo, because it's making their co-parenting situation easier.
"You make her happy bro? Please, continue to do whatever the f**k you're doing," Chris said. "She literally texted me this morning and was like, 'You can have the kids for Spring Break.' I love him. I love that dude. Please keep him because if [she's] allowing me to have my kids on [her] week, bro, keep doing whatever the f**k you're doing…' But all I was basically saying [to Kail] was keep your private life private."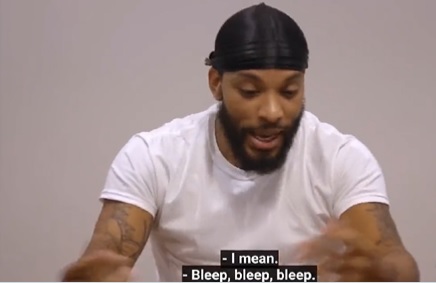 Chris said Kail shocked him further by allegedly revealing that her new dude lives with her.
"It kind of threw my head off but I can't control what you do," he said.
After Chris' podcast episode dropped, several 'Teen Mom' themed-Instagram accounts, including the Teen Mom Shade Room, posted about Chris' claims that Kail is living with a new guy. One person who was surprised to hear that news was Malik, whom Kail only recently ended her relationship with after they had been dating on-and-off for several years. (Malik recently appeared on Kail's Barely Famous podcast.)
When Teen Mom Shade Room reposted @Teen Mom Fanz's post that revealed photos of the man Kail is allegedly living with, Malik commented that he felt Kail had played him.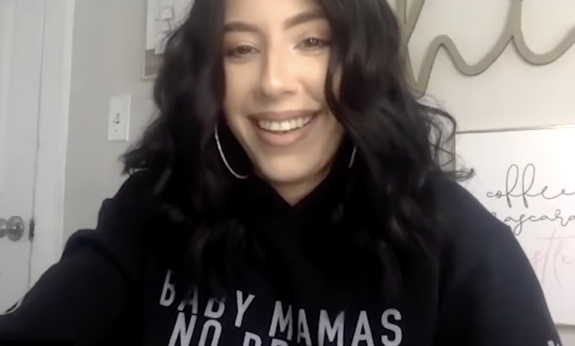 "Played me for the kid," Malik wrote of Kail. "Thrive on girl… I'm happy for them and her I'm good where I'm at this is just funny fr fr…
The photos posted by @TeenMomFanz showed a guy dressed in a purple tux, modeling a gun (as you do) in some sort of prom/groomsman/lineup pic. The gun-friendly "Glamour Shot" photo was accompanied by more info, including that Kail's new alleged boo is only 23 and lives next door to her. (On her podcasts, Kail had often mentioned having a "hot neighbor" but did not reveal that things had recently become more, um, neighborly between them.)
According to a report by The Sun on Thursday, Kail's live-in love machine is Elijah Scott, a 23-year-old former military man who bought his home next to Kail in December 2021. Kail moved into her custom-built home next door just over a month later. (Interestingly, The Sun reports that Elijah's home is currently listed for rent, which means he currently has "alternate living accommodations.")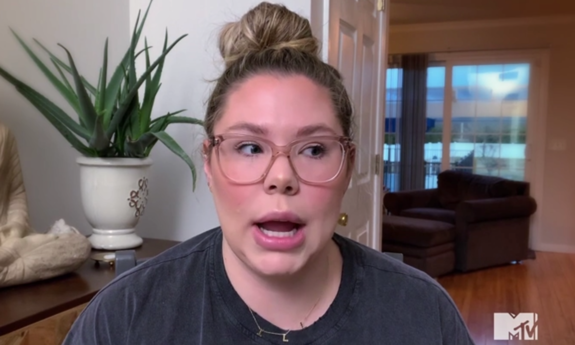 Anyway, Kail was not happy that Malik commented about her on the Instagram account. In fact, according to DM screenshots later shared by Malik, someone— whom Malik insinuated was Kail— allegedly informed him that she could sue him for commenting, given that he had signed a non-disclosure agreement (NDA) before dating him.
(Kail has stated multiple times that she now makes anyone who gets close to her sign NDAs so they can't blab about her personal life to the press/public. As you do…)
"You commented on the f**king Shade Room and you signed an NDA," the person wrote to him. "So now, you can get f**king sued."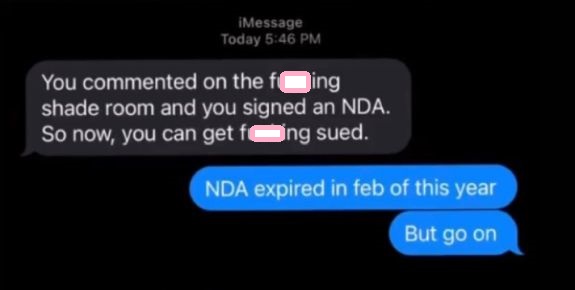 Malik responded to the message by writing that his NDA is no longer valid.
"NDA expired in February of this year but go on," he wrote. (He later posted the message to Instagram Stories, along with the very appropriate song, "Sue Me" by Wale.)
Later, Malik began to revel in his "Chatty Cathy" position, hopping on Instagram on Wednesday to apologize for his "emotionally charged" comments about Kail's new man.
"I definitely was bitter about some things that popped up," Malik said.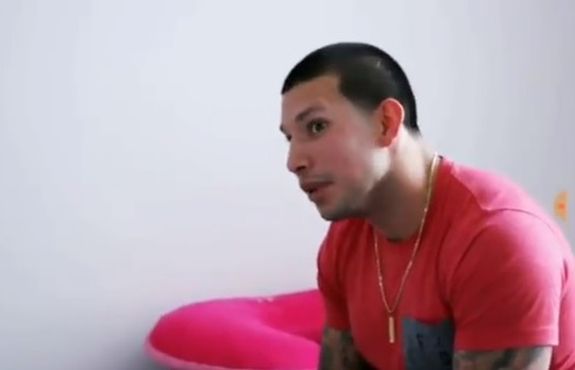 However, he made it clear that he was hushing up, despite any threats that he might be sued for speaking up.
"But I have every right to feel that way," Malik said. "Nobody can take that away from me. And I'm going to talk about the things that I have experienced."
Malik then stated that he's interested in writing a book about his dealings with Kail and is looking for a book publisher.
Um…?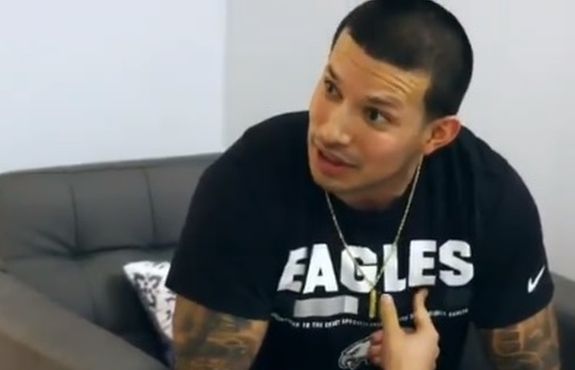 "People need to be held accountable for the way that they moved, and the way that they've always moved," Malik continued. "We're gonna address things properly, and I don't care how they feel. If they can't control you or the situation, they gonna call you the bad guy. I'm OK with being the bad guy. But I'm gonna tell my story to the public, because the public hears about everyone else's story, and it's OK when you do it."
Kail responded at first by subtly shading someone (whom we can assume was Malik).
"Talk s**t about me to your friends, not the Internet," she wrote in now-deleted tweets. "The amount of backstabbing I go through & people who hate me justify it & I'm always the problem…Why would I ever want to talk to someone new at this point?"
Kail then took a different approach and attempted to cash in on the drama. She linked her podcast episode entitled "What's it like to date Kail?" as well as a line of merch that celebrates Kail's ability to draw drama like a magnet. The merch line includes items that say, "I'm the problem" and "S**t Starter!"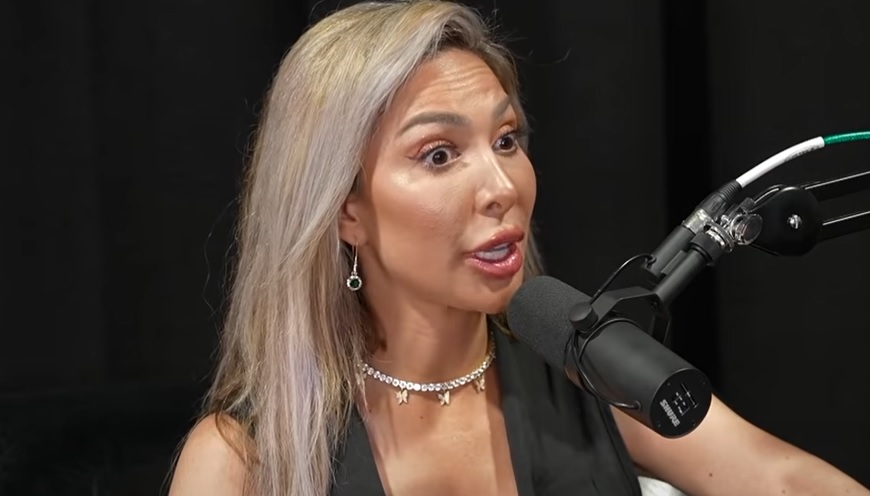 Stay tuned for more updates..
RELATED STORY: Kail Lowry Apologizes to Former 'Teen Mom 2' Co-Star Jenelle Evans For Accusing Her of Leaking Pregnancy in 2017