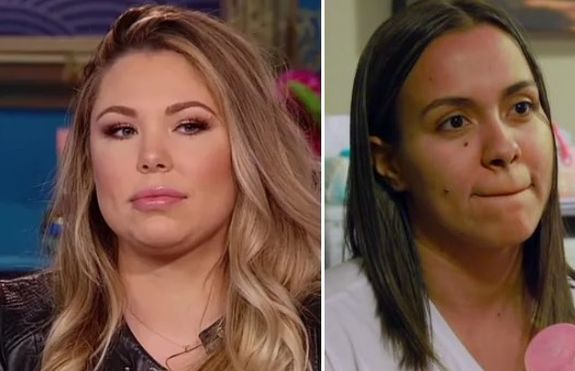 Kail Lowry's defamation lawsuit against her Teen Mom 2 co-star (and longtime nemesis) Briana DeJesus was dismissed by a judge on Monday. The end of the lawsuit means that Briana and Kail are no longer barred from making statements about the case, and Briana wasted no time announcing to her followers that she won the lawsuit, gloating that Kail was a "clown" and even telling Kail to "suck my d**k" on Twitter (as you do).
Kail also released a statement about the loss of the lawsuit, prompting other 'Teen Mom 2' stars such as Jade Cline and Bri's mom Roxanne to chime in on the events that took place.
Briana's first stop on the Gloat Train was to make a statement for clickbait site Celebuzz. The 'Teen Mom 2' star tweeted the link, captioning it "Suck my d**k. That's all I have to say."
Suck my dick. That's all I have to say 🙏 https://t.co/gt35SE44X2

— Briana Dejesus (@xobrianadej) April 18, 2022
Bri then posted a series of Instagram Stories, showing the legal documents in some, as well as an Amazon order she was preparing to send to 'someone.' (We can assume that 'someone' is Kail.) She will soon be receiving a full clown costume, complete with wig and makeup kit. Briana indicated that the Bozo accessories would be sent along with two notes, one of which states, "Alexa play 'Bitch Better Have My Money'" and the other that says "F**king Clown!"
Briana also included a hand-held mirror with the "gift." She even sprung for the extra $5.49 so that the clown garb could be sent in a special gift bag, which is a classy touch.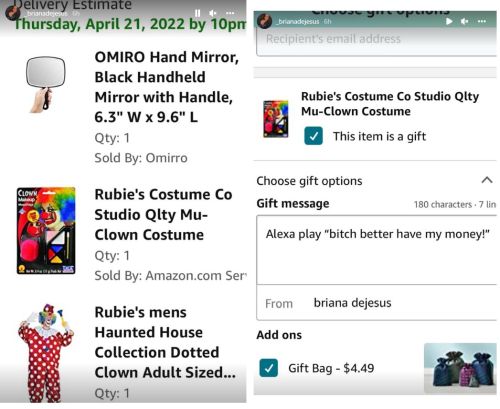 (As fans know, Briana previously sent a treadmill to Kail as a "gift.")
Briana also posted a few more videos celebrating that she was now free to rub the win in Kail's face.
"I guess I put my money where my mouth was," Briana wrote. "I guess I can talk my s**t now huh?"
Kail also responded to the lawsuit's dismissal. She released a statement on Instagram, followed by a plug for her new line of "S**t Starter" merchandise. (And, no…that's not a joke.)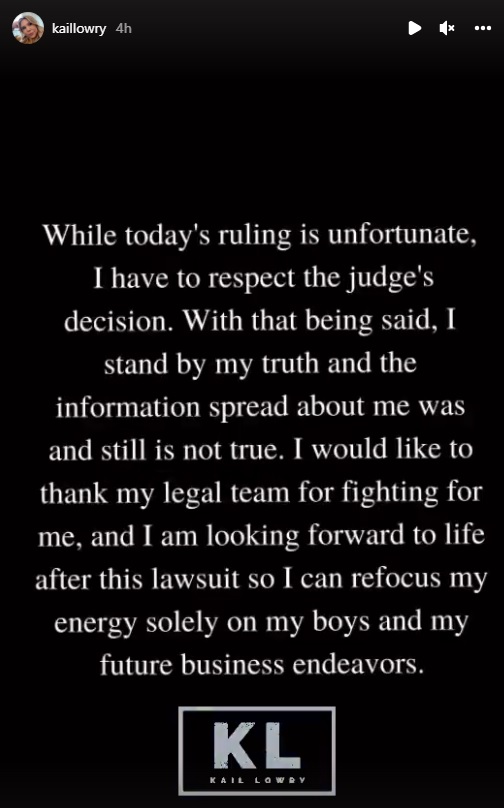 "While today's ruling is unfortunate, I have to respect the judge's decision," Kail wrote. "With that being said, I stand by my truth and the information spread about me was and still is not true. I would like to thank my legal team for fighting for me and I am looking forward to life after this lawsuit so I can refocus my energy solely on my boys and my future business endeavors."
Of course, Briana and Kail weren't the only 'Teen Mom 2' stars to weigh in on the lawsuit. Briana's pal Jade also gave her two cents…er…one clown on the situation. (Briana and Jade have been close pals since Bri took care of Jade when she was carved up and thrown on a back-of-the-van air mattress after plastic surgery. Kail and Jade had been friendly until recently, when Kail said on her podcast that she "can't stand" Jade. It appears that was news to Jade, who later stated that she wasn't aware they had beef.)
Jade tweeted a clown emoji in support of Briana, who then retweeted it and added a bunch of Bozos.
🤡🤡🤡🤡🤡🤡🤡🤡🤡🤡🤡🤡🤡🤡🤡🤡🤡🤡🤡🤡🤡🤡🤡🤡🤡🤡🤡🤡🤡🤡🤡🤡🤡🤡🤡🤡🤡🤡🤡🤡🤡🤡🤡🤡🤡🤡🤡🤡🤡🤡🤡🤡🤡🤡🤡🤡🤡🤡🤡🤡🤡🤡🤡🤡🤡🤡🤡🤡🤡🤡🤡🤡🤡🤡🤡🤡🤡🤡🤡🤡🤡🤡🤡🤡🤡🤡🤡🤡🤡🤡🤡🤡🤡🤡🤡🤡🤡🤡🤡🤡🤡🤡🤡🤡🤡🤡🤡🤡🤡🤡🤡🤡🤡🤡🤡🤡🤡🤡🤡🤡🤡🤡🤡🤡🤡🤡🤡🤡🤡🤡🤡🤡🤡🤡🤡🤡🤡🤡🤡🤡 https://t.co/d1BXfNhBjL

— Briana Dejesus (@xobrianadej) April 18, 2022
"F**k being "the bigger person" all the time," Jade tweeted. "Half the time that s**t isn't worth it. Sometimes you really need to tell someone to f**k off to feel better…Half the time I've brushed s**t off or just stayed quiet, I regretted it later. I'm not doing it anymore or playing nice with ppl in life lol. Being nice really don't get you anywhere half the time."
Briana's mom Roxanne also threw her shoe two cents into the mix, weighing in on Kail's actions in a series of tweets. (Roxy didn't specifically name Kail, but we can assume the tweets were aimed at her.)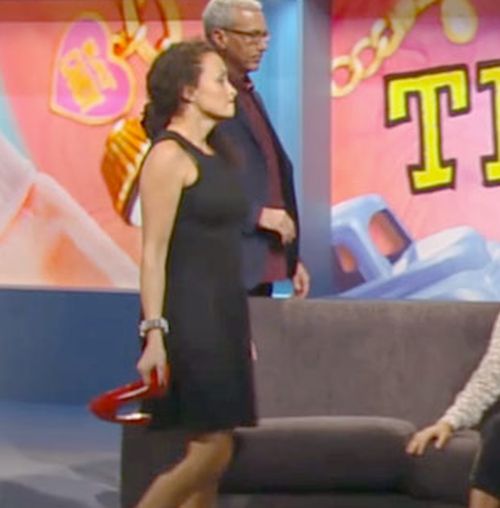 "Whoever advised you only did so to take advantage of you," Roxanne tweeted. "They clearly knew you would lose and this would cost you.
"Our court system doesn't have the time or resources to be wasting any of its valuable purpose on your nonsense," she continued. "Aren't you aware of what Covid [has] done to many of our struggling institutions, they are still trying to catch up. You out here playing games."
So far Chris Lopez— the man in the middle of the lawsuit— has yet to comment on the lawsuit's dismissal.
Stay tuned…
RELATED STORY: Breaking News! Briana DeJesus Wins in Defamation Lawsuit Filed Against Her By 'Teen Mom 2' Co-Star Kail Lowry: Get the Court Details Broken Down