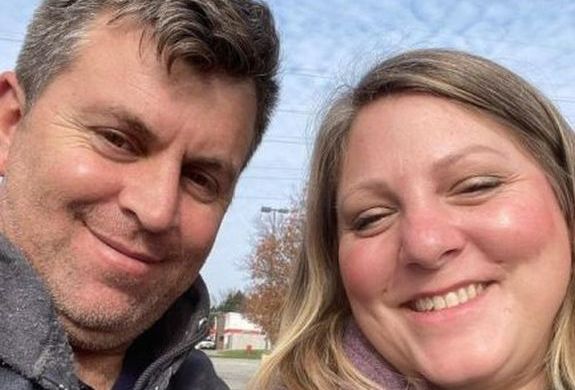 The 90 Day Fiance family has grown yet again!
Anna-Marie Campisi and her husband Mursel Mistanoglu announced on Monday that they have welcomed their first child together. The baby boy— who arrived five weeks early on April 11–was welcomed via a surrogate. The baby was born in Ukraine, making the couple's journey to pick him up difficult, due the current situation in the country.
"Mursel and I are excited to announce the birth of our son, Gokhan John!" Anna-Marie wrote on social media. "He was born 4/11/22, 5 weeks early. He's doing amazing! Just a small guy at 5.3 pounds 18 inches."
Anna-Marie (who is from Nebraska) and Mursel (who hails from Turkey) appeared on "90 Day Fiance" Season 7 and have been married since 2019. She is the mother of three sons, but Baby Gokhan is Anna-Marie's first child with Mursel.
In July 2021 Anna-Marie posted that she and Mursel had sent embryos to Ukraine to be used for surrogacy. In January, Anna-Marie announced that they were expecting a baby.
View this post on Instagram
Unfortunately, the current situation in Ukraine made it extremely difficult for the couple to pick up the baby. Anna-Marie credited the non-profit group, Project Dynamo, with assisting them in getting their baby boy and bringing him home.
Unfortunately, though, Mursel was unable to go into Ukraine with Anna-Marie to meet their son, due to visa issues.
"Upon arrival to Poland we spoke with the group to start logistics of our travel into Ukraine," she wrote. "They asked to see Mursel's Schengen Visa to see if it was a one-entry or multi-entry visa. We found out it was a one-time-entry visa. So from there the plan was for Mursel to stay in Poland. If he came with to Ukraine, he wouldn't be allowed to leave. So I had to go into Ukraine alone.
"Thank God for this amazing group [Project Dynamo]! I didn't have to go alone," Anna-Marie continued. "They planned the logistics including travel into Ukraine, a safe place to stay while in Ukraine, and travel while inside. They were with me the entire time. We left Warsaw with Project Dynamo, they crossed us across the border by foot and then transported us to a safer hotel. The next day I was transported to pick up our baby and get all of the documents completed while inside Lviv, Ukraine."
To make matters even more complicated, Mursel needed to be hospitalized during the trip.
"On our way back to the hotel, they told me Mursel was transported to the hospital via ambulance, due to heart pain," Anna-Marie wrote. "A member of Project Dynamo stayed with him until I was able to meet him so he wouldn't be lost in the shuffle. Then I was transported to the border and walked across into Poland with the baby. They got me to the hospital where Mursel was. The tests came back that his heart was ok and bloodwork came back ok. So we went back to Warsaw after. [Project Dynamo] helped with that also."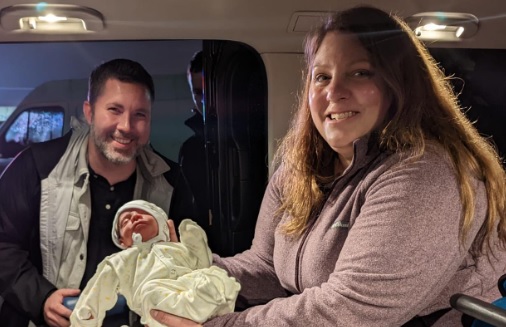 "This is such an amazing group! They go into countries with wars and hostile environments to help people get out!" she continued. "They have helped numerous people in Ukraine get out of towns, they've moved surrogates and babies. We will forever be grateful to them! This is a non-profit group that relies on donations to help with their missions to get people out!"
According to Anna, their surrogate– whom Anna described as an "amazing woman"— is doing well following the birth. In February, Anna-Marie stated that the surrogate had to leave her home to move to a safer area.
(If you would like to read more about Project Dynamo, or to donate, click here!)
RELATED STORY: Elizabeth Potthast's Father Chuck Opens Up On "90 Day Diaries" About 2016 Cancer Diagnosis; Worries His Ostomy Bag Will Hurt His Chances To Find Love
(Photos: TLC; Instagram)