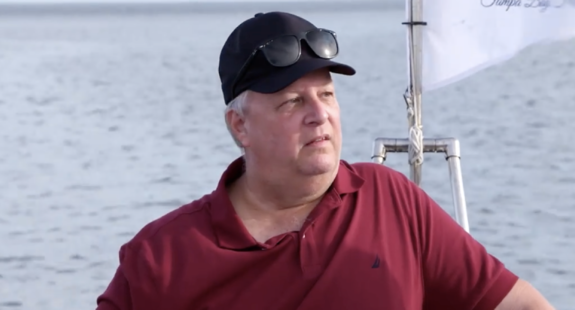 Chuck Potthast, father of 90 Day Fiance star Elizabeth Potthast, is opening up about his emotional cancer battle and how it has changed his life forever.
In Us Weekly's exclusive sneak peek from Monday's episode of 90 Day Diaries, Chuck sits down for a chat with relationship coach Joy to talk about his health and how he feels it hinders him from finding love.
Chuck tells Joy that he was diagnosed with cancer in 2016 and though he is cancer-free today, his cancer battle changed his life forever, due to him having to use an ostomy bag.
"It's gonna affect me forever," he added. " … I don't go to the bathroom like the normal person because I don't have a bladder."
Chuck went on to explain that as part of his treatment, doctors had to remove his bladder and "do a reconstruction surgery."
"I have what's called an ostomy bag, which is a bag that my urine flows into, and it's on the outside of me," Chuck said, adding that he's nervous to date because of the ostomy bag. "It's not something that you really want to share with people and be intimate when you have this condition."
Further in the clip, Joy reminds Chuck that he didn't choose to be diagnosed with cancer and he can't continue penalizing himself for something that has happened to him.
"You know, this is random, and you never expected this," she says. "Before anyone can be OK with what you have going on with you, you have to come to terms with it and be OK with it, and you're not there yet to welcome someone in that space.
Joy went on to point out that Chuck recently reached a milestone by turning 60 years old, which she called "amazing."
"I'm just thankful I'm still here," Chuck replied.
Chuck went on to recount some of the things he's done since being declared cancer-free, which include walking two of his daughters down the aisle at their weddings and welcoming three grandchildren. (He's due to meet his fourth grandchild soon, as Elizabeth is currently pregnant with her second child.)
"When I think about that, I just thank the Lord everyday," he said tearfully. " … I'm still here, and I'm in their lives and that's really important to me."
Chuck goes on to apologizes to Joy for getting emotional while telling his story, to which Joy assures him it's OK, and that his story may ultimately lead to him finding happiness with a partner.
"It's going to make somebody fall in love with you," she said.
"90 Day Diaries" airs Mondays at 9 p.m. ET on Discovery+.
RELATED STORY: Former "90 Day Fiance" Star Varya Malina Reflects On First Visit To See Geoffrey Paschel In Prison: "My Beloved One, Who Is Like An Animal In A Cage"
(Photos: TLC; Instagram)