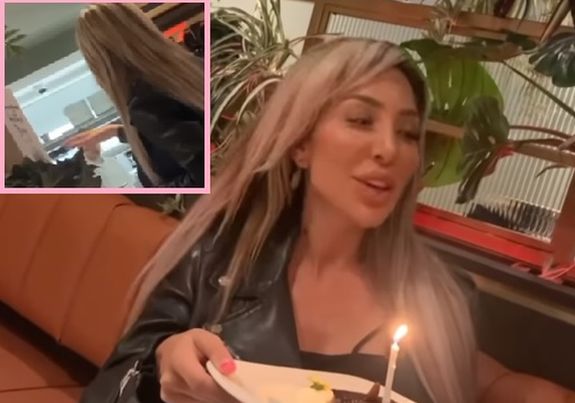 Farrah Abraham is currently terrorizing the United Kingdom, after flying across the ocean to get her botched butt job repaired (or something). Since The Big F's 31st birthday is approaching in eight days, she decided to celebrate early by showing the wait staff at a UK restaurant why the name "Farrah" brings fear to customer service personnel from sea to shining sea!
In an Instagram Reel posted by Farrah herself, the former Teen Mom OG star is shown demanding the restaurant staff celebrate her birthday, "calling them out" in a the video (which actually only makes her look bad), and then acting bashful when the waitstaff finally complies by singing her happy birthday.
Allow The Ashley to recap the Backdoor Teen Mom's latest international hijinks!
After getting her butt plucked, pumped and reshaped (or glued back on…I have no idea what could be left to do on that thing at this point), Farrah went out to dinner with some "friends" and was angry to discover that, when the waiter brought her dessert, she dared not to include the birthday candle that Farrah requested…for herself.
"I did ask for a candle," Farrah says to the waitress. "Can I have a candle? Ma'am, can I have a candle please?"
Farrah is angered when the waitstaff doesn't immediately go fetch a birthday candle, so she charges like a Botox-filled bull in a china shop to the kitchen, where she finds a group of waitstaff not getting her candle.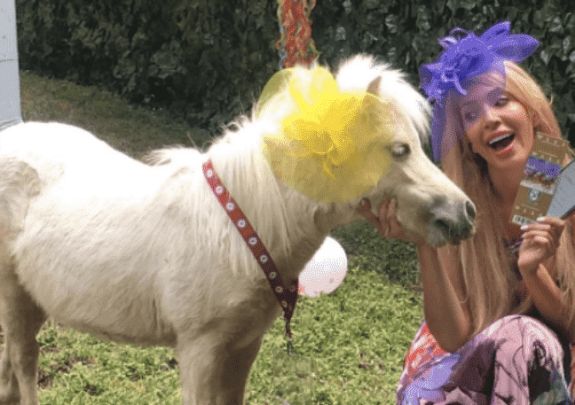 "She goes behind us– texting and talking to coworkers right behind us where we can see," Farrah writes of the waitress. "Does not bring a candle."
Farrah then goes and yells at the waiters, holding her candle-less dessert.
"Hi, you're texting and talking, not getting a candle and singing happy birthday," Farrah tells them. "Give me a candle! I don't work here."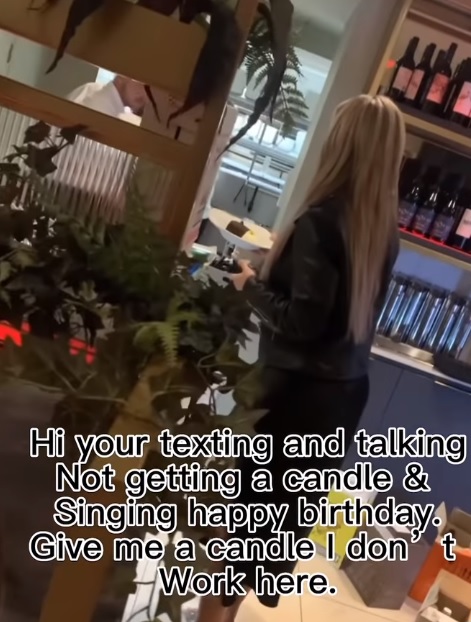 Finally, the restaurant manager sees that a washed-up American reality "star" is causing a ruckus in her restaurant and goes over to see what the problem is. Farrah starts raising hell, bringing her "belligerent, anti-Christ attitude" known throughout America, finally ending her rant with something that sounds like, "So I can eat and get out!"
(Shoutout to the fellow diner who slyly sticks their phone out to record the Botox-filled American acting a fool in the restaurant.)
Farrah's UK friends seem to find her entitled rant amusing, laughing in the background as the waitress looks absolutely shocked that a grown woman would have an actual meltdown in the middle of a restaurant over a birthday candle…when it's not even her actual birthday!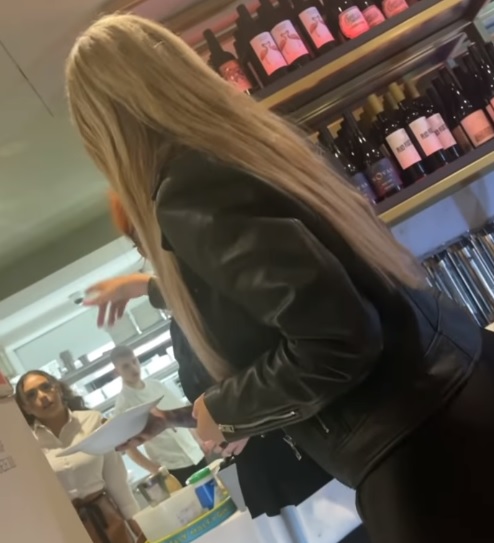 The manager, bless her British heart, tries to make the angry lady-child happy (or, rather, get her to shut her trap), so she apologizes and brings out a dessert— with a candle.
Farrah begins to sing "Happy Birthday" (to herself…as you do), in an attempt to prompt the waitstaff to sing to her.
"I heard you guys were going to sing to me!" Farrah says in a jolly tone.
The manager looks like she wants to take the birthday candle and light Farrah on fire; however she immediately begins singing the least happy "birthday" song ever to be sung. Random busboys and waiters join in. (They are clearly mocking Farrah, though, unbeknownst to the 'Teen Mom' star, who most likely thinks they just wanted to sing so they could tell their friends they sang "Happy Birthday" to someone so famous.)
Farrah, in what may be the most "Farrah" action ever, then proceeds to act bashful and almost surprised by this "sudden" outburst of good birthday cheer. She excitedly blows out her candle, but is clearly more-thrilled that she got what she wanted and was even able to rub the waitstaffs' faces in it.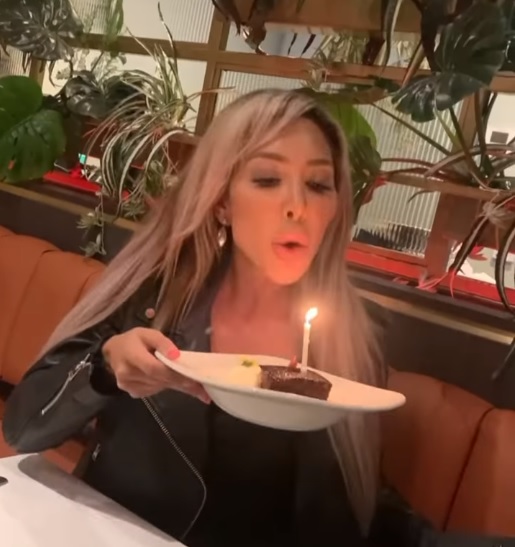 While Farrah may have thought the video was funny/cute/proof that she could efficiently terrorize foreigners, her followers did not. Most of the comments left on the video called Farrah out for her incredible entitlement, immaturity and rudeness.
"No one is obligated to celebrate you!" one person wrote.
A second person agreed, adding to the comment that the UK does not have the tradition of singing "happy birthday" at restaurants like the United States does.
"Nothing like an entitled American demanding the British do something they don't normally do on a day that isn't even her birthday," the person wrote. "The way she dismissed them [was] so rude. Embarrassing she posted this actually thinking this is funny, cute or good."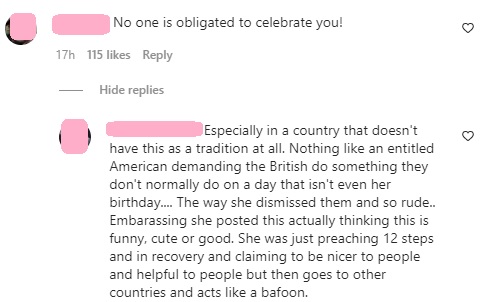 Others pointed out that Farrah's childish actions actually show just how much she yearns for attention.
"Get over yourself…no one gives a s**t it's your birthday month… you don't need [people] to sing to you like you're [a] child," someone wrote. "I would've laughed at you if you complained about not getting your candle."
"She really did all that drama to get a candle to sing for herself," another person commented. "Like she has serious issues. Why she needs attention that bad?"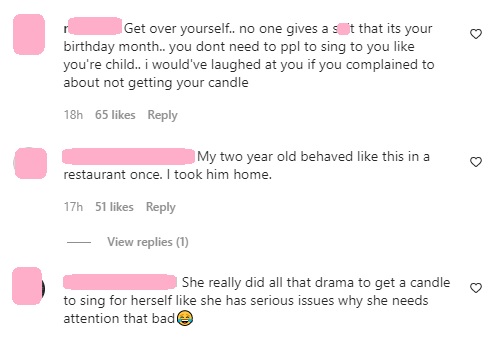 Most people were dumbfounded that Farrah would actually post this video herself.
"Leave it to Farrah to not need the paparazzi to film her, she literally shows the world how terrible of a person she is by filming and posting it herself!" someone wrote. "There is a right and a wrong way to ask for something. Show some class."
You can watch the full video below.
RELATED STORY: Farrah Abraham Announces She's Pursuing a Career in Stand-Up Comedy; Says 'AGT' Judge Howie Mandel is Helping Her Write Material
(Photos: TikTok; Instagram)