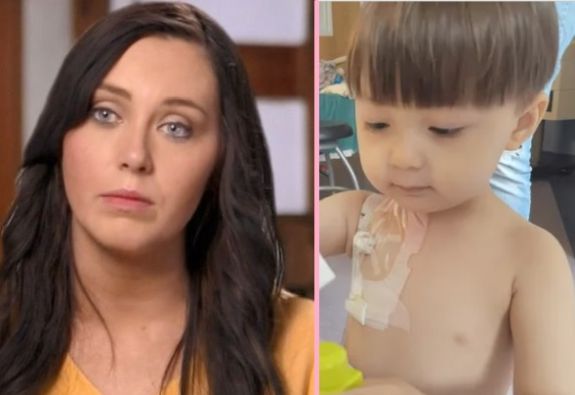 Deavan Clegg's son has been diagnosed with cancer.
The former 90 Day Fiance star took to Instagram on Tuesday to make the very sad announcement that her three-year-old son, Taeyang— who was born during the first season of "90 Day Fiance: The Other Way"— has been diagnosed with B-Cell Acute Lymphoblastic Leukemia.
Deavan stated in her post that the diagnosis came just a few days ago, and that Taeyang has already begun chemotherapy treatment. Taeyang currently lives with Deavan– who is pregnant with her third child— as well as Deavan's boyfriend Topher Park and Drascilla, Deavan's daughter from a previous relationship. Taeyang's father, Jihoon Lee, currently lives in Korea and, according to Deavan, hasn't contacted the boy in over a year.
In her Instagram post, Deavan called Taeyang's diagnosis "the most vulnerable and saddest point" in her life. She also posted photos of the boy in the hospital receiving treatment.
View this post on Instagram
"I'm overcome with so much emotion and devastation to announce that my beloved son Taeyang, who just celebrated his third birthday last month, was just diagnosed with childhood cancer, B-cell Acute Lymphoblastic Leukemia just a few days ago.
"He has already undergone multiple procedures and started chemotherapy treatments just two days ago," Deavan continued. "This is every parent's absolute worst nightmare and I'm trying hard to stay strong for Taeyang, Drascilla and my baby in my tummy. Taeyang will need around the clock hospital care and this will be a long two-year process that has a high success rate of full recovery in five years. I'm still processing all of this and asking for prayers, please."
Deavan's mom created a GoFundMe to raise money for her Taeyang's medical care.
According to St. Jude, Acute lymphoblastic leukemia (ALL) is the most-common type of childhood cancer. It affects the patient's white blood cells and most often occurs in children ages three and five.
In a second post, Deavan thanked her followers for their support.
View this post on Instagram
"This week has flip[ped] our lives upside down," she wrote. "Childhood cancer is one of the worst things to happen to anyone or any family. We will keep everyone updated on Taeyang's journey to recovery."
On the GoFundMe page, Taeyang's grandmother explained how it was discovered that Taeyang has cancer.
"In early April, Taeyang started wheezing, seemed overly tired, and started saying ouch," the fundraiser bio states. "His mom took him to the nearest clinic, thinking it may have been a sore throat. Taeyang was treated with steroids and sent home with instructions to go to the Emergency Room if symptoms persisted. The symptoms worsened. His mother took him to the Emergency Room, where he was found to be anemic and constipated."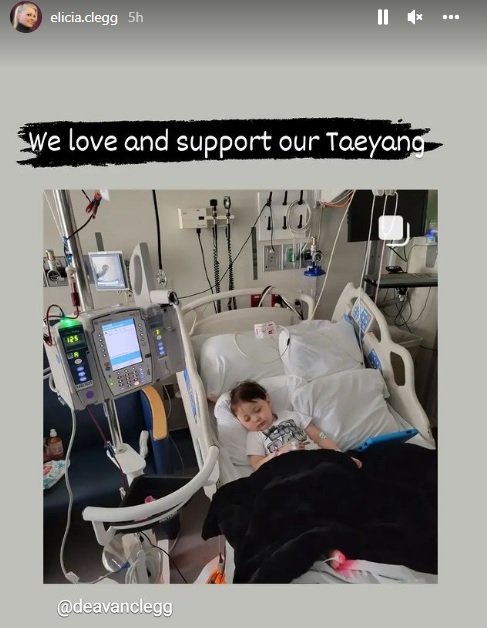 It goes on to state that Taeyang's condition did not improve, even after another trip to the hospital and taking the antibiotics and iron supplements he was given at the hospital.
"Taeyang seemed to be improving for five days; sadly, the wheezing returned; he started vomiting and found walking hard. His mom took him to the Emergency Room again; his red blood cell count was even lower, despite the iron supplements… One month after Taeyang's first trip to the Emergency Room, he was back to test his blood count; it had dropped even more, and was at a dangerous level. A specialist was needed.
"Taeyang's mom took him to the specialist and thought he would need a blood transfusion the next day. Instead, with the lab work in hand, the doctor returned to the hospital room with a diagnosis that no parent wants to hear: 'Your son has cancer cells.' Taeyang was admitted to a Children's Hospital (where he is still currently residing). After a confirmation test, Taeyang had surgery. The procedures done were the placement of a port line, a bone marrow biopsy, and a lumbar puncture.
"As of May 29th, he has begun his chemotherapy. His mom has been informed that this will be a long two-year process, with a high success rate of full recovery in five years."
View this post on Instagram
Taeyang's father, Jihoon, has yet to speak out about his son's diagnosis, and it is not known if he was even aware of it until Deavan posted about it on Instagram.
RELATED STORY: Former "90 Day Fiance" Star Deavan Clegg is Expecting Her Third Child, First With Boyfriend Topher Park
(Photos: Instagram; TLC)