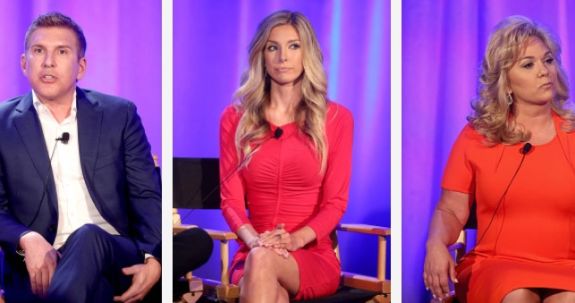 Lindsie Chrisley continues to show support for her formerly-estranged father, Todd Chrisley, and stepmother, Julie Chrisley, after the couple were found guilty on multiple federal charges, including bank fraud and tax evasion.
As The Ashley told you Tuesday, the Chrisley Knows Best pair were charged with conspiracy to commit bank fraud, bank fraud, conspiracy to defraud the United States and tax fraud. Julie was also charged with wire fraud and obstruction of justice. As a result, the two could face up to 30 years in prison when they are sentenced.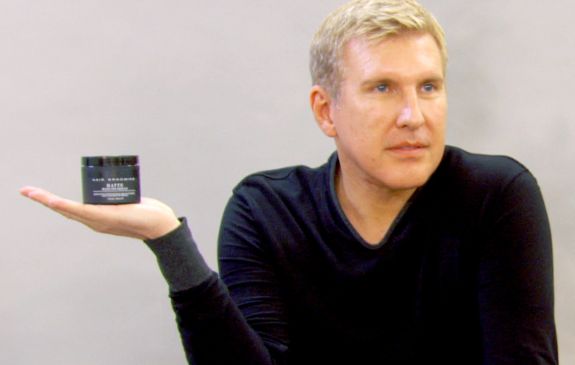 Despite her historically tumultuous relationship with Todd and other members of the Chrisley family, Lindsie took the stand last week and supported her father, claiming Todd's top priorities are "his children and his wife, in that order."
Following Tuesday's verdict, Lindsie took to Instagram to share a photo of an open Bible with handwritten notes, seemingly reflecting her feelings on the situation her father and stepmother are currently facing.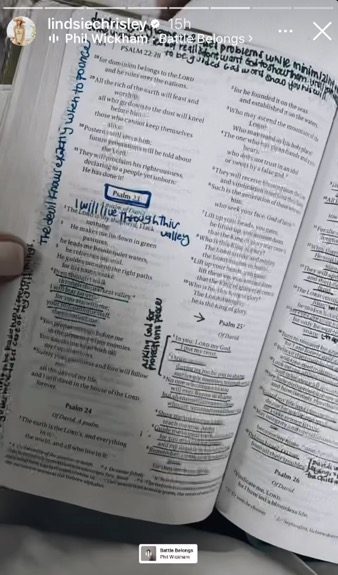 "The devil knows when to pounce," she penned on the side of one page, while another part read, "Asking God for protection & peace."
Lindsie, who co-hosts the Coffee Convos podcast with Kail Lowry of Teen Mom 2, also posted a statement on her Instagram Story addressing her recent absence from the podcast, explaining that she will "be back when the time is right."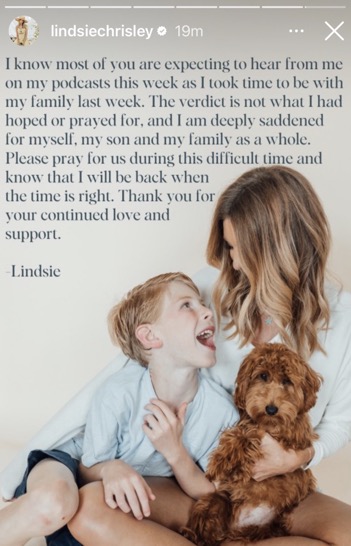 "I know most of you are expecting to hear from me on my podcasts this week as I took time to be with my family last week," she wrote on Instagram. "The verdict is not what I had hoped or prayed for, and I am deeply saddened for myself, my son and my family as a whole.
"Please pray for us during this difficult time and know that I will be back when the time is right," she continued. "Thank you for your continued love and support."
As of now, Lindsie is the only member of the Chrisley family to address Tuesday's verdict, though Todd's lawyer, Bruce Morris, has confirmed an appeal will be filed.
RELATED STORY: Todd & Julie Chrisley Found Guilty On All Counts Including Bank Fraud & Tax Evasion After Three-Week Trial: Facing Up to 30 Years In Prison
(Photos: NBC Universal; USA Network; Instagram)