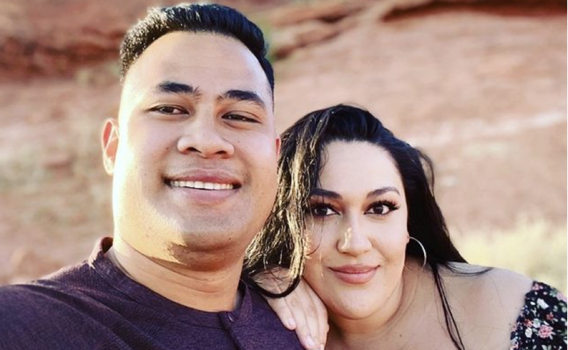 Asuelu Pulaa and Kalani Faagata of 90 Day Fiance have reportedly split.
While the couple's marriage issues have been featured on various "90 Day" spinoffs, things have failed to improved, seemingly resulting in a split. Asuelu seemed to be confirming his newly single status Monday on social media.
"When people know that I'm single," the text in Asuelu's video read, along with the caption, "Sometimes your dreams never come true #mybooholeishurts"
Rumors about Kalani and Asuelu's split began in March following an episode of 90 Day Diaries, in which the pair got into a heated fight on-camera, ending with Asuelu blocking the mother of his children on social media.
That month, Kalani's sister Kolini–- who has never been a huge fan of Asuelu–- posted a photo of her brother-in-law on social media, calling him a "sack of s**t." Kolini tagged her sister in the post and wrote "just ran into your ex at the store," confirming the "sack of s**t" to whom she was referring was Asuelu.
Earlier this week, Asuelu reposted a TikTok of himself and Kalani on Instagram, claiming "she's different from how she used to" be and that he has more to say but is prohibited due to his TLC contract.
"My life is under control," Asuelo wrote.
"Here she it, people keep asking where is ur wife I said idk she don't wanna join my live she doesn't want film tiktok with me she's different from how she used to," Asuelu wrote. "She doesn't wanna go out with me, everything she needs I supply for her esp the boys … I have a lot to said but I can't I'm under the contract my life is under control … it's hard bcoz I wanna have my own space but she don't, she doesn't want to communicate anymore… hopefully we sell this house very soon so I can go back to work."
One of Asuelu's followers noted the "90 Day" couple are no longer following each other on social media (and still aren't as of press time), while another advised Asuelu not to post about his marital issues.
"She has put up with a lot and has been patient," the person wrote. "Honestly I get the frustration and being upset but posting this isn't going to help you guys."
"[It's] ok my life is everywhere," Asuelu replied.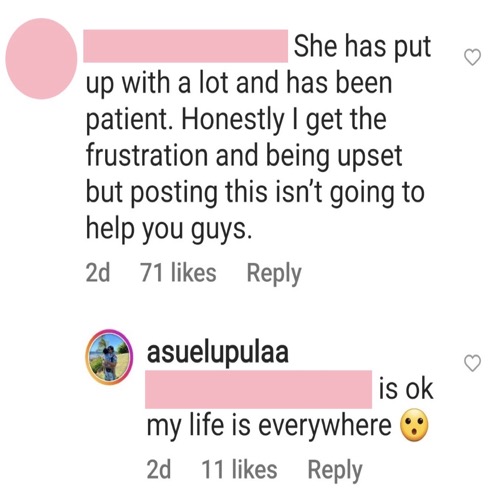 Kalani has yet to respond publicly to Asuelo's claims.
Asuelu, meanwhile, has continued to post odd (even for him) videos on social media.
RELATED STORY: "90 Day Fiance" Star Stephanie Matto Is Selling Boob Sweat Online; Considering Sauna Purchase After Bear Sighting Keeps Her From Perspiring Poolside
(Photos: Instagram)