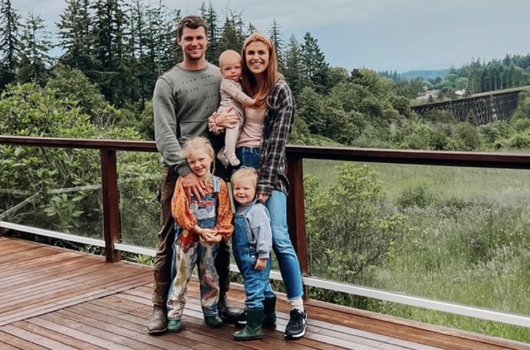 Coming soon: Roloff Farm Part 2?
Weeks after Matt Roloff announced that 16 of Roloff Farm's 109 acres have been listed on the market for $4 million, his son and daughter-in-law– Jeremy and Audrey Roloff—have purchased a farm of their own.
The big purchase comes just weeks after the Little People Big World patriarch seemingly blamed Jeremy and Jeremy's twin Zach for not wanting to buy the 16 acres up for grabs on Roloff Farms themselves. Just last week, Audrey told her Instagram followers that she and her husband attempted to purchase Roloff Farms from Matt back in May 2020, before realizing "maybe it wasn't meant to be."
Audrey and Jeremy have gone on to find some property of their own, revealing over the weekend that they had purchased a farm–- one they both have a meaningful connection to.
"After a two-year search spanning all over the state of Oregon… IT. IS. Time," Audrey wrote on Instagram. "We bought a farm! And look what's in our backyard. Yup, that's our trestle."
Audrey went on to talk about the significance of the trestle, explaining it was the location where Jeremy proposed to her and where she and Jeremy took the cover photo for their book, A Love Letter Life.
"We've got a lot of work to do to bring our vision to life, but Jer and I are excited to finally have some space to get our feet dirty (literally) and bring our dreams of using land into reality," Audrey continued, noting that she would share details about "how this came to be soon."
Jeremy shared the news on his Instagram, too, revealing he and Audrey closed on the farm a month ago.
"Very excited to announce that we've purchased property for our next adventure!" he captioned a photo of his family on the farm. "We've been searching for a while and have toured some stunning properties along the way– what a journey. Very thankful.
"A month ago we closed on this piece and our trestle is in our backyard!" Jeremy added. "It's a project, but I'm always down for one. More to come!"
Jeremy's mother, Amy Roloff (who has been outspoken on the farm situation involving her ex-husband and sons), congratulated Jeremy and Audrey on their new place.
"Love this reel. I'm thrilled for you guys and will look forward to how you'll turn this place into your home!" Amy wrote in the comment section of Audrey's post.
While Matt has yet to comment on his son's purchase, plenty of 'Little People Big World' fans had a lot to say about Jeremy and Audrey buying a new farm.
"Nothing says 'stick it to your dad' more than both sons buying properties while [Matt's] selling part of the farm," one person wrote in the comment section of Jeremy's post.
"Some things don't work out so better opportunities can come along," someone else commented.
As of press time, the 16 acres of Roloff Farms is still on the market for $4 million.
RELATED STORY: 'Little People Big World' Stars Amy Roloff & Audrey Roloff Suggest Matt Roloff Misled Family About Future of Roloff Farm For Years
(Photos: Instagram)