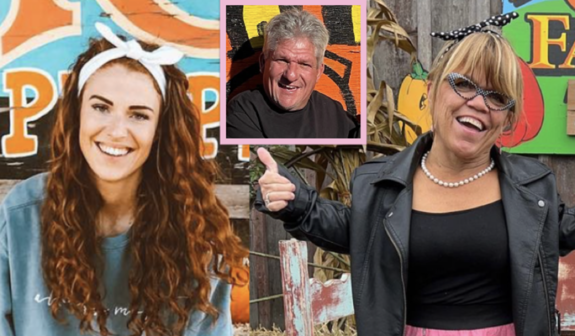 Little People, Big World, major change of plans.
Weeks after Matt Roloff announced that a large portion of Roloff Farm was up for sale, his family continues to process the news, despite believing for years it would never happen.
As The Ashley told you last month, 16 of the Hillsboro, Oregon, farm's 109 acres have been listed on the market for $4 million. Those 16 acres include the Roloff's original 5,373 square foot farmhouse and the 3,594 square foot red barn. When confirming on social media that the property was up for grabs, Matt seemingly blamed his twin sons Zach and Jeremy for not wanting to buy it for themselves, to which Zach fired back, accusing his father of "manipulating the narrative" prior to the Season 23 premiere of 'Little People, Big World.'
During the premiere, fans saw Matt and Zach at odds over the sale of the property, with both parties unable to come to an agreement. In response to the listing going public, Matt's ex-wife Amy Roloff, who no longer owns part of Roloff Farm, called the situation "very sad," claiming that, although her sons weren't looking for a handout from Matt, they expected him to treat them better than a stranger off the street.
According to In Touch Weekly, Amy echoed similar sentiments recently while discussing Matt's decision to sell the property, reiterating that her ex-husband should have been the bigger person in the situation.
"I don't know a lot of the details of the negotiation that went on between Zach and Matt," Amy told Us Weekly. "Matt is still the father, still 'the adult.' I don't care how old your kids are, sometimes there are things they may need to learn, but you know as an adult, as a father, you may have to take the higher road."
While Amy said she's "sad that it's come to this," she understands her ex-husband can be "grinding."
"Parts of me are not exactly surprised because I've dealt with Matt over the years and he can be tough," she added.
Amy said she and her children were always told that the farm would remain in the family as part of the Roloffs' legacy, but now that part of the farm is being sold, she just hopes something positive will come out of it.
"Change happens, it's not always happy, but eventually, maybe this will be a step where we can all move forward and see how we can come back together," she said.
While Amy hopes everyone will ultimately "come back together," doing so will require all parties to forgive and move forward, including Jeremy and his wife Audrey, who must first let go of a dream they've had for years.
During an Instagram Q&A last week, Audrey said taking over the farm was a mutual dream– one that she and Jeremy started working towards after they got married.
"We tried to [buy it] back in May of 2020," she said. "We shared what we felt comfortable sharing about that in a [Behind The Scenes] podcast episode. Jer and I hoped to take over his parents' farm (or a portion of it) since he was a child. It was something he was led to believe was possible. He made it very known to his family and publicly on TV. It became a mutual dream when we got married, and we started working towards it."
Audrey said when she and Jeremy were "finally at a point where it was practically possible," they made an offer, only to realize "maybe it wasn't meant to be."
"We realized Jer's family was not actually as aligned in the progression towards us acquiring it as we thought they were," she said, before noting there had been a "threat of having to sell the farm" on more than one occasion.
Now that it's become a reality, she admits it's been "incredibly hard" for both her and Jeremy, as they "fell in love there, got married there, helped run the business there."
"We really did think we'd raise our kids there," she added. "Like I said, it was the death of a dream."
RELATED STORY: Zach Roloff Talks About the Drama With Dad Matt Over the Sale of Roloff Farm: "A Lot of Hurt Feelings Have Happened"
(Photos: Instagram)