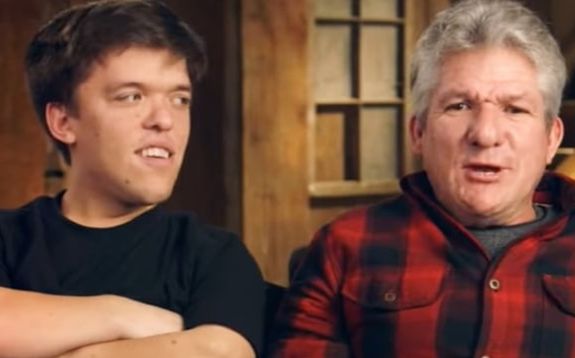 Following his father's decision to sell Roloff Farm– and all of the drama that has surrounded it– Zach Roloff says he is focused on making peace and moving forward.
As fans saw on the Season 23 premiere of Little People Big World, Matt Roloff and Zach were at odds over the sale of a portion of Roloff Farm. The two parties were unable to come to an agreement, leading Matt to put the disputed acres on the market. He later insinuated that Zach and his twin Jeremy were to blame for the sale, causing Zach to take to Instagram to call his father "manipulative" and other choice words.
Despite the father/son feud, though, Matt was seen at the birthday party of Zach's son Jackson this past weekend. In a new interview with Entertainment Weekly, Zach talked about why Matt was invited, and admitted that he wishes the sale of the farm was being "done in a better way."
While Matt's ex-wife Amy Roloff recently called the situation between her sons and ex "sad," admitting Matt's focus on the business has hurt the family over the years, Zach told Entertainment Tonight, "we're not innocent in all this either."
"A lot of hurt feelings have happened over everyone," Zach said. "We're not innocent in all this either. But it is what it is. It's not our call. The whole family built the equity of that place and built it to what it is. But it's not any of our calls but my dad's. That's his call, which is fine.
"I wish it maybe was played out a little bit more honest leading up to it," he continued. "I have my own family to focus on."
Zach said he isn't sad to see part of Roloff Farm being sold to someone else, he just wishes things would've been handled differently.
" … I'm a dad with three kids, and a husband," he said. "I'm not crying over my childhood house being sold. I do wish if it was going to get sold, it was done in a better way, but it wasn't, which is fine."
In addition to Jackson, Zach and wife Tori are parents to daughter Lilah and son Josiah, the latter of whom was born on April 30. With a new home and new addition to the family, Zach said he and Tori have plenty to focus on going forward.
"So, Tori and me are just focused on our kids and, yeah, what we want to do for the next decade of our life," he said.
RELATED STORY: Amy Roloff Gives Her Thoughts On Ex Matt Selling Roloff Farm to Strangers Instead of Their Sons: "I Feel For My Boys"
(Photos: TLC; Instagram)