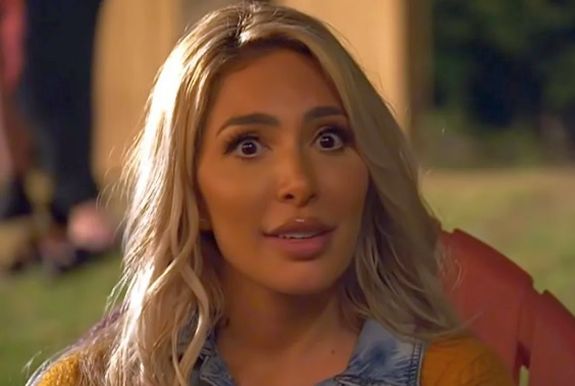 Earlier this month, Farrah Abraham was charged with Battery of a Security Officer. News of Farrah's charge— which stems from Farrah's altercation at a Los Angeles club in January– broke on Wednesday and the former Teen Mom star was not happy about it, taking to Instagram to dispute the fact that she was charged (despite it being on-record with the Los Angeles court system.)
On Wednesday, the Backdoor Teen Mom posted a screenshot of In Touch Weekly's article about her charge and accused the magazine of defaming her.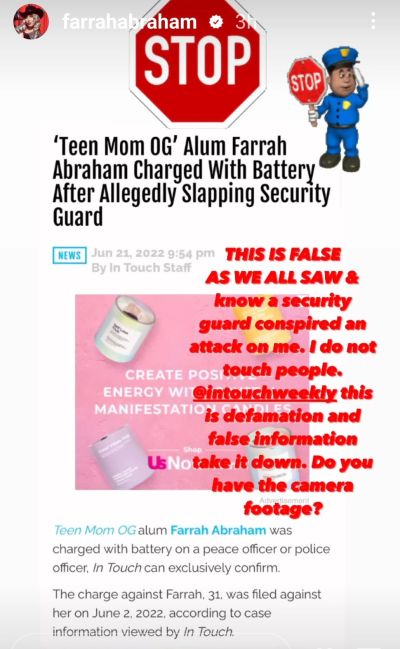 "This is false. We all saw and know a security guard conspired an attack on me. I do not touch people. @InTouchWeekly this is defamation and false information. Take it down. Do you have the camera footage?"
In later messages posted to Instagram Stories, Farrah claimed she won't be in court, because it's unsafe for her to be in the state of California.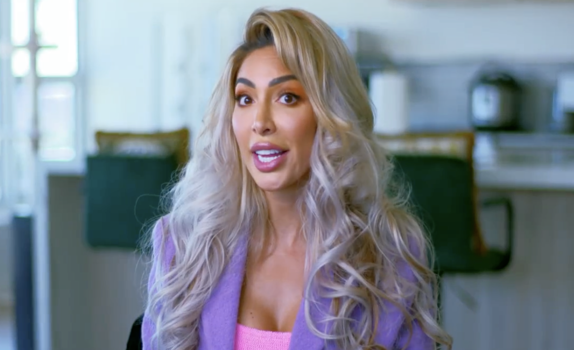 "For my safety I will not be in California," the Backdoor Teen Mom wrote. "My lawyers will be as I've moved for my safety. This is public knowledge FA."
She then posted a photo of herself dressed as a cowgirl (as you do) and wrote, "The injustices I face help me become A better advocate in law to help the innocent who are battered and treated as criminals like myself. I look forward to sharing in my comedy specials and advocating in public affairs and law. Farrah Abraham"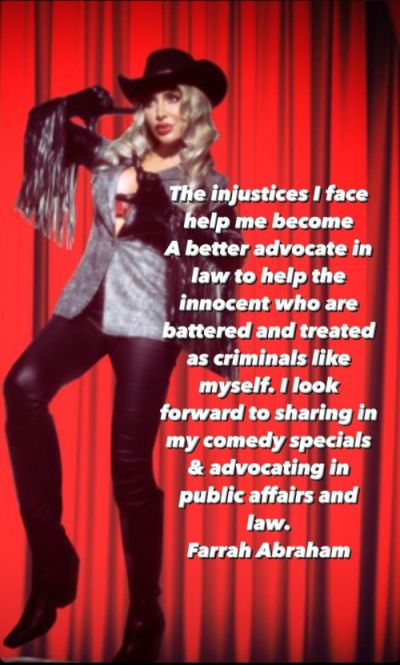 She also posted a statement written on June 6 by her lawyer, denying that Farrah was being charged with any crime. (Farrah was charged on June 2, so at the time her lawyer released the statement, info regarding her charges would have been available to both of them.)
Farrah then added her own "Farrah Speak"-filled message to the statement. (As always, The Ashley has printed Farrah's 'statement' as-is, to better preserve the genuine Farrah Speak.)
"Legal Notice. I will not further be Harassed about the horrific batterment clearly seen on video and photos, my doctors having to rehabilitate myself from illegal activities by security staff abusing their uniforms and attacking me off property against my will.
"For my mental state I will be engaging further per my doctors orders as I had to move and go to a trauma center from this."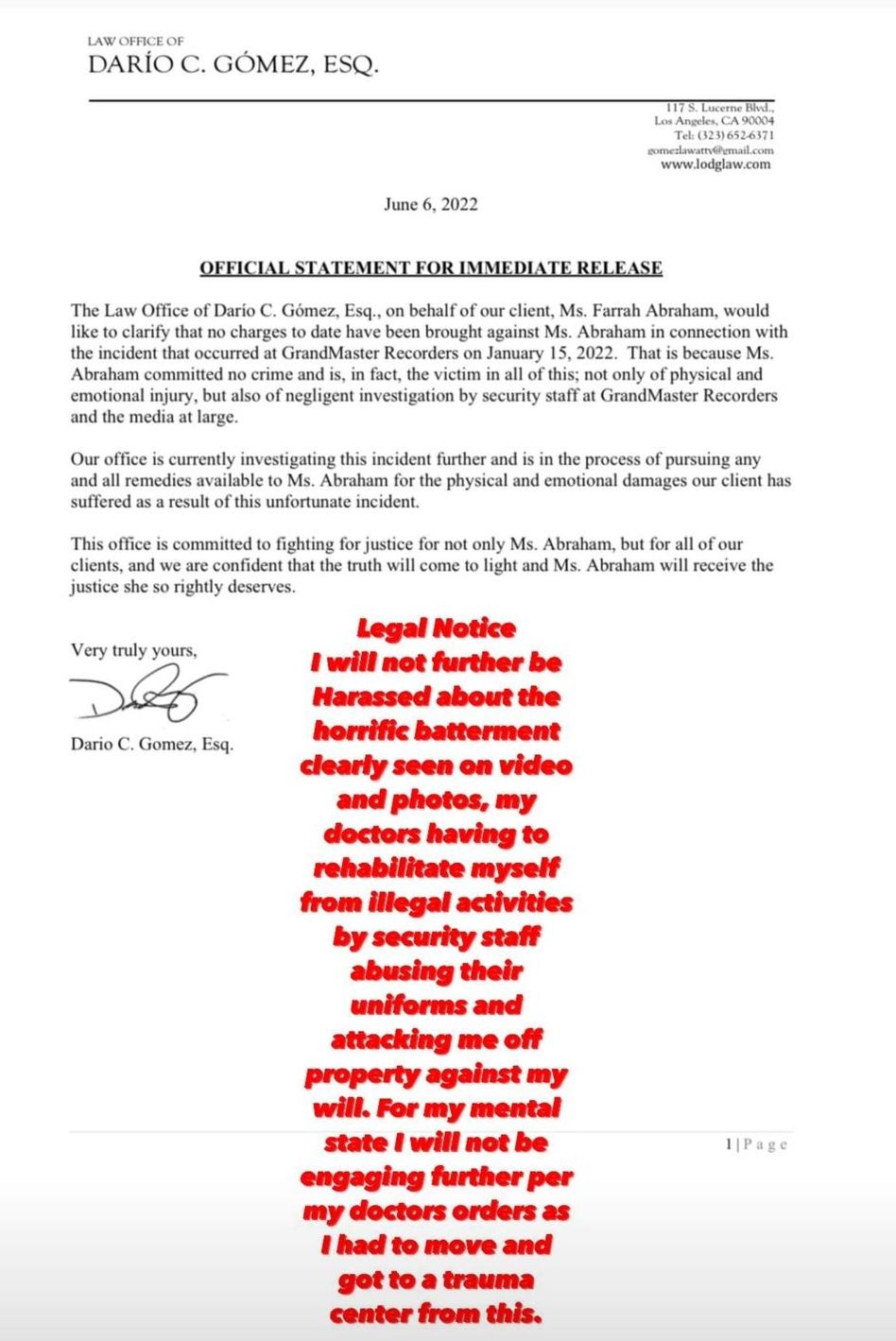 In a comment left on a story about her posted to Instagram, Farrah again stated (in her signature "word salad" Farrah Speak way) that she's innocent, and suggested that those who were involved in the incident be charged and pay for healthcare and her move from Los Angeles to Texas (or something…)
"Maybe the people who battered me should be in prison one year and their paying the fine plus all the trauma & doctors and relocation fees…I'm happy real criminals can be put on notice from a person attacked and innocent.
"What an insane place California is I've had enough of false news and trauma the world needs to change and care for people's mental health associated with attacks and injustices this news contributes to trauma!"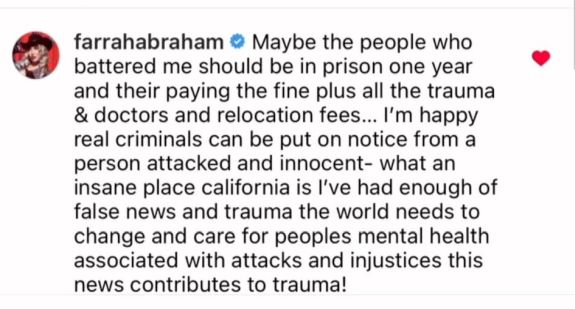 As The Ashley told you, Farrah was bounced from a Hollywood club in January after reportedly slapping one of the club's security guards. After she was removed from the venue, Farrah went on to be detained for battery– but not before finding herself face-down on a sidewalk after being placed under citizen's arrest by a club security guard.
Farrah was taken into custody by the LA Police Department, cited and released.
After the incident, Farrah claimed that she was attacked at dinner by a hater, then dragged outside by the club's security guard and held down in a citizen's arrest until the cops arrived.
Farrah had an arraignment scheduled for Thursday in Los Angeles. Due to the crime she is accused of, Farrah faces a fine of up to $2,000, or imprisonment in a county jail for up to one year, or both a fine and jail time.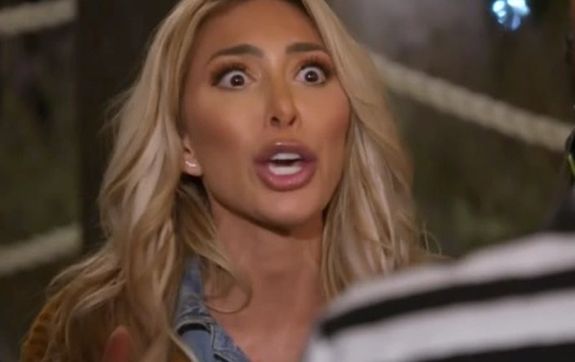 Farrah moved out of California at the end of January and has reportedly been living in Texas since then.
RELATED STORY: Former 'Teen Mom OG' Star Farrah Abraham Charged With Battery of a Security Officer Stemming From January Altercation
(Photos: MTV; Instagram)