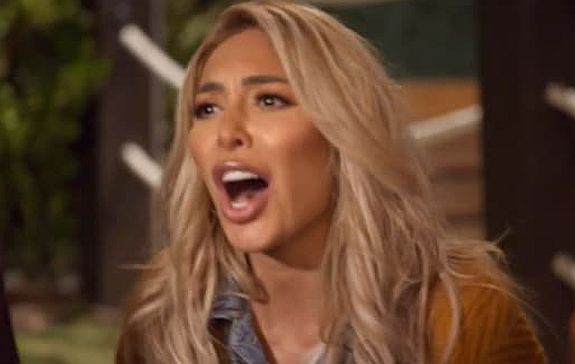 Farrah Abraham was arrested on Saturday night, after the Los Angeles club she was eating dinner at claimed the Teen Mom OG star slapped their security guard.
Farrah— who was also arrested in 2018 after getting into a fight with a security guard at a Beverly Hills hotel— claims that she was attacked at dinner by a hater, then dragged outside by the club's security guard and held down in a citizen's arrest until the cops arrived.
According to TMZ, Farrah allegedly "got belligerent and was asked to leave the club but refused. At some point, she allegedly slapped the guard."
The security guard initiated a citizen's arrest and the cops eventually came and hauled the Backdoor Teen Mom away.
Naturally, Farrah is doing what Farrah always does when she gets in trouble: spews her signature "Farrah Speak" word salad, threatens to sue someone/everybody, and flaunt her "injuries" for the paparazzi.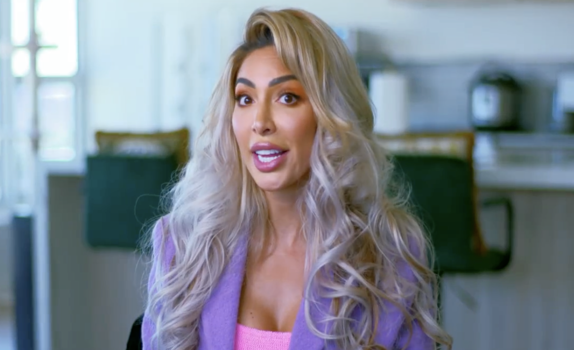 Since this whole thing has become more confusing than Farrah's Harvard term paper, The Ashley is going to attempt to put together a timeline of events regarding Farrah's arrest and what has happened since.
Saturday Night:
Farrah was dining at Grandmaster Records in Hollywood with another female. According to the girl Farrah was with, a female walked up to their table and "punched" both the girl and Farrah in the head.
"This bar threw her out when this one woman punched us both in the face," Farrah's friend told LA News Connection, who was filming as a screaming and swearing Farrah was being held on the sidewalk until the cops came. "I'm going to talk to the cops about it…this woman upstairs didn't like her, she's on a TV show, and she came up to us and she started trashing [Farrah]…I called the cops initially before anyone because I was punched in the head by a stranger."
Farrah's friend told the outlet that, while Farrah didn't touch the "hater" girl; she did "attack the people who work here."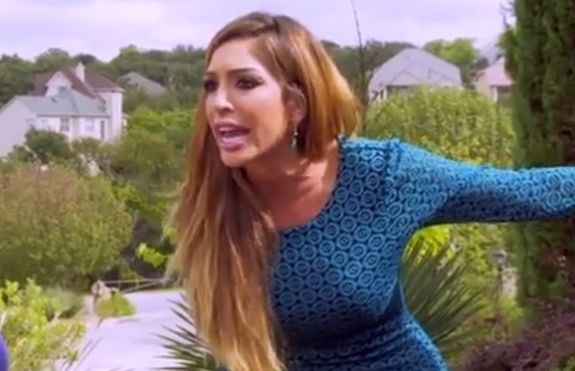 Farrah— who posted photos of herself having drinks earlier that night– was then hauled downstairs and asked to leave the club. An allegedly drunk and belligerent Farrah refused and then allegedly slapped the club's security guard.
The security guard then performed a citizen's arrest on Farrah, holding her down on the sidewalk (with her face in the dirt…naturally).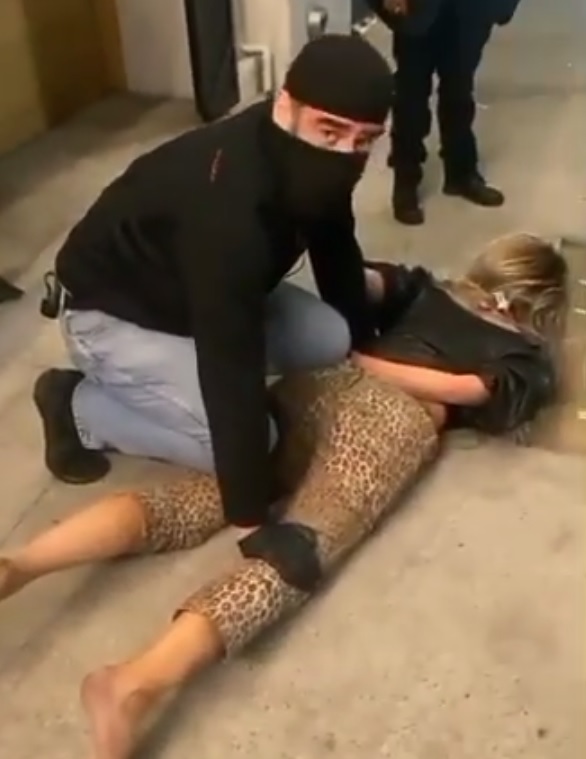 In video taken of the citizen's arrest, a loud and (seemingly) drunk Farrah keeps screaming, "AMEN!" and informing everyone that she's a "JD law student."
"You know why people fight hard in jail?! Sickos like you! Harassers like you!" Farrah is heard screaming as she's facedown in the dirt. "Harassers like you! Harassers like you, to a single mom! AMEN! I've already been calm. I already will be calm…I am a JD law student! I will be more calm than anyone has ever been!"
(You can watch video of this, courtesy of @MadeItNewzTV, below!)
View this post on Instagram
The security guard can be heard telling her to "please be calm" and telling Farrah not to try to bite or kick anyone anymore. Farrah denies ever getting physical with anyone.
"I'm going to sit you up," he tells her. "Please be calm. I'm waiting for the police!"
The police finally arrive, to find a screaming Farrah yelling at everyone that she's a JD law student.
"I don't understand why there are cuffs being put on me," Farrah screeches as she's being handcuffed by the police. The cops tell her that she assaulted someone, to which Farrah says, "I didn't! I didn't hit anyone! I would never hit anyone. I didn't offend anyone…I love how someone tried to say something but it's PER LAW that I never f**king hit anyone! I never even touched anyone."
Farrah reminds everyone that she was on "national TV." She then busts out what must be her new phrase-of-the-day, "per law!"
"This is someone who has a JD law degree!" Farrah screams at the cop. "I never even touched someone— PER LAW! Per you putting someone in cuffs, per law!"
Farrah— who lost her high heels in the commotion, screams that she has "no heels on, and was put in cuffs— against the law!"
A heel-less, leopard-pants-wearing Farrah is then shoveled into the police car screaming, "I love it! I love against the law! I love it!"
Farrah was booked on a misdemeanor assault charge, and released from the clink at 1:48 a.m., per the arrest record. (It is unknown where Farrah's 12-year-old daughter Sophia was during this time.)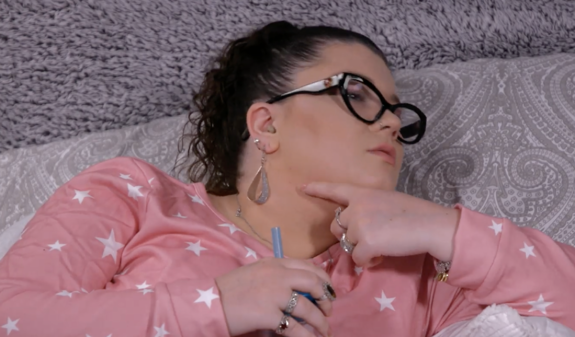 Sunday:
Naturally, though, Farrah is telling a different story, posting continuously to Instagram Stories that she was unfairly detained, harassed, targeted and assaulted. She also denied hitting anyone. (The Ashley is leaving Farrah's "writings" uncorrected to preserve their "Farrah Speak" qualities.)
"For the record I would never touch, harm or continue cycles of abuse or hatred," Farrah wrote on Instagram Stories on Sunday.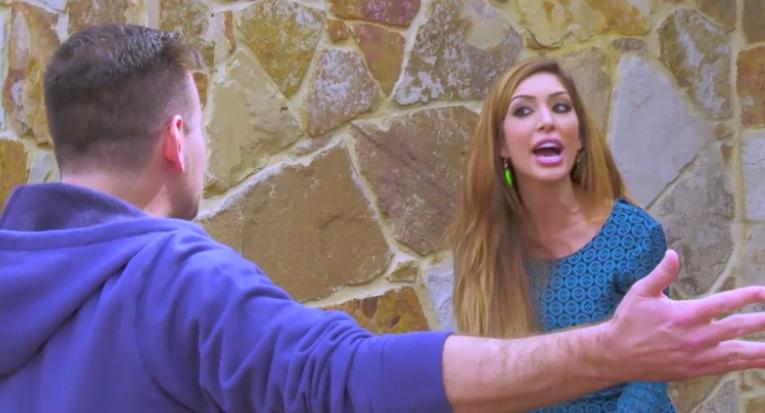 "I couldn't use my phone to call police as you clearly see I'm the one being attacked and lied about. Can't wait for court and pressing charges as that is what I would do and is the 3rd time this year I am having to deal with being targeted and assaulted. ENOUGH IS ENOUGH. My ptsd can't handle anymore attacks."
She reposted screenshots of the video taken of her lying on the sidewalk during the citizen's arrest, writing, "The staff yet again attack a paying customer and hold me against my will. The only 1 out of 3, woman abuse must stop. The staff should be in jail."
She continued to post photos of the incident.
"Why is a male on top of me holding me down when I was walking. This is scary and he should be fired and in jail for batterment."
(No, that's not a typo. That's a new "Farrah Speak" word, apparently.)
"I'm tired of people harassing me, holding me down, hurting me and lying about me and selling things to TMZ. It effects mothers…"
She then showed photos of her injuries, which she claims she received when she was "bruised and battered at dinner."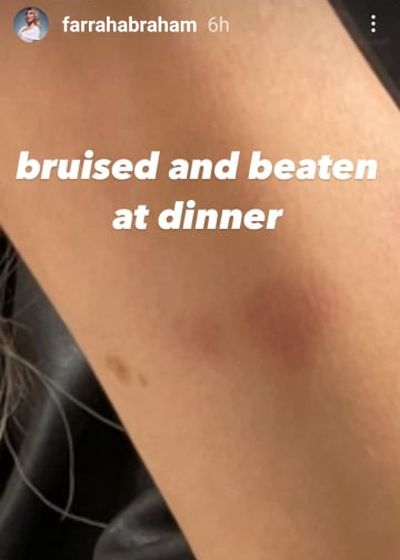 As per usual, Farrah claims that she was the victim of sexism.
"I will never understand sexism & sexist hatred," Farrah posted. "To all the men who wish me wrong, I give it to the 1 who created us all. I CARE FOR MEN & WOMAN EVERY DAY EQUALLY."
Farrah's ex-boyfriend, Simon Saran, weighed in on Farrah's arrest on Sunday, tweeting a link to Starcasm's story about the arrest, along with the caption, "Not surprised! Violent alcoholic!"
Not surprised! Violent alcoholic! https://t.co/sj17eptmft

— Simon (@SimonSaran) January 16, 2022
Farrah then claimed that she believed she was set up by the person who made her dinner reservation. She again reminded everyone she is a law student.
"I'm putting a restraining order on @antonelloparloto who made this dinner reservation and conspired an attack on myself with the staff at @grandmaster_recorders as it was a 'private persons arrest' complete setup," she wrote on social media.
"I realize it's no longer safe for woman to go out to eat in their own neighborhoods…I look forward to my law degree and I look forward to court. Justice will be served as always."
Monday:
Two days after her arrest, Farrah was continuously posting "evidence" of her assault and innocence on Instagram.
"Grandmaster recorders is to blame for my assault, my body is in pain and I will never normalize abuse or violence like this. Wrong is wrong. Crime is crime."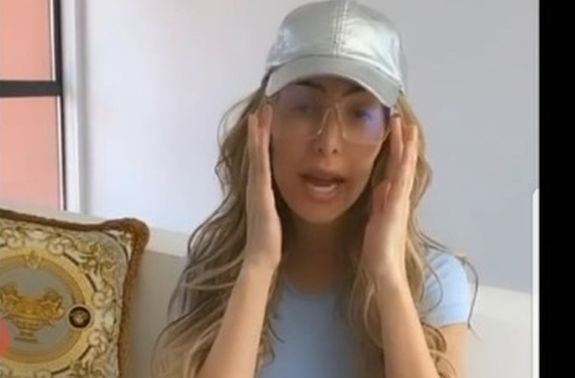 "I was attacked on the rooftop and tried to leave for safety and was then assaulted by a security guard and lied about on the sidewalk," Farrah posted. "Charges are being pressed— no customer should be attacked."
"Damaging my body is serious and legal protocols were not followed on a public sidewalk awaiting police," she captioned a photo of scratches she claimed she received during the incident. "This is against the law. Charges will be in full effect as no one should ever have this happen to them. Stop normalizing abuse!"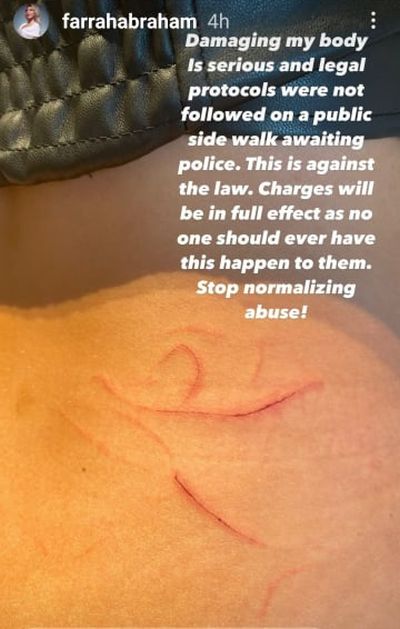 In addition to posting photos of her injuries to Instagram, Farrah took it a step farther and "just happened" to be where paparazzi photographers were taking photos on Sunday. She carried her law school books and made sure that her outfit was pulled up in a way so that the photographers could snap pics of her injuries.
As you do…
Farrah also posted one of her signature "Farrah Speak"-filled negative Yelp reviews about the club where the incident took place. Farrah claimed she was the victim of a hate crime, as well as racism and "batterment."
"Batterment, racism, allowed by management," Farrah wrote on the club's Yelp page. "A woman and public figure who literally did nothing but pay them. I was let go by police after finding management and security was to blame an injustice to law. I can't believe my friends head hurt from being hit and and security put me in the dirt! WARNING BATTERMENT! Assault! HARASSMENT! Do not go to this establishment if your a woman! Hate crimes are happening actively to paying customers."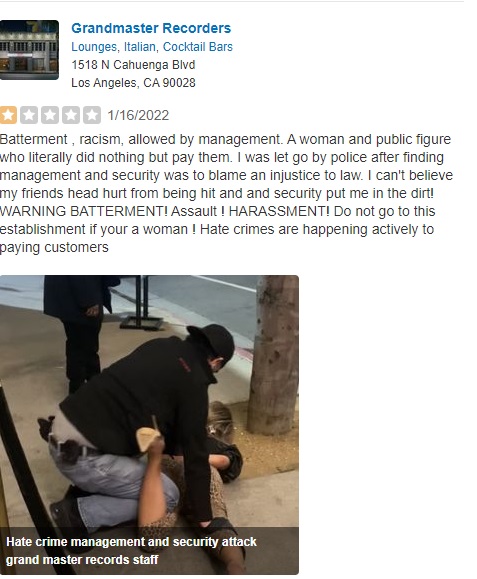 (Farrah frequently writes Yelp reviews claiming to be the victim of hate crimes, harassment, racism, etc. You can click here and here to read some of her Yelp "writings.")
This is Farrah's third arrest. In addition to her arrest in 2018, Farrah was arrested in March 2013. The Big F was picked up for DUI after celebrating St. Patrick's Day in Nebraska. After the arrest, Farrah refused to take responsibility for her actions, and even appeared on an episode of The Dr. Phil Show to argue with The Doc about how, although she was drinking and driving, she wasn't drinking and driving.
She was very, very angry that she was forced to take DWI classes and attend court-ordered intensive therapy. In one notable social media outburst, Farrah wailed that the U.S. government was "f**king up her life."
Farrah's court date is scheduled for May 19 in Los Angeles Municipal Court.
The Ashley will update this post when more info is available.
RELATED STORY: Farrah Abraham Defends Making Her Preteen Daughter Film Her "Doing Law" In Thong Bikini; Insists She's Studying for Bar Exam Despite Never Attending Law School
(Photos: MTV; Instagram)