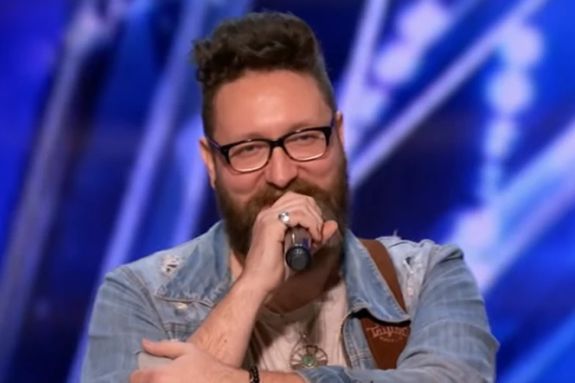 Singing show fans are mourning the death of Nolan Neal— a contestant who appeared on both The Voice and America's Got Talent. He was 41.
TMZ broke the news that Nolan was found dead in his Nashville apartment by his roommate on Monday. While no cause of death has been released yet, Nolan had been candid about his struggle with substance abuse issues.
Although he stated that he originally got clean in 2010, he began drinking and using again shortly before auditioning for 'The Voice' in 2016. (He received a four-chair turn after auditioning with Elton John's "Tiny Dancer, and chose to be on Adam Levine's team.)
View this post on Instagram
"I kind of lost my way on the voice and continued drinking," Nolan said in a 2020 interview with Tennessee's WBIR. "You can see it. I can see it."
Nolan got clean again and went on to audition for 'America's Got Talent,' singing a self-penned song about his battle with addiction. He ended up making it to the quarter finals of the show before being eliminated.
He continued to find success, earning an award in April for having an album receive 50 million streams on Spotify. He also tried to help others recover from addiction. In late June, he posted to his Facebook fan page, offering assistance to those struggling.
"If you're struggling with substance addiction please DM me," Nolan wrote. "I may be able to help you. Your message will only be read by me and will be kept 100% anonymous. #Recovery"
According to TMZ, officers found what appeared to be a "powder residue" on a guitar pick next to Nolan's bed. Nolan was discovered deceased after his mother asked his roommate to check in on him.
"The roommate stated she discovered the victim after receiving a phone call from the victim's mother who was concerned after not hearing from the him," Page Six reported, adding that police stated that Nolan's roommate last saw him alive around 4 or 5 p.m. on Sunday.
After news of Nolan's death spread, his fans, friends and fellow musicians began to mourn him on social media.
"Nolan Neal was an incredible talent with infectious energy and a warm spirit. Writing and performing with him was some of the most fun I've had in music, and out of thousands trying to make it in this town, he deserved to be a household name," Jon Webber wrote on Twitter. "God bless you, bud."
"Nolan, you were one of my very first friends in Nashville and one of the most talented I ever was graced to know and watch perform," writer Sandee Gertz tweeted. "You were hilarious and smart and could've been the biggest brightest star if your light hadn't gone out too soon. R.I.P."
(Photos: NBC; TikTok; Instagram)