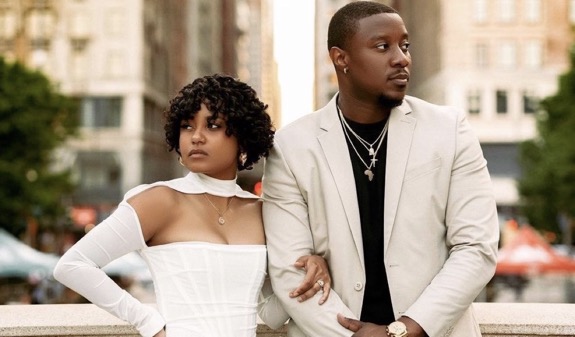 One of the only two couples to make it down the aisle on Season 2 of Netflix's Love Is Blind has called it quits.
In matching statements posted to social media Wednesday, Jarrette Jones and Iyanna McNeely announced they are separated and planning to end their marriage.
" …After much thought, we're saddened to share that we have separated and will begin the process of divorcing," the couple's statement read. "While we have love for each other, our lives are going in different directions, and that's okay. Coming to this decision was far from easy and we will always wish each other the absolute best."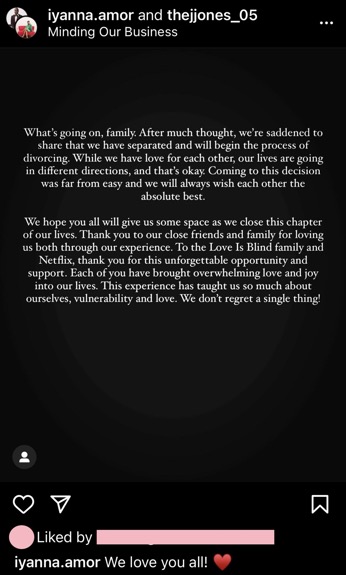 Iyanna and Jarrette asked fans to give them space as they "close this chapter" and thanked those who have supported them throughout their 'Love Is Blind' journey.
"This experience has taught us so much about ourselves, vulnerability and love," they added. "We don't regret a single thing!"
After sharing the joint statement on Wednesday, Jarrette shared an Instagram Story seemingly related to the divorce announcement.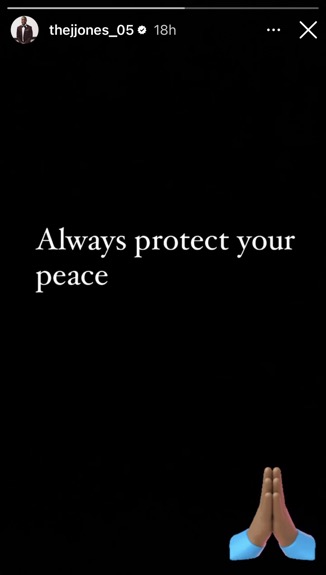 "Always protect your peace," he wrote.
The official 'Love Is Blind' social media page also posted a comment about Iyanna and Jarrette's split, thanking the couple for opening their hearts and sharing their journey with viewers.
As fans of 'Love Is Blind' may recall, Iyanna and Jarrette opened up on they show about their differing lifestyles–– Iyanna being more of a homebody, and Jarrette still enjoying the nightlife–– though the pod-paired partners ultimately worked through things and walked down the aisle as a fan-favorite couple.
Following the Season 2 reunion, the twosome shared their future plans with People, with Jarrette putting an emphasis on traveling together and Iyanna talking more about moving.
With the announcement of Iyanna and Jarrette's split, there are now just three couples from 'Love Is Blind' who remain together: Danielle Ruhl and Nick Thompson of Season 2, and Lauren Speed-Hamilton and Cameron Hamilton, and Amber Pike and Matthew Barnett of Season 1.
RELATED STORY: 'Love Is Blind' Season 2 Cast Member Jeremy Hartwell Sues Netflix & Show's Producers For Allegedly Depriving Cast of Food, Water & Sleep
(Photos: Instagram; Netflix)