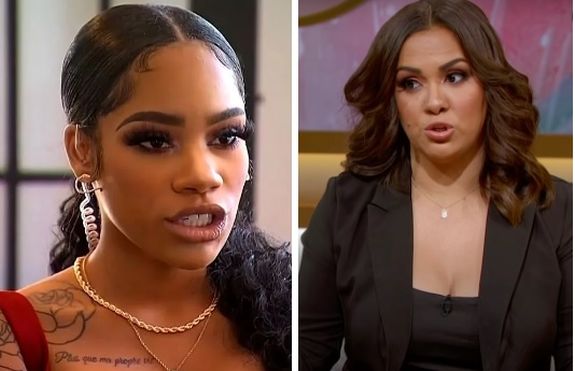 The dust has yet to settle from the fight that went down during the filming of Teen Mom Family Reunion Season 2. In a series of new Instagram Stories posted on Thursday, Briana DeJesus claimed she has been getting threatening messages from people who are angry that she fought with her pregnant co-star, Ashley Jones.
The Ashley broke the news earlier this month that an on-set altercation led to Ashley Jones and her mother Tea Chapple, as well as Briana DeJesus and her mother Roxanne being sent home early from the show's filming location in Oregon.
In the days after the story broke, Ashley confirmed that she spit at Briana during the 'TMFR' fight, but claimed she did so because Roxanne attempted to throw a piece of furniture at Tea. In response, Briana revealed Ashley is currently expecting her second child with husband Bar Smith, despite Ashley having yet to disclose the information herself at the time.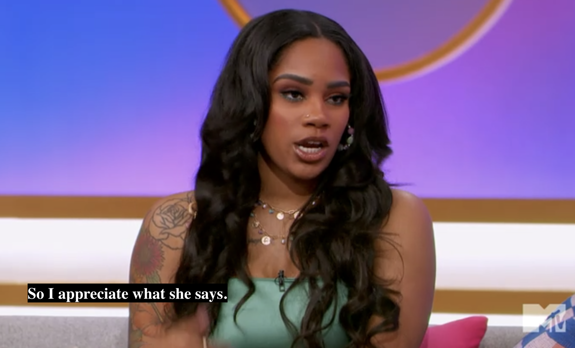 The back and forth allegations, insults, and jabs have continued between the two co-stars via social media posts and podcast episodes, but Briana appeared to have reached her breaking point this week after allegedly receiving threatening messages from viewers who she says were mad because they thought Briana was trying to fight a pregnant woman.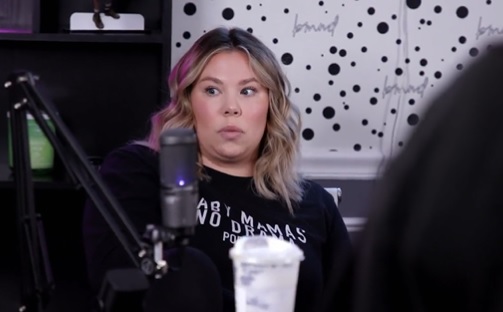 On Thursday, Briana took to social media in an attempt to clear her name. After allegedly receiving threatening messages on social media for "putting [her] hands on a pregnant person," Briana warned followers that "spreading lies can really get someone hurt," before insisting she was not the one who caused "any type of mayhem" on set, despite what some may believe.
"I never assaulted anyone," Briana stated on her Instagram Story. "I never put my hands on anyone. I never started that fight in Oregon."
She also denied knowing that Ashley was pregnant during the filming of 'Teen Mom: Family Reunion.'
"I never even got disrespect[ful] til a pregnant woman– who is accusing me [of knowing] about her pregnancy but never told me– asked if I wanted to fight."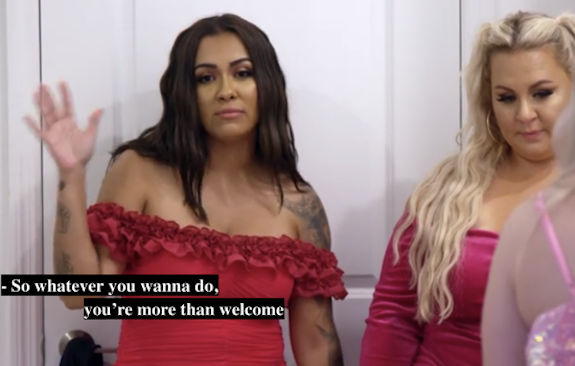 Briana went on to call out Ashley– though not by name– for her actions during filming, including trying to engage in a fight while being pregnant.
"A high risk pregnancy at that…Asking to fight and spitting on ppl. It's disgusting," Bri wrote.
"You can call me every name in the book but I'm gonna have to draw the line at u accusing me of doing s**t to someone who is pregnant," she wrote. "I would never ever ever cross that line. I'm going to protect my name at all costs with this one."
Briana also posted a screenshot of a message she says was sent to her by a random person. In the disturbing message, the person tells Briana that she should kill herself, and threatens to fight Bri if they ever come in contact with one another.
Briana also posted screenshot of a text conversation that allegedly took place between Ashley and one of the 'TMFR' cast members. In the messages, Ashley admitted it was "very possible" that producers lied to her and didn't actually inform the other girls about her pregnancy, claiming it "wouldn't be the first time they straight up lied" to her.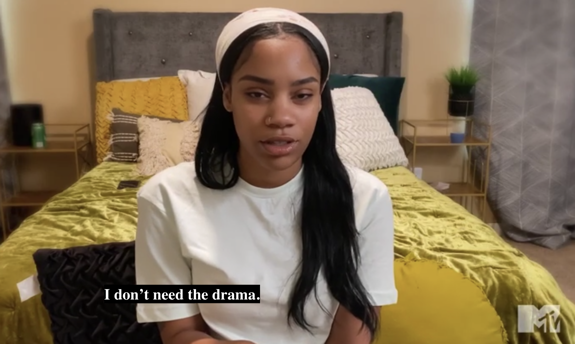 "To be honest I'm so over this entire situation, I'm over always being blamed or the aggressor for everything," she wrote in the text. "I won't be coming to any more cast events or reunions so I hope that will alleviate all this drama."
Last week Ashley posted a text exchange between herself and Catelynn Lowell, in which she claimed producers told her that the cast was made aware of her pregnancy during 'Teen Mom Family Reunion.'
Ashley said she had individual conversations with all of the moms appearing on 'Teen Mom Family Reunion' regarding her pregnancy, except for Briana and Jade Cline. She added that production told her that the entire cast–-presumably those she hadn't already told herself–- was made aware of her pregnancy "for safety reasons."
RELATED STORY: Maci Bookout Talks About How Son Bentley Feels About Being on 'Teen Mom: The Next Chapter' & Reveals Where Her Relationships with Ryan Edwards & His Parents Stand
(Photos: MTV; Instagram)