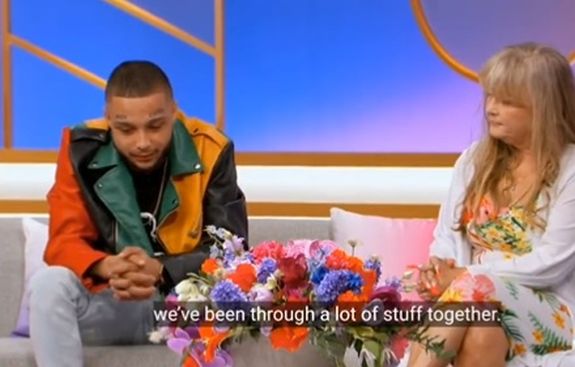 Shen Williams has angered her fine ass son, Bar Smith… again.
The husband of Teen Mom: The Next Chapter star Ashley Jones shared a lengthy statement on his Patreon page on Tuesday– shared by @teenmom.tea on Instagram– addressing recent comments his mom made on social media. Bar began his statement by warning fans, "here we go again."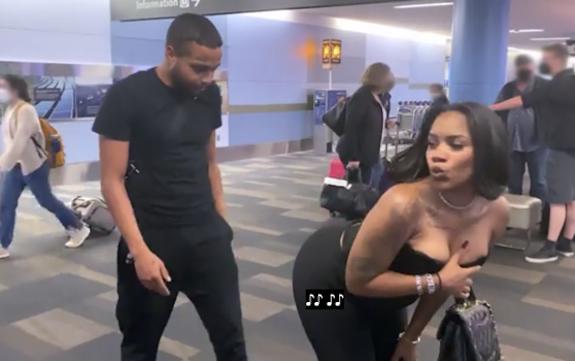 As you may recall, Shen was interviewed on the Hot Tea Happy Hour podcast last month, during which she claimed Bar landed in rehab after becoming addicted to Xanax. (While Bar's trip to rehab played out on 'Teen Mom: The Next Chapter,' the network did not go into detail about the reason Bar was seeking help.)
This week, however, Bar denied the Xanax allegations and called out his mom for repeatedly bashing him publicly.
" … I'm tired of my mom always bashing me and tearing me down publicly, she doesn't do this to any of the other kids, it's only cause I'm on tv … ," he wrote.
Bar then accused Shen of not acting like a real mom in years, despite him being there for her "24/7."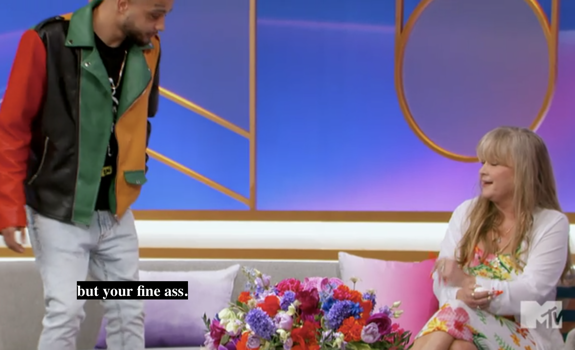 " … I seen it all and ain't nothing off limits no more NOTHING, I'm tired of being the bad guy," he wrote. "So if she starts again, I'll go down the loooooong list of the things I wrote [while] I was in jail, I will be hated at after everything I say and I'm ready for that since it's already the case.
"Remember I haven't been saying anything REALLY for the last 8 years…. I ain't put NONE of her business out… ," Bar continued. "So here mom, here is my threat to you, unfortunate we have to do this."
Shen had initially taken to her Instagram Story to respond to Bar denying his Xanax addiction, telling followers she would prove that she wasn't a liar, while threatening to show who Bar and Ashley really are, as "reality TV is not reality at all at least not their story."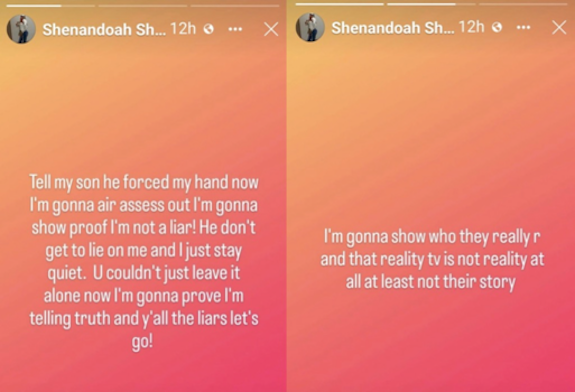 "He don't get to lie on me and I just stay quiet," Shen wrote. "U couldn't just leave it alone now I'm gonna prove I'm telling the truth and y'all the liars lets go!"
Shen went on to bash Bar for publicly calling her a liar, claiming she would "publicly prove [that she's] not."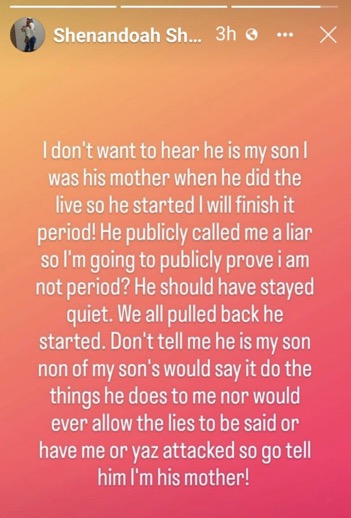 " … He should have stayed quiet," she wrote. " … Don't tell me he is my son [none] of my sons would do the things he does to me nor would ever allow the lies to be said or have me or [his sister] Yaz attacked so go tell him I'm his mother!"
Neither Bar nor Shen have commented further on their shenanigans, but stay tuned…
RELATED STORY: Former 'Teen Mom OG' Star Farrah Abraham Opens Up About Daughter Sophia's Boyfriend: "He's A Good Boy Or I'll Make Him That, Either Way"
(Photos: MTV; Instagram)